The PQ made its claim based on StatsCan figures that indicate the number temporary immigrants in Quebec jumped by close to 50 per cent in a year.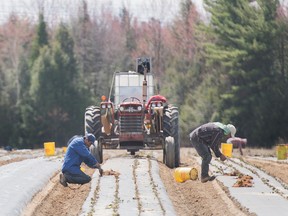 Temporary foreign workers from Mexico plant strawberries on a farm in Mirabel in 2020.

Photo by Graham Hughes

/

THE CANADIAN PRESS
A major spike in temporary immigration is leading to the transformation of native Quebecers into a minority, the Parti Québécois charged Thursday.
The PQ made its claim based on Statistics Canada figures published Wednesday that indicate the number of temporary immigrants in the province jumped by close to 50 per cent over a 12-month period, increasing from 322,000 to 471,000 between July 2022 and July 2023.
Article content
The Quebec Liberal Party described the increase as a "red flag" for the province's ability to accommodate so large an influx.
PQ MNA Pascal Bérubé said the province simply doesn't have the means to accommodate 471,000 temporary immigrants, be it the areas of housing, education or public services.
Speaking to reporters, Bérubé said that while the province was debating whether to welcome 50,000 to 60,000 permanent immigrants, Ottawa was allowing a far larger number of temporary immigrants to come to Quebec.
"It's extremely concerning," said Quebec Liberal interim-leader Marc Tanguay during a press scrum.
Related Stories
Number of temporary foreign workers in Quebec will keep growing, Boulet predicts

Temporary foreign workers are contributing to anglicization of Quebec, Roberge says

Montreal calls on Quebec for more aid to integrate immigrants
Article content
Article content