The Legault government announced the bonuses will stop being paid on Sept. 30.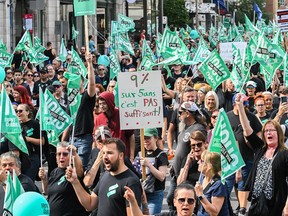 People take part in a public sector union demonstration in Montreal on Saturday, Sept. 23, 2023.

Photo by Graham Hughes

/

The Canadian Press
Members of a common front of public sector unions are expected to picket the Quebec City offices of the provincial Treasury Board Monday morning after a decision by the Legault government to cut bonus payments during contract negotiations that are already perceived as tense.
Picketers from the CSN, CSQ, FTQ and APTS, which between them represent more than 420,000 public sector workers in the health, social services and education sectors, were expected to show up outside the offices at 7 a.m., according to a statement made public early Monday.
The common front has for more than year been asking that the bonus system and other measures be maintained during the contract negotiations. The government announced the bonuses will stop being paid on Sept. 30.
A negotiation session is planned for Monday morning and the common front says it wants to "increase the pressure on the government to agree on the need to extend these bonuses," which represent thousands of dollars annually for some workers.
The unions are seeking improved work conditions, increased pay and salary protections against inflation. On Saturday, thousands of people filled the streets of Montreal during a demonstration organized by the common front.
Prior to Saturday's march, Treasury Board president Sonia LeBel said that while she prepared to continue contract talks, "we must absolutely organize the work done in our schools and hospitals in an efficient manner."