It's not up to tenants to control rent hikes, Quebec's housing minister says.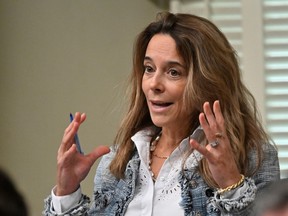 Quebec Minister Responsible for Housing France-Elaine Duranceau responds to Opposition questions after she tabled a legislation, during question period, at the legislature in Quebec City, Friday, June 9, 2023.

Photo by Jacques Boissinot

/

The Canadian Press
QUEBEC — If Bill 31 is passed, homeowners will be able to more easily refuse a lease transfer request from their tenants.
A landlord whose tenant wants to assign a lease can simply terminate it. Currently, a serious reason is required to refuse a transfer. Assignment of lease is used by some tenants to limit rent increases.
Sign up to receive daily headline news from the Montreal Gazette, a division of Postmedia Network Inc.
By clicking on the sign up button you consent to receive the above newsletter from Postmedia Network Inc. You may unsubscribe any time by clicking on the unsubscribe link at the bottom of our emails or any newsletter. Postmedia Network Inc. | 365 Bloor Street East, Toronto, Ontario, M4W 3L4 | 416-383-2300
Thanks for signing up!
A welcome email is on its way. If you don't see it, please check your junk folder.
The next issue of Montreal Gazette Headline News will soon be in your inbox.
Minister Responsible for Housing France-Élaine Duranceau said it is not up to tenants to control rent increases.
"This story of lease assignment or shopping between tenants is an obstacle to the property rights of property owners," she argued.
The minister said several landlords have complained about this situation.
The Coalition Avenir Québec's highly anticipated bill on housing was tabled on Friday, the last day of the parliamentary session.
The bill also provides that the owners of new dwellings will have to indicate in the lease the maximum amount of rent for the next five years.
Clause F — which already exists in the lease — allows owners of such dwellings to raise rents without being subject to the scale of the Tribunal administratif du logement.
The minister said she did not want to withdraw this clause.
"Clause F, we're leaving it at five years, because in the current economic context where we really need builders who make housing, there was no question of introducing a measure that would impose an additional burden on them in terms of risk," she explained.
The purpose of this change is to give tenants more predictability.
"Tenants will know what they are getting into and can decide whether or not to sign the lease," Duranceau said.
Quebec also wants to limit abusive evictions with this bill. First, if a tenant receives an eviction notice and does not respond by the deadline, they will be deemed to have declined it by default. It will then be up to the owner to demonstrate that the request for eviction meets the criteria.
"The law allows the landlord of a dwelling to evict the tenant in order to subdivide, substantially enlarge or change the use of this dwelling," the tribunal's website says.
Also, the bill will oblige a landlord who evicts a tenant to compensate up to one month's rent per year of continuous residence in the dwelling, up to a maximum of 24 months.
"Someone who is in a home for 20 years will receive at least 20 months' rent," Duranceau said.
Currently, the compensation is three months. The landlord must also pay reasonable moving expenses.
Tenants who consider themselves evicted from their dwellings for invalid reasons can appeal to the tribunal, but bear the burden to prove their case. If the bill is passed, it will be up to the owners to demonstrate that they acted in accordance with the law.
"The burden of proof will be on the shoulders of the owner," said the minister.
She said she hopes her bill will pass before next Christmas.
Québec solidaire, which hounded the government to table a bill on housing, said the bill constitutes "a major setback" on the issue of lease assignments.
"I am particularly worried that the minister will take away this possibility for tenants to proceed with an assignment of lease," said MNA Andrés Fontecilla.
He nevertheless recognized that few tenants give up their lease.
Fontecilla denounced the fact that the bill does not contain any measure to regulate rent increases or to prohibit evictions used to transform housing into short-term rentals.
"The whole system for regulating relations between tenant and landlord today is based on the law of supply and demand; the old capitalist law. It's a market that's completely out of whack. It takes state intervention," he said.
He said the measures to limit evictions are a step forward.
"But the root of the problem remains: abusive rent increases will continue to exist in Quebec."