"I want to reassure Quebecers who live there: everything that is not insured by regular means will be covered by a program," Legault said.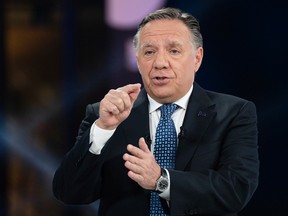 CAQ Leader Francois Legault speaks during a leaders debate in Montreal Sept. 22, 2022. Quebecers will go to the polls on October 3rd.

Photo by Paul Chiasson

/

The Canadian Press
QUEBEC — Premier François Legault has moved to reassure Quebecers affected by post-tropical storm Fiona, saying Quebec will compensate citizens for losses not covered by their regular insurance.
With images of homes floating under the crush of waves that battered the shores of Îles-de-la-Madeleine, road closures and a severed communications line to the islands, Legault took a break from the Quebec election campaign to tour an emergency measures centre in Ste-Foy.
Sign up to receive daily headline news from the Montreal Gazette, a division of Postmedia Network Inc.
By clicking on the sign up button you consent to receive the above newsletter from Postmedia Network Inc. You may unsubscribe any time by clicking on the unsubscribe link at the bottom of our emails. Postmedia Network Inc. | 365 Bloor Street East, Toronto, Ontario, M4W 3L4 | 416-383-2300
Thanks for signing up!
A welcome email is on its way. If you don't see it, please check your junk folder.
The next issue of Montreal Gazette Headline News will soon be in your inbox.
The good news is there has been no loss of life, Legault said at a news conference following the visit. Around 7,500 Hydro-Québec clients on the island and in the Gaspé were without power Saturday afternoon. Thirty families on the island have been evacuated from their homes, Legault said.
"All my thoughts are with those people," Legault said. "It too soon to conduct a review of the damages because the storm is not over, but I want to reassure Quebecers who live there: everything that is not insured by regular means will be covered by a program to cover the difference.
"Above all, I want to wish lots of courage to the people on the island and to the people of the Gaspésie and people on the North Shore. We are with you and will do everything possible to help you get through this."
Legault said he intends to complete a planned election campaign visit to the island Monday if the weather allows. In the meantime, Public Security Minister Geneviève Guilbault will fly there Sunday to assess the situation, Legault said.
After suspending his campaign Friday to focus on the emergency, Legault resumed his campaign Saturday afternoon, stopping in for a meeting with Quebec City Mayor Bruno Marchand before heading to Montreal.
There had been plans for a mass rally of CAQ supporters in Terrebonne, but it has been cancelled.
pauthier@postmedia.com
twitter.com/philipauthier
Tap here for complete Quebec election coverage

Anglade campaigns in Outaouais, says her thoughts are with Îles-de-la-Madeleine