Opinion: How filling gaps in the system will save lives. For the few who are able to detox, there is a striking lack of abstinence-based or recovery-centred permanent housing options.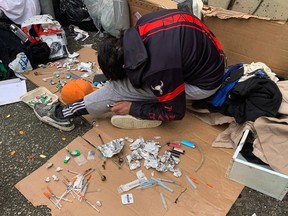 The City of Vancouver estimates that approximately 9,000 people use injection drugs in the city. Yet there are only four detox facilities, with 92 detox spaces, in all of Vancouver.

Photo by NICK PROCAYLO

/

PNG
Our loved ones — neighbours, friends, children, and co-workers — are dying. Lives are ending from fatal overdoses due to a toxic drug supply amidst the ongoing opioid crisis. Those experiencing homelessness, in addition to substance use, are dying younger and faster than those living in more affluent areas of Metro Vancouver.
In early 2022, The Tyee reported that statistically, your life expectancy decreases if you are living in the Downtown Eastside or lower-income city centres where people experiencing homelessness usually live. You are likely to die far sooner — as much as 30 years sooner — than the city average. This is reflected in the October 2022 B.C. Coroners Service report.
Sign up to know what's really happening by reading daily editorials and commentary by British Columbia's opinion leaders
By clicking on the sign up button you consent to receive the above newsletter from Postmedia Network Inc. You may unsubscribe any time by clicking on the unsubscribe link at the bottom of our emails or any newsletter. Postmedia Network Inc. | 365 Bloor Street East, Toronto, Ontario, M4W 3L4 | 416-383-2300
Thanks for signing up!
A welcome email is on its way. If you don't see it, please check your junk folder.
The next issue of Vancouver Sun Informed Opinion will soon be in your inbox.
Many who are unhoused face disabilities, mental illness, and may also use toxic drugs, putting them at an increased risk of death. The majority of those who died far too soon were middle-aged men between 30 and 59 — 195 people experiencing homelessness in 2021 died as a result of a toxic drug overdose
What needs to change to ensure the most marginalized people in our communities stop fatally overdosing?
At its essence, homelessness is a lack of housing with the proper supports. For someone to truly be "housed" is for them to be rooted in a "home" — somewhere they belong, with a sense of health and wellbeing for their body, mind, relationships and spirit. Every person has an innate need for stability and belonging to feel safe. Without that, our bodies biologically feel unsafe and go into survival mode.
Tangible, long-term solutions must restore a person's safety and belonging to truly address the root causes of homelessness and addiction.
As a pillar of the City of Vancouver's Drug Strategy, acute harm-reduction solutions such as safe injection sites, the push for safe supply, and now the decriminalization of drug possession are at the forefront of efforts to address the toxic drug supply.
As the treatment pillar, detox and recovery are powerful tools used in tandem with harm reduction to help those struggling with addiction. Unfortunately, there are deep crevices within the detox system and lack of available housing for those living in recovery.
The City of Vancouver estimates that approximately 9,000 people use injection drugs in the city. Yet there are only four detox facilities, with 92 detox spaces, in all of Vancouver. Often it takes weeks for a spot to open up. By the time a spot finally is available, a person who was ready to enter detox a week ago may have fallen back to using or even died from a fatal overdose.
Recovery experts have also pointed to the lack of a seamless system between detox and recovery centres. With no coordinated plan for which recovery program someone is going to after detox, that person may return to using drugs and living outside.
For the few who complete a recovery program, there is a striking lack of abstinence-based or recovery-centred permanent, affordable housing options. Research has shown that if someone settles into life after a recovery program with at least five years of relapse-free sobriety, their risk of relapse is the same as the general public. They have a better chance at staying sober for life. Sadly, most transitional housing is not able to achieve the long-term stability and belonging that folks need to feel fully safe and established.
As a result, many people freshly exiting recovery programs risk living in SROs as a last resort. Some end up relapsing due to the perennial presence of drugs and drug dealers. When that happens, there's an even greater risk of a fatal overdose, as their body can't handle such a concentration of that substance anymore.
Union Gospel Mission's six-month Men's Recovery Program supports men in their recovery journey — from the moment they seek recovery, through detox and pre-recovery stabilization, into aftercare and living a thriving life in recovery. When a person is ready to try recovery, we help them call local detoxes and recovery programs to see if there is a spot open. If the person needs detox, the goal is to have them set up with a recovery program first — whether ours or another that they have chosen.
Our Gateway Pre-Recovery Program is encouraged for men who've been accepted into a recovery program, whether they have come from detox or not. It is a space where they can rest for a few weeks and prepare for recovery.
Each aspect of our formal Recovery Program is designed to provide a hospitable space to help cultivate a sense of belonging and safety. Men are equipped with life skills and receive coaching and counselling. A supportive community of peers and staff walk alongside them through every step.
Men transition to our Second Stage Aftercare after completing six months of recovery, where they are empowered to live a healthy, independent life while staying connected with a caring community.
We hope that through this support, men won't be drawn as strongly to use again once independent life becomes stressful. But if they do end up relapsing, they have a network of people around them who love them and check in on them, making it less likely that they will die from an overdose than if they had been isolated and alone.
As we have seen, recovery is a vital tool to tackle the opioid overdose crisis, help safeguard people's lives in the DTES and extend their life expectancies.
Filling the gaps in the detox system by adding more detox beds, eliminating waitlists and creating more permanent, abstinence-based housing will enable people to choose recovery, as echoed in the recommendations of the B.C. government's recent Closing Gaps, Reducing Barriers report. The sense of belonging, safety, and "home" that they cultivate will help them live longer lives with hope for the future.
Rachael Allen is a spokesperson for Union Gospel Mission.