The structure is located about 50 km southeast of Montreal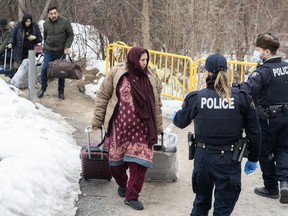 RCMP officers stop people as they enter Canada via Roxham road on the Canada/US border in Hemmingford, Que., Saturday, March 25, 2023.

Photo by Graham Hughes

/

The Canadian Press
LACOLLE, Que. — The RCMP says it will demolish the last of its structures at Roxham Road, an outpost built to deal with the influx of migrants that used to cross into Canada on foot from Upstate New York to apply for asylum.
The federal police force will hold a news conference this morning near the facility before demolition work begins on the structure, located about 50 kilometres southeast of Montreal at the end of a rural road in southern Quebec.
Tens of thousands of asylum seekers crossed into Canada using that clandestine route before it was shutdown in late March after the U.S. and Canada reached a deal to close a long-standing loophole in the 2004 Safe Third Country Agreement and have it apply to the 8,900 kilometres of shared border.
Asylum seekers have to apply for refugee status in the first of the two countries they enter rather than just at official ports of entry, a situation that led to thousands moving through irregular crossings like the one at Roxham Road to ensure their claims would be heard in Canada.
Roxham Road had historically been a popular spot to cross, but a spike in asylum seekers began after the U.S. cracked down on illegal immigration and imposed new restrictions on refugees in 2017 under then-president Donald Trump.
That led the RCMP to build up infrastructure at the site to deal with the heavy foot traffic.