"We have not fallen below the standard of adequate and effective policing, but what it does do is put pressures on those officers that are carrying extra workload." — Head of the RCMP in B.C., deputy commissioner Dwayne McDonald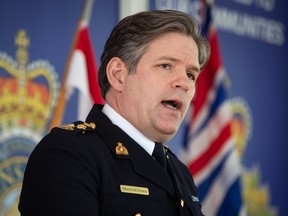 Head of the RCMP in B.C., deputy commissioner Dwayne McDonald.

Photo by DARRYL DYCK

/

THE CANADIAN PRESS
There are more than 1,500 vacancies in the RCMP in B.C. because of hundreds of unfilled positions and officers on leave, Postmedia has learned.
That is a vacancy rate of 20 per cent for the RCMP's authorized strength of about 7,100 in British Columbia.
Start your day with a roundup of B.C.-focused news and opinion delivered straight to your inbox at 7 a.m., Monday to Friday.
By clicking on the sign up button you consent to receive the above newsletter from Postmedia Network Inc. You may unsubscribe any time by clicking on the unsubscribe link at the bottom of our emails. Postmedia Network Inc. | 365 Bloor Street East, Toronto, Ontario, M4W 3L4 | 416-383-2300
Thanks for signing up!
A welcome email is on its way. If you don't see it, please check your junk folder.
The next issue of Sunrise presented by Vancouver Sun will soon be in your inbox.
New B.C. Premier David Eby announced last week $230 million for the RCMP over three years to add another 277 officers and bring RCMP provincial policing services up to an authorized strength of 2,600. Provincial services cover highway patrols, policing in small communities and special teams such as the major crimes section and the sexual exploitation of children unit.
But that is only part of staffing shortfall picture for the RCMP in B.C.
There are another 242 positions that are also unfilled in other RCMP services areas, including municipal and federal policing, for a total of 519, according to numbers provided by the RCMP.
The RCMP calls these unfilled positions hard vacancies.
And there are another approximately 1,000 officers that are on some type of leave that include maternity and paternity leave, short and long-term sick leave due to illness and injuries, suspensions and leave without pay.
These are called soft vacancies, which the RCMP note fluctuate.
But in October 2022, soft vacancies were at 1,005, accounting for 14 per cent of vacancies.
Despite the 20 per cent vacancy rate, the head of the RCMP in B.C., deputy commissioner Dwayne McDonald, said staffing shortfalls are not affecting community safety or the ability to carry out required basic policing, including responding to 911 calls.
"We have not fallen below the standard of adequate and effective policing, but what it does do is put pressures on those officers that are carrying extra workload," McDonald told Postmedia.
The staffing vacancies can impact the RCMP major crimes units, putting huge burdens on officers doing that work, added McDonald
And it will drive up overtime budgets and affect services such as community policing offices, which provide information on crime prevention and safety in neighbourhoods, and are not part of the RCMP's core services, he said.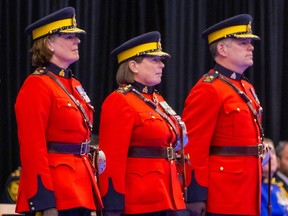 From left to right: Deputy Commissioner Jennifer Strachan (outgoing Commanding Officer), RCMP Commissioner Brenda Lucki, Deputy Commissioner Dwayne McDonald (incoming Commanding Officer) attend a Change of Command ceremony and parade in Langley.

Photo by Francis Georgian

/

PNG
Policing has been in the spotlight in British Columbia, most recently with a move by a newly elected council in Surrey to halt the transition to a municipal force away from the RCMP. The move to a municipal force in Surrey was approved in 2020 by the province and is well underway, with more than $108 million spent and more than 300 officers hired.
Staffing levels and costs are among the issues under debate, and a RCMP report on how to maintain their services in Surrey is on the city council's Monday agenda.
Earlier this year, an all-party legislative committee looking into systemic racism in policing recommended B.C. shed the RCMP in favour of a provincial police force and the creation of regional municipal forces including in the Victoria area and Metro Vancouver.
Ontario and Quebec have provincial police forces and Alberta is considering switching to a provincial force from the RCMP.
But following the $230 million announcement, B.C. Public Safety Minister Mike Farnworth said the RCMP will be providing police services in a significant part of B.C. for a "considerable amount of time."
RCMP officials say factors affecting staffing levels and vacancies include attrition, retirement and lower than usual recruitment due to a declining interest in policing.
McDonald noted the COVID-19 pandemic also had an effect with less recruits being able to be trained.
He also pointed to social and political movements in the last two to three years that haven't shone favourably on policing, in many cases, McDonald argued, unfairly.
McDonald said the RCMP has redoubled its recruiting efforts and has also created a program to allow experienced police officers to join the RCMP in a fast-tracked process.
He believes the RCMP will able to supply the 277 officers under the $230 million funding over three years, which does not kick in until April 1, 2023.
But McDonald said the RCMP have less control over soft vacancies and there is an increasing awareness of mental stressors on the job and health issues such as post traumatic stress syndrome, more commonly known as PTSD.
The B.C. RCMP are not alone in high vacancy rates.
A 2021 Auditor General of Ontario audit of the Ontario Provincial Police Force found its detachments are increasingly understaffed with frontline officers. In 2020, more than 1,000 frontline constable positions were vacant, representing 26 per cent of the total frontline constable positions.
The audit found that constables on long-term leave made up one third of these vacancies and that stress-related officer leaves were contributing to rising vacancies.
The audit found the OPP is providing less proactive policing and regions with higher frontline officer vacancies resolved fewer crimes.
British Columbia has not undertaken a detailed audit such as this of RCMP supplied policing services.
ghoekstra@postmedia.com
twitter.com/gordon_hoekstra
RCMP won't disclose number of officers on the job in Surrey in midst of policing debate

B.C. RCMP to get an additional $230 million in funding from provincial government
More news, fewer ads: Our in-depth journalism is possible thanks to the support of our subscribers. For just $3.50 per week, you can get unlimited, ad-lite access to The Vancouver Sun, The Province, National Post and 13 other Canadian news sites. Support us by subscribing today: The Vancouver Sun | The Province.