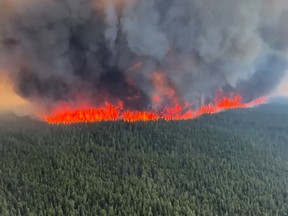 The West Kiskatinaw River wildfire (G70645) burns in the District of Tumbler Ridge, B.C. in this Thursday, June 8, 2023, handout image. The wildfire set off an immediate evacuation order Thursday for residents of the British Columbia District of Tumbler Ridge, a community of 2,400 people in northeastern B.C.

Photo by HO

/

THE CANADIAN PRESS
VANCOUVER — An "incredibly intense" wildfire is just a few kilometres away from the British Columbia community of Tumbler Ridge, fire officials said Friday.
On Thursday, about 2,200 residents fled the community on the foothills of the Rockies in northeastern B.C.
From our newsroom to your inbox at noon, the latest headlines, stories, opinion and photos from the Toronto Sun.
By clicking on the sign up button you consent to receive the above newsletter from Postmedia Network Inc. You may unsubscribe any time by clicking on the unsubscribe link at the bottom of our emails or any newsletter. Postmedia Network Inc. | 365 Bloor Street East, Toronto, Ontario, M4W 3L4 | 416-383-2300
Thanks for signing up!
A welcome email is on its way. If you don't see it, please check your junk folder.
The next issue of Your Midday Sun will soon be in your inbox.
Tumbler Ridge fire Chief Dustin Curry told a news conference that about 150 people remain in town.
Some are emergency personnel, while some are "residents that have refused to leave."
B.C. Wildfire Service information officer Karley Desrosiers said the "aggressive wildfire" is threatening infrastructure, including power, cellphone service and roads. "That can be catastrophic, so I would say the message to those folks that have chosen to stay behind is that if it does become imminent and they choose to leave, it can come down to it being too late to be able to escape safely," she said.
Desrosiers said those who refused to leave should not count on being rescued.
'THIS IS AN EMERGENCY': How zoos are protecting animals from wildfire smoke

Niagara Falls fireworks displays halted over wildfires, poor air quality

Air quality improves in Toronto, but smoky skies linger in parts of Ontario, Alberta
"We won't put our folks in the line of fire or in imminent danger to rescue those that have chosen to stay behind," she said.
Curry said the priority for emergency crews is to protect critical infrastructure, including Tumbler Ridge's main water reservoir.
Officials said a wind shift on Saturday could change the direction of the out-of-control West Kiskatinaw River wildfire, helping the firefighting effort.
"Since this fire started, we have seen extreme fire behaviour (that is) incredibly intense not only for this time of year, but just in general. We're seeing the fire growing with the wind, but also against the wind," Desrosiers said.
Michelle Chisholm and her family had their bags packed with all the essentials, including camping gear, when the order to evacuate forced them to leave Tumbler Ridge on Thursday.
Chisholm, who has lived in the community for 10 years, said her dilemma was dealing with her horse since she doesn't have a trailer. She said she had arranged with someone at the local saddle club to get it out, but then the highway to Dawson Creek was blocked off.
Chisholm put out a public plea for help moving her animal to safety.
"I just kept getting phone calls and phone calls of all these people who were willing to help, so that made me feel good that strangers were willing to help, like no questions asked," Chisholm said.
Chisholm, her husband and their two children are now staying with friends in Fort St. John, about 170 km north, waiting out the evacuation order.
RECOMMENDED VIDEO
Environment Canada said Tumbler Ridge and Dawson Creek are experiencing heavy smoke and temperatures almost 10 C above normal.
That could complicate efforts to fight the West Kiskatinaw River wildfire, which has burned 96 sq.-km of bush and timber east of Tumbler Ridge in the three days since it was discovered.
The B.C. Wildfire Service said the blaze is among just over 80 active wildfires in the province, including one that has closed the Vancouver Island highway connecting Port Alberni, Tofino and Ucluelet to the rest of the island.
A four-hour, back-road detour allowing limited movement in and out of the area was also set to be closed for much of Friday as a vehicle was pulled from a lake.
"All travellers are urged to avoid travel along the detour route before, during and after the closure because commercial trucks will be queuing for passage," the Ministry of Transport said in a statement.
Tofino Mayor Dan Law said food, fuel and other supplies are coming into his community and people who need to travel are finding their way out.
Still, he described the detour as a "long, very dusty, very dirty, windy road" that's seeing a lot of traffic, including some people driving in unsuitable vehicles.
"People in a car with passenger tires can expect to get a flat," he said.
Law said he's in touch with provincial officials and expects the stretch of Hwy. 4 to reopen once the fire is sufficiently suppressed.
In the meantime, local airlines have been adding flights and Law said he's encouraging people trying to get to Tofino to consider flying.
Winds have been pushing smoke from the wildfire that's burning east of Port Alberni away from Tofino, he added.
Bryce Moreira, the incident commander for the fire, told a media briefing that most of the growth is happening on the southern flank, away from the highway.
He said crews were also working on the western flank, nearest to Cathedral Grove, which is home to some of Canada's oldest and largest trees.
Moreira said 60 fire crews were working on the blaze, supported by several helicopters, with an additional 20-person unit crew set to join them later Friday.
At an unrelated news conference on Friday, Premier David Eby said B.C. residents need to be careful not just in the backcountry, but in any forested area as the province faces the potential for significant wildfire activity this summer.
"Right now, conditions are very dry and we expect that to continue," Eby said.
"Please use caution, so that we can try our best to avoid a catastrophic fire season."
Neal McLoughlin, superintendent of predictive services for the B.C. Wildfire Service, told a media briefing on Thursday that more than 5,000 sq.-km have burned since the start of the season on April 1, a total he called "quite alarming."
Fire bans, including campfire bans, now cover most of the province, although campfires are still allowed in the northwest and southeast corners of B.C. and on Haida Gwaii.
It's the earliest date that B.C. has restricted campfires and the bans came as the unusually warm conditions set 20 daily high temperature records on Thursday, including a mark of 38.5 C in Lytton, making the Fraser Canyon community the hottest in Canada for consecutive days.
Environment Canada said rain was expected Friday and Saturday over much of southern B.C. with between 5 mm and 10 mm over much of the south coast by Saturday, while Interior forecasts called for around the same amount between Cranbrook and the Prince George area.