Ms. Wong taught my boys years ago. I recently visited her to see what happens in a modern grade 2/3 class.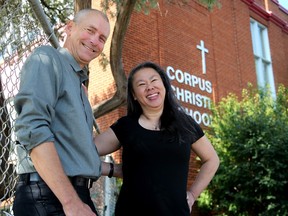 John Richardson's kids were taught by Jeannie Wong at Corpus Christi School in downtown Ottawa years ago. Recently, he returned to visit the longtime elementary school teacher.

Photo by Julie Oliver

/

Postmedia
This fall, I'm teaching a class at the uOttawa faculty of education for students training to be primary teachers, so for an update on elementary education I asked Ms. Jeannie Wong, a grade 2/3 teacher at Corpus Christi School, if I could visit.
Nearly 100 years old, Corpus is a Catholic board kindergarten-to-grade-6 school on Lyon Street between Third and Fourth avenues. My boys went there years ago and Ms. Wong was one of their teachers. Today, 30 years in, her professionalism, hearty laugh, deep commitment and exquisite vocal clarity continue to shine.
Article content
Article content
"Because we're in the Glebe, people think that all our students are economically advantaged," Ms. Wong tells me as I eat the oatmeal chocolate chip cookie she has baked for me at home that morning. "That is not the case. We have a very diverse student body. We have the children of migrant families who crossed the border at Roxham Road. We have many families living on social assistance, and families with no home of their own. We have high needs children who may not be able to receive an education elsewhere."
Ms. Wong is concerned about teacher shortages. "There has been a lot of teacher turnover," she says. "The curriculum is often changing. There are political pressures. Every year, we are asked to do more. A lot of young teachers come to the school and they leave after a year. I tell them, if you stay, the profession is so, so rewarding."
It's been a long time since I was in a grade 2 classroom and I wonder what to expect when the students arrive. Will they be rowdy? Soon, 19 impeccably behaved boys and girls file in. Ms. Wong warmly greets every child by name. Each replies, "Good morning, Ms. Wong." They are seen. Welcome. Loved.
Article content
The intercom crackles to life. We stand for the national anthem and daily prayer. Ms. Giles, interim principal, reminds the children to be kind to each other. Leaning back in Ms. Wong's well-worn rocking chair, it strikes me that we could all use the word "kind" more often in this age of angry, insistent entitlement.
Ms. Wong provides a short lesson on capital letters. The children get to work at their desks, heads down, pencils scraping. Meanwhile, she invites a pupil to her desk to read for her from a literacy assessment program of graduated readings. As the student reads, Ms. Wong ascertains their level by counting up the errors. "That's wonderful!" she beams. "Level 3 will be just perfect for you!"
It's not easy to achieve this balance of individual attention and whole class management.
The class clusters together to practise a song for an upcoming mass. First, Ms. Wong leads a series of vocal scales. Then the children sing, using hand gestures to illustrate the words. They only started practising a couple of weeks ago. Remarkable.
Outside for recess, a boy flashes by in the sunshine. I think for a moment, just a moment, that it's my own son, eight years old again.
Article content
That evening, a friend asks if it felt sad to return to the old school. I say, not at all. It has been a long time! But that night I have an unusually vivid dream. I'm at a party. My entire family is there. My parents are in their prime. It's before the discord, before the dementia, illness and despair. Something surreal about a missing sandwich and a handbag leads me to quote Lady Bracknell from The Importance of Being Earnest. Everyone laughs. In that moment, I feel valued for who I am. Loved. Seen. Whole. I wake up to find myself crying.
Corpus Christi, crucible of dreams. They do good work there, and in schools everywhere. Ms. Wong, thank you.
John M. Richardson teaches at the University of Ottawa faculty of education. This is his 50th column for The Ottawa Citizen.
Related Stories
Richardson: Teaching climate change — how we can help empower students

Adam: Back-to-school shopping — kids sure know what they want
Our website is your destination for up-to-the-minute news and thoughtful commentary. Please bookmark ottawacitizen.com and sign up for our newsletters so we can keep you informed.
Article content