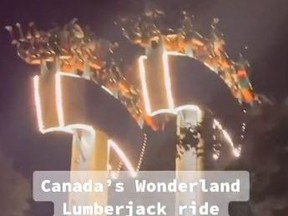 The Lumberjack ride at Canada's Wonderland was stuck upside down for about 30 minutes on Saturday.

Photo by @6ixbuzztv/X

/

TORONTO SUN
A thrill ride turned scary for passengers at Canada's Wonderland over the weekend when they were stuck upside down for nearly 30 minutes.
At about 10:40 p.m. on Saturday, the Lumberjack ride became "inverteed" and guests feet were in the air until the park's maintenance team was able to bring it down by 11:05 p.m.
According to reports, citing a theme park spokesperson, guests were unloaded and assessed by medical staff and "two guests reported chest pain and were attended to at the park's health centre before being released without need for further medical attention."
Canada's Wonderland patron banned for a year after posting ride videos

Giant waterslide coming to Canada's Wonderland in 2024