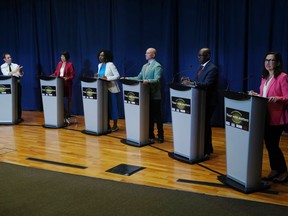 Josh Matlow, left, applauds a comment from Mitzie Hunter, centre left, as they are joined on stage by Olivia Chow, second left, Brad Bradford, centre right, Mark Saunders, second right, and Ana Bailao at a mayoral candidates debate in Scarborough on May 24, 2023.

Photo by Chris Young

/

The Canadian Press
A debate between the leading Toronto mayoral candidates saw front-runner Olivia Chow face repeated attacks from the other contenders over taxes as the candidates looked to build momentum with less than a month left in the campaign.
Taking part in Wednesday's debate was the former NDP parliamentarian Chow, Councillor Josh Matlow, ex-police chief Mark Saunders, former deputy mayor Ana Bailao, Councillor Brad Bradford and former Liberal provincial education minister Mitzie Hunter.
From our newsroom to your inbox at noon, the latest headlines, stories, opinion and photos from the Toronto Sun.
By clicking on the sign up button you consent to receive the above newsletter from Postmedia Network Inc. You may unsubscribe any time by clicking on the unsubscribe link at the bottom of our emails or any newsletter. Postmedia Network Inc. | 365 Bloor Street East, Toronto, Ontario, M4W 3L4 | 416-383-2300
Thanks for signing up!
A welcome email is on its way. If you don't see it, please check your junk folder.
The next issue of Your Midday Sun will soon be in your inbox.
The head-to-head portion of the debate saw Chow, who holds a commanding lead in the polls, handle the lion's share of the other contenders' questions.
Bailao, Saunders, Hunter and Bradford asked her to disclose how high she would raise property taxes. Chow said building a budget meant first identifying the needs of the city, insisting any increases would be modest.
"The question really should be what kind of service are we prepared to put in? We start with a budget with people at the centre," she said.
The event was co-hosted by Toronto Metropolitan University, the United Way and the Toronto Star, with the newspaper's city columnist Edward Keenan acting as moderator.
Keenan drew laughs from the crowd in the downtown auditorium when, after six consecutive questions to Chow about taxes, he reminded the candidates they could pose questions to other contenders.
Matlow bucked the trend and put his question to Saunders, linking him to Premier Doug Ford, and asked what services the ex-police chief would cut. Saunders said city priorities require a fiscally accountable mayor.
"When you talk about fiscal accountability, when we wake up in the morning and we hear that we are purchasing crack pipes and meth pipes, I don't think that is something that we need to have as a priority," he said, an apparent reference to harm-reduction supplies provided to help prevent the spread of disease.
"We have normalized disorder. We have normalized dignity for people that are out on the streets."
RECOMMENDED VIDEO
In a rapid-fire portion of the debate, Bradford and Saunders were the only candidates to say they would consider using "strong mayor" powers, recently granted by the province, to pass a bylaw with less than a majority of council support. Bradford and Saunders were also the lone contenders to say spending issues, rather than revenue, were primarily to blame for the city's budget woes.
With 102 candidates running in the June 26 byelection, organizers said the top six candidates were invited to Wednesday's debate based on polling data from earlier this month.
Recent polls indicate Chow has support from about a third of decided voters. Matlow, Bailao and Saunders are all polling in the roughly 10% to 15% range, while Hunter and Bradford are in the upper single digits.
During the 90-minute debate, candidates made their case to be the next mayor, while hinting at their attack lines through the campaign's final stretch.
Matlow referenced what he called Chow's legacy in public service, but said the city's "contemporary challenges" required a different approach.
"Doug Ford is a bully and we need to have a leader in the mayor's office who won't just say, 'I'm going to work with him.' Doug Ford needs to demonstrate that he can work with us," he said.
CITY ISSUES: The latest from Toronto's top mayoral candidates

CITY ISSUES: The latest from some of Toronto's top mayoral candidates

WARMINGTON: Ditch neatly wrapped, taxpayer-funded drug enabling kits
Bailao, meanwhile, said she would bring "pragmatism" to the mayor's office, highlighting her endorsements from some sitting city councillors, as well as business and labour leaders.
Bradford fielded questions from Chow about what she argued were slow affordable housing approvals during his time on key city committees. He replied by saying, as mayor, he would streamline the affordable housing approval process and defended his record as chair of the city's housing committee. He said he was not the author of the city's issues, but as a former city planner, insisted he knew how to fix them.
Hunter sought to draw a contrast between what she claimed was Chow's lack of transparency and what she says is her fully costed platform. She referenced her plan to establish a city-run corporation to build affordable housing on public lands and to open subways 30 minutes earlier on weekdays.
With four debates in just 48 hours last week and several more high-profile debates scheduled before the election, the busy program is in contrast to last year's election campaign, when incumbent John Tory took part in just two debates.
This byelection was called after Tory resigned in February and admitted to having an affair with a staffer.