The alleged conflict between immigration and the protection of French is expected to be a major theme over the next four years.
Author of the article:
Robert Libman
•
Special to Montreal Gazette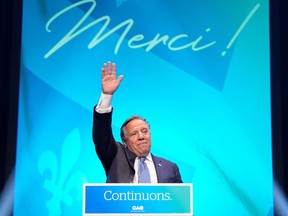 Premier François Legault waves at an election night rally in Quebec City, October 3, 2022.

Photo by MATHIEU BELANGER

/

REUTERS
The "two solitudes" in Quebec remain as distinct as ever, as illustrated once again by this week's election results.
The last few years have been difficult for minority communities with the adoption of laws targeting linguistic and religious minorities. Unfortunately, one need only refer to the Coalition Avenir Québec campaign slogan — "Continuons" — to surmise what minorities can look forward to in the next four years. The alleged conflict between immigration and the protection of French is expected to be a major theme, and likely to further divide us, despite François Legault's words about being the premier of all Quebecers.
Sign up to receive daily headline news from the Montreal Gazette, a division of Postmedia Network Inc.
By clicking on the sign up button you consent to receive the above newsletter from Postmedia Network Inc. You may unsubscribe any time by clicking on the unsubscribe link at the bottom of our emails. Postmedia Network Inc. | 365 Bloor Street East, Toronto, Ontario, M4W 3L4 | 416-383-2300
Thanks for signing up!
A welcome email is on its way. If you don't see it, please check your junk folder.
The next issue of Montreal Gazette Headline News will soon be in your inbox.
Late in the campaign, as Legault's numbers were softening slightly, both he and his minister of immigration, Jean Boulet made scandalous comments about immigrants. Yet his numbers subsequently improved, up four points on election day from the last polls. Also, the Parti Québécois had been calling for a dramatic reduction in immigration, expressing fear for the decline of French. These two parties combined for more than 55 per cent of the overall vote on Monday, which translates to almost two-thirds of francophone voters. We can point the finger as much as we want at Legault or Boulet, but an overwhelming majority of francophone Quebecers supported parties clearly articulating concerns about immigration. This will embolden Legault's quest to crank up the pressure on Ottawa for more powers to control immigration. As well, Quebec can be expected to continue its push for Bill 101 to prevail over the Official Languages Act. Will anyone push back?
The Liberal Party seemed jubilant on election night as it retained Official Opposition status and leader Dominique Anglade held onto her seat, both outcomes that were uncertain heading into election day. However, they finished fourth in the popular vote, with their worst percentage in the 150-year history of the party and support among francophones in single digits. Anglade has been outspoken in her support of immigration. The Liberal Party will have a leadership review at their next convention. Will immigration fears sown by the CAQ have some Liberals quietly questioning whether one reason for the party being largely shunned by francophones was that some have difficulty identifying with the daughter of Haitian immigrants? Some tried to parachute in a white francophone male leadership candidate last time. This could become an ugly undercurrent and potentially lead to Anglade's departure as the party moves to shore up its nationalist credentials in their quest to rebuild support among francophones.
Many anglophones opted for Éric Duhaime's Quebec Conservative Party, which declared its opposition to Bill 96. Despite garnering 13 per cent of the vote, it didn't win a seat. Without any presence in the National Assembly, the party's influence outside the Quebec City region will likely be marginal and minority communities probably won't register on its radar screen anymore.
The PQ was giddy on election night despite its worst result in the party's 50-year history. That's what happens when expectations are so low; some had predicted the party's demise. Leader Paul St-Pierre Plamondon won his seat, as did two others. His presence in the Assembly may pressure Legault to maintain a chest-thumping stance with the federal government.
Prime Minister Justin Trudeau showed courage this week — for bungee jumping — but hasn't shown much of a spine in facing Legault in the past on language matters. He did question this week Legault's sabre rattling on immigration. However, the Conservative Party's new leader Pierre Poilievre is gaining momentum in the polls, and if one were to interpret his recent speech after winning the leadership, he seems ready to give away the store to Quebec. This may compel Trudeau to back down again.
"Continuons" indeed.
Robert Libman is an architect and building planning consultant who has served as Equality Party leader and MNA, as mayor of Côte-St-Luc and as a member of the Montreal executive committee. He was a Conservative candidate in the 2015 federal election. twitter.com/robertlibman
Ottawa won't be able to resist Quebec demands for immigration powers, Legault says