'Whether you like Donald Trump or don't like Donald Trump, comparing him to a Nazi is illegitimate,' comedian and commentator says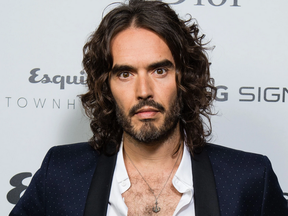 Russell Brand
Photo by Getty Images
Russell Brand has lashed out at Hillary Clinton and other liberals for branding people on the opposite end of the political spectrum as "Nazis" and "fascists."
In a video posted to his YouTube page, the comedian and commentator takes aim at Clinton after the former U.S. presidential candidate compared a rally Donald Trump held in Ohio to Nazi leader Adolf Hitler's speeches.
From our newsroom to your inbox at noon, the latest headlines, stories, opinion and photos from the Toronto Sun.
By clicking on the sign up button you consent to receive the above newsletter from Postmedia Network Inc. You may unsubscribe any time by clicking on the unsubscribe link at the bottom of our emails. Postmedia Network Inc. | 365 Bloor Street East, Toronto, Ontario, M4W 3L4 | 416-383-2300
Thanks for signing up!
A welcome email is on its way. If you don't see it, please check your junk folder.
The next issue of Your Midday Sun will soon be in your inbox.
"I remember as a young student, you know, trying to figure out, how people get basically brought in by Hitler," Clinton said, per Fox News. "How did that happen? I'd watch newsreels and I'd see this guy standing up there ranting and raving, and people shouting and raising their arms. I thought, 'What's happened to these people?'"
Clinton then drew a comparison to Hitler's rallies and Trump's recent speech which elicited a perceived QAnon salute. "You saw the rally in Ohio the other night, Trump is there ranting and raving for more than an hour, and you have these rows of young men with their arms raised."
"Hillary Clinton has compared Trump supporters to Nazis," Brand said in response. "But she has declared that she admires that new Italian leader (Giorgia Meloni) who the left say is a 'fascist,' and also, though, aren't there Nazis fighting for the Ukraine?" Brand exclaimed in a video titled, This Is F—ing Pathetic. "Is 'fascist' just a convenient term to bring down people you don't agree with?"
Brand continued his ambush on Clinton by saying that painting Trump with a Nazi brush was a convenient way to dismiss his supporters rather than engage in a genuine conversation.
"There are families where there are Trump supporters and Democrats in the same family," he said. "Once you say someone's a Nazi you know you're saying 'We don't have to deal with you, we don't have to talk to you, you're out of the conversation.' Simon says, 'Nazi,' and you're out."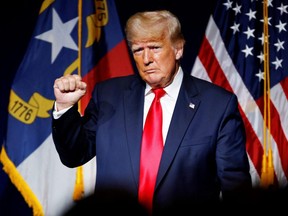 Former U.S. President Donald Trump makes a fist while reacting to applause after speaking at the North Carolina GOP convention dinner in Greenville, N.C., June 5, 2021.

Photo by Jonathan Drake / Files

/

REUTERS
Brand also hit out at Democrats for funding MAGA candidates in midterm primaries because they think it will be easier to beat an extremist at the polls.
"If you truly believed these were Nazis, you wouldn't take the risk, would you? Particularly because Hillary initially supported measures that would highlight Trump's campaign because they thought, 'Oh, this guy is never going to win anything.'"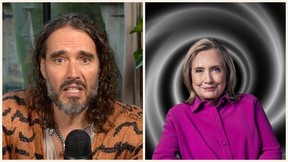 Russell Brand has taken aim at Hillary Clinton after she labelled Trump supporters as 'Nazis.'
Photo by YouTube
Brand further slammed the Democratic party and liberal commentators for "pretending that Trump is worse than he is" and increasing social tensions.
"Whether you like Donald Trump or don't like Donald Trump, comparing him to a Nazi is illegitimate, it's wrong, and it's a way of avoiding your own political shortcomings, and that's the real problem."
Meanwhile, rumours continue to swirl that Clinton is eyeing a possible 2024 run for president setting up a potential rematch with Trump.
"I see more and more signs that Hillary's going to run," political consultant Dick Morris told John Catsimatidis on his WABC 770 AM radio show in an interview this week pointing to Clinton's attack on President Joe Biden's "open borders" policy.
"She's going to say after the (midterm) election, 'See, the left cost us the House and the Senate. If we stay with a left-wing candidate in 2024, we're going to lose the White House. I'm the only one who will tack to the centre and give us a chance at victory​,​'​" Morris said, per the New York Post.
Clinton has said repeatedly she will not run again and last month urged the Republican party to field a new candidate in 2024.
"It should start in the Republican Party," Clinton said in an interview with CBS News. "Grow a backbone. Stand up to this guy. And heaven forbid if he gets the nomination, he needs to be defeated soundly and sent back to Mar-a-Lago."
mdaniell@postmedia.com
Trump sues CNN claiming defamation, seeks $475 million in punitive damages

ELDER: What about Democrats who 'deny elections'?