It's long past time for the Trudeau government to stand up to Beijing and end the harassment of Canadian citizens
Get the latest from Sabrina Maddeaux straight to your inbox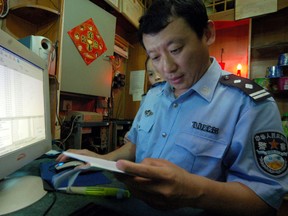 A police officer inspects an internet café in Fuzhou, China, in a file photo from 2006. At least three operations in the Greater Toronto Area officially registered as Fuzhou Public Security Bureau "service stations" are actually illegal Chinese police stations, a new report alleges.
Photo by Lu Yixin / Imagine China via Reuters
The federal Liberals have long shied away from confrontation with the Chinese Communist Party (CCP), but, as with all bullies, acquiescing to them results not in peace, but undaunted escalation.
According to a new report by human rights NGO Safeguard Defenders, China has ramped up extrajudicial intrusions on Canadian soil. Their research finds that at least three operations in the Greater Toronto Area (GTA) officially registered as Fuzhou Public Security Bureau "service stations" are actually illegal police stations. Safeguard Defenders alleges China uses these outposts to monitor Chinese nationals and "persuade" Chinese citizens accused of various corruption crimes to return home.
The NP Comment newsletter from columnist Colby Cosh and NP Comment editors tackles the important topics with boldness, verve and wit. Get NP Platformed delivered to your inbox weekdays by 4 p.m. ET.
By clicking on the sign up button you consent to receive the above newsletter from Postmedia Network Inc. You may unsubscribe any time by clicking on the unsubscribe link at the bottom of our emails. Postmedia Network Inc. | 365 Bloor Street East, Toronto, Ontario, M4W 3L4 | 416-383-2300
Persuade is, of course, a euphemism for the coercion, harassment and threats reported in recent years by Chinese citizens living in Canada. These tactics have also been used against Chinese immigrants who protest or critique the CCP. Even prior to Safeguard Defenders' police station reveal, it was widely suspected that Chinese foreign agents operate in Canada.
It should also be noted the CCP uses corruption charges to target political rivals and dissidents. As we know well from the Two Michaels saga, China's justice system is cloaked in secrecy and abused by the powerful to achieve other goals.
The only real shock is just how brazen China appears to be in setting up physical police stations. But, then again, why wouldn't it when our federal government, the Canadian Security Intelligence Service and various levels of law enforcement consistently fail to address China's aggression in any meaningful way?
The only real shock is just how brazen China appears to be
Less than a month ago Hong Kong charged a longtime Canadian citizen with "subversion" under its repressive national security law for activities he undertook in Canada.
When a National Post reporter asked whether China can prosecute another nation's citizen for an act that occurred in that country, a Hong Kong Security Bureau spokesperson wrote, "It should also be pointed out that the NSL has extraterritorial effect. Any persons or entities who violate the NSL, regardless of their background or where they are located, will be dealt with by the HKSAR (Hong Kong Special Administrative Region) government in accordance with the law."
The Hong Kong Security Bureau also told Global News it would "spare no efforts in pursuing the cases in accordance with the law in order to bring the offenders to justice" — a promise that becomes even more chilling in light of Safeguard Defenders' latest revelations.
This is the sort of attack on Canadian sovereignty, rule of law and respect for human and civil rights that should result in swift condemnation from a head of state. But, despite calls to do so, neither Justin Trudeau nor any of his cabinet have commented on the situation, let alone moved to protect dissidents or rebuke China.
Adam Zivo: How China's propagandists bamboozled Canada's media

NP View: The West must stand up for Taiwan
How hard can it be to say that Chinese laws don't apply to Canadian citizens in Canada? That we protect freedom of speech and won't tolerate infringement on our sovereignty? Or that we won't tolerate state-sponsored harassment and intimidation campaigns on our soil?
Laws to counteract these aggressions exist, but it's the unwillingness to call out bad behaviour and provide enforcement resources that allows them to continue. "We hadn't devoted resources to this. … I can't think of an instance where we have succeeded on the back of a complaint that Chinese agents were strong-arming citizens. You have to throw your shoulder into it," former RCMP commissioner Bob Paulson told the Globe and Mail.
In 2021, China allegedly interfered with our federal election by spreading anti-Conservative disinformation online. It brazenly disseminates propaganda to Chinese-Canadians through websites, media and advocacy groups that conceal the source of their support. In his book Wilful Blindness, investigative journalist Sam Cooper posits that both the fentanyl crisis and Chinese gangs' money-laundering via Canadian real estate are tacitly permitted by the CCP with the goal of destabilization.
Yet little to nothing has been done about these infringements, either. At a minimum, Canada needs to enforce its own laws, no matter who the perpetrators are. It also needs a strong China policy, which has apparently been years in the making under the Trudeau Liberals, but still has no release date in sight.
The Liberals can no longer ignore the threat posed by an increasingly aggressive and belligerent CCP. Doing so doesn't prevent conflict, but allows it to snowball to even more dangerous proportions. It's long past time to stand up to China.
National Post
Get the latest from Sabrina Maddeaux straight to your inbox