How would a slow and steady coronation play in North America, where swaths of new F1 fans aren't used to following a sport with a pre-ordained result?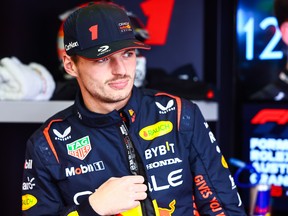 Max Verstappen of Oracle Red Bull Racing watches in the garage during practice ahead of the F1 Australian Grand Prix, on March 31, 2023 in Melbourne, Australia.
Photo by Mark Thompson/Getty Images
The Australian Grand Prix is not normally a significant event on the North American sports calendar.
It happens way over there on the bottom right corner of the map, which means it takes place in the middle of the night on our east coast and very late in the west. It's also still very early in the Formula 1 season, so you can't really convince yourself that it's worth throwing away a night's rest. Actually, maybe you can. I'm not here to judge. Sleep whenever you want.
But despite all that, this year's edition does carry some outsized weight. Even though it's just the third race of 23, the events in Melbourne will help indicate whether this season is destined to be a Red Bull romp, with Max Verstappen cruising to his third straight world championship — or if someone, anyone, looks capable of giving him a fight.
And if it's to be a slow and steady coronation, how exactly is that going to play on this continent, where there are swaths of new F1 fans who aren't used to following a sport where the result is pre-ordained?
Let's start with the events of this young season. Verstappen, fresh off winning his second title last year, came into 2023 as the clear favourite. But there were questions over whether his rivals were better suited to challenge him and Red Bull. Ferrari had a fast car in 2022, maybe even faster than Red Bull, but they were plagued by increasingly comical mechanical and strategic issues that killed a promising start to the season. It's never a good sign when the team boss is issuing post-race congratulations on the radio and the response from the driver is a seething silence. Mercedes, having dominated the sport for years, had a lemon of a car last season, but was still good enough to finish in third even as every week seemed like a calamity. If either team had sorted their issues over the off-season, they might be able to put pressure on the reigning champ.
And so far? Er, no.
'I'm just a driver': Canadian women set course for F1 glory

How a TV series got a sportswriter to (finally) pay attention to Formula 1
Verstappen won easily at the opener in Bahrain, but mechanical issues forced him to start the second race in 15th position. He still made his way up to second place but couldn't catch teammate Sergio Perez, who had disappeared off into the distance. That is a pair of Red Bull 1-2 finishes. Neither Ferrari nor Mercedes have even managed a podium, with Aston Martin's Fernando Alonso finishing in third in both races.
Ferrari can't blame the start on unusual strategic blunders, they just haven't been competitive, and Mercedes have all but had funeral rites for their car, with team principal Toto Wolff declaring that they made a mistake by trying to improve upon last year's design instead of ditching the concept and starting over. (Which is what Aston Martin did, to great effect so far.)
It's a stark change from last season, when Verstappen didn't finish two of the first three races and Ferrari's Charles Leclerc won two of them, giving him a healthy lead. Verstappen was still able to win the title comfortably from that position, and if he comes out of Australia — where forecasted rain might give his pursuers a chance — leading the standings comfortably, it will be an imposing start.
But, too imposing? Long-time Formula 1 fans, at least, are used to this kind of thing. McLaren was dominant in the late '80s, Williams took over a few years later and Ferrari and Michael Schumacher were hilariously unstoppable two decades ago, once winning 12 of the first 13 races. More recently, Mercedes and Lewis Hamilton kept winning title races that were over before they started. In that context, and despite rule changes meant to curb the tendency toward one dominant team, a commanding Red Bull is not atypical.
But Formula 1 has made massive gains in North America in recent seasons, and has added two U.S. dates over the past two years, doubling the number of races on this continent. And in North America, parity has long been part of the sporting landscape. Salary caps, luxury taxes, amateur drafts, revenue sharing, all of it has combined to limit the degree to which any one team can be dominant while keeping others within chasing distance. There are clear downsides to this model, such as the Oakland A's, but it's the system we have.
Europe, where F1 is strongest, is used to dominance. Its soccer leagues have no spending caps, and teams like Paris Saint-Germain, Bayern Munich and Manchester City have repeatedly won domestic titles thanks in large part to financial muscle. Bayern, club team of Canada's Alphonso Davies, is so used to winning that it just fired its first-year head coach because the team is in second place (by a point). The top-heavy nature of their leagues means that season-long coronations, as we might be witnessing with Verstappen, aren't unusual.
They just would be to the typical North American fan. If the young Dutchman wins comfortably in Melbourne, and perhaps more importantly, if Ferrari and Mercedes don't show signs that they can at least stay in his rear-view mirrors, the title will feel out of reach. Verstappen is already a -500 favourite to win the championship, which means a $10 bet would win a whole two dollars.
Get comfortable with dominance, in other words. Or pray for rain.
• Email: sstinson@postmedia.com | Twitter:
Check out our sports section for the latest news and analysis. Care for a wager? Head to our sports betting section for news and odds.