'I think the Senate is moving prematurely on this motion. Ultimately, obviously, there's the presumption of innocence'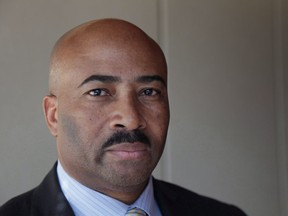 Former senator Don Meredith in 2017.
Photo by Colin Perkel/The Canadian Press/File
OTTAWA — The lawyer representing a former senator charged with sexual assault said Thursday it's "troubling" the Senate voted to strip his client of the title of Honourable while a process is ongoing in court.
The upper chamber voted this week to ask Gov. Gen. Mary Simon to take the title away from Don Meredith as well as other former senators who had been indicted and convicted of a crime.
Sign up to receive the daily top stories from the National Post, a division of Postmedia Network Inc.
By clicking on the sign up button you consent to receive the above newsletter from Postmedia Network Inc. You may unsubscribe any time by clicking on the unsubscribe link at the bottom of our emails. Postmedia Network Inc. | 365 Bloor Street East, Toronto, Ontario, M4W 3L4 | 416-383-2300
Thanks for signing up!
A welcome email is on its way. If you don't see it, please check your junk folder.
The next issue of NP Posted will soon be in your inbox.
Meredith resigned from the Senate amid allegations of sexual misconduct in 2017 and Ottawa police charged him with sexual assault and criminal harassment in October.
Mustafa Sheikh said his client intends to fight the charges against him.
"It's troubling in the sense that I think the Senate is moving prematurely on this motion. Ultimately, obviously, there's the presumption of innocence," he said.
A spokeswoman for Rideau Hall declined to provide comment earlier in the week when asked whether Simon intends to remove the title as asked.
The motion passed by the Senate could also affect Raymond Lavigne, a former Quebec senator who served time for fraud and who could not be reached for comment.
Senate asks governor general to strip former senator Don Meredith of 'Honourable' title

Former senator Don Meredith charged with three counts of sexual assault
Sheikh said as it stands, Meredith still has his title of Honourable, but will address the situation if it is removed.
"It's a little problematic that the Senate is bringing this application to ultimately strip my client of his title when this matter's before the court and there hasn't been any wrongdoing found."
Meredith, an ordained Pentecostal minister, was appointed to the Senate on the advice of former prime minister Stephen Harper in 2010.
In 2017, a Senate ethics officer recommended that Meredith be expelled from the chamber after concluding he violated its code of ethics by having a relationship with a girl when she was 16.
He acknowledged the sexual relations detailed in the report but said nothing happened until she turned 18.
Meredith ultimately resigned, but it's believed senators were preparing to oust him.
Two years later, a second Senate investigation found Meredith repeatedly bullied, threatened and intimidated his staff, as well as touched, kissed and propositioned some of them.
The June 2019 report concluded Meredith engaged in behaviour that "constitutes both harassment and sexual harassment" and $498,000 was paid to nine former staff members as compensation.
This report by The Canadian Press was first published Dec. 1,2022.