At the age of 75 it may be time to hang up the cleats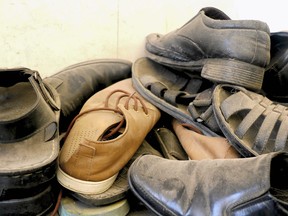 Mike Boone claims that he has a lot in common with Imelda Marcos. He writes, "for a Canadian pensioner who was never married to a powerful politician, I have too many shoes."
Photo by Getty Images/iStockphoto
Reviews and recommendations are unbiased and products are independently selected. Postmedia may earn an affiliate commission from purchases made through links on this page.
My contribution to journalism, apart from this column: I helped Jeff Bezos buy the Washington Post.
Before he acquired a newspaper, I shopped at the online supermarket Bezos launched as a bookstore. He and I have been at it ever since.
I'm an Amazon Prime member. I have an Amazon MasterCard.
Until recently, when I came to the saddening realization that there are only so many pages a geezer can read every day, I was an online Washington Post subscriber.
No more Post. But Amazon endures.
We're not talking Compulsive Buying Disorder. According to Wikipedia, CBD is "characterized by an obsession with shopping and buying behaviour that causes adverse consequences …
"It is experienced as an irresistible-uncontrollable urge, resulting in excessive, expensive and time-consuming retail activity" and results in "gross social, personal and/or financial difficulties."
I'm free of these habits and symptoms … so far.
I turned 75 last month. What do I need?
And what does a septuagenarian want other than octogenarianism with a few marbles still in the bag?
That's my self-assessment, and I'm sticking to it — though Jeff Bezos is in the process of knowing me better than I know myself. We've never met, but he knows I love ice cream.
The lure was irresistible. Labelled as an "Amazon's Choice," The Cuisinart Ice-21C makes ice cream, sorbet and yogurt.
Rave reviews on Amazon. Rated 4.7 out of 5 by users, and the affordable price of $106.
I was hooked and ordered it in late June. By early July, I returned the machine to Amazon and got a refund.
I had got as far as reading the instructions. And my partner had asked how this wondrous machine would fit on our limited counter space.
This was not my first Amazon screw-up. The Mr. Ice Cream defeat was four months after the misread feet.
I thought the Fitville Extra-Wide Walking Shoes would be great for spring strolls. Sadly, they were too tight on my old, decrepit feet.
Back to Amazon … two months before I ordered New Balance shoes that fit great. And two weeks before the Saucony Men's Excursion, which also fit snugly.
At this point, having exhibited hardly any symptoms of Compulsive Buying Disorder, I have to confess to another affliction: Imelda Marcos Syndrome.
I'm not pretending to be a Filipino politician. But Ms Marcos and I share a footwear obsession.
Her lavish wardrobe is said to include 15 mink coats, 508 gowns, 888 handbags and — wait for it — 3,000 pairs of shoes.
I have a grand total of zero minks, gowns and purses.
But for a Canadian pensioner who was never married to a powerful politician, I have too many shoes. And they're unwearable in winters that are colder than Manila.
Will I be spending Christmas in Dallas?
No … but I have a pair of Tony Lama cowboy boots.
Does James Bond require my assistance?
No … but I have a pair of the Danner Mountain Lights that look great on Daniel Craig.
How many Raves will I be attending?
None … but I'm geared up with an array of hipster Dr. Martens, if I can stay awake past 10 o'clock.
Had enough of my Marcos Madness? Let's move up from foot level to check out what else Amazon is selling me.
Returning an ice cream maker evidently does not convey the message that I'm neither a Ben nor a Jerry: Amazon is promoting the Ice-70, a brushed chrome beauty that's discounted from $335 to $231.10.
"Based on your recent shopping trends," Amazon is pitching me hiking boots, winter boots, toasters, blenders, leather bags, underwear, socks, jeans, headphones, ear plugs …
As they say on rock radio, the hits just keep on coming. And Mr. Imelda battles temptation on a daily basis.
I am just about ready, however, to hang up the cleats (and the sneakers.)
To paraphrase the great Bob Dylan, I've got everything I need, I'm a senior, I don't look back … at the Amazon website.
— Mike Boone writes the Life in the 70s column. mchlboone@gmail.com