Normally fit, athletic, and vaccinated, I suffered a debilitating 10-day period. Why haven't we heard clearly about the real possibility that COVID will leave you somewhere in the vast space between mild symptoms and death.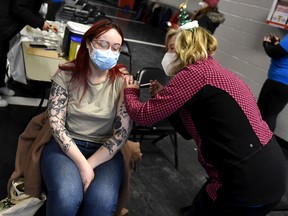 Getting a booster is no guarantee that it will prevent a nasty case of COVID.

Photo by Justin Tang

/

The Canadian Press
After half a year, he finally caught me. Like most mask-wearing, sanitation-adhering, and fully vaccinated people, I initially thought the tickle in my throat was probably just a cold. After a few hours, I was out of breath and unable to speak a complete sentence.
From that point on, I went downhill rapidly, with pain all over my body, chills, coughing, and a loss of energy with each wheeze. I was surprised to see that the "T" line in the rapid antigen test turned pink, not only because it took three days from the onset of symptoms to the positive test. , because by all accounts I should have had very few symptoms.
I am her 29 year old vaccinated (and boosted) with no underlying medical conditions. I eat well, exercise regularly, and have been running for over ten years. Based on what I've seen in the media, COVID should have been nothing more than a mild cold for someone like me. I was suffering from Every day seemed to bring something new. I say sensitive, but I don't consider it "mild".
It wasn't until I returned to work (after taking his health leave of more than a week for the first time in my life) that my experience was anything but extraordinary. It was only Colleagues began telling countless stories of friends and family members who, like myself, were hit so hard by COVID even though they were healthy, fit and vaccinated.
The more I recovered, the more resentment I felt. Why is no one talking about the very real possibility that COVID will put you somewhere in the gray area, somewhere in the vast space between mild symptoms and death.It puts you in the hospital Maybe not as much, but weeks or months after recovery, I feel like a devastated, oxygen-deprived shell of my former self. . A person so desperate that he spends a day in an overloaded emergency room may end up being recorded in the hospitalization data. Otherwise, it's your mother's word. In this context of rapidly mutating new diseases, why are only the most extreme cases worth hearing when the long-term effects are as unknown as the proportion of people who experience them?
Certainly, reports of COVID-related deaths and hospitalizations are important. However, among all those seeking hospital care, some choose to wait at home for various reasons.In the absence of those figures, I publicly acknowledge that they exist.
Still, if you don't check the high-risk box, you'll continue to get the message that COVID is a minor inconvenience at worst. I can't help but think that if people knew more about this populous neutral position, they might consider getting vaccinated, wearing masks more often, or being a little more careful overall.
It's been a little over a month since I recovered from COVID. I am grateful to be rejoining the world, but I am not fully back to my pre-COVID self. Every run reminds me of how far my lungs have to go. Every time I work, I'm reminded of the extra sleep I needed to fuel my brain. And each time I look back on this experience, I am reminded that despite our collective COVID fatigue, this virus is not over with us yet.
Amber St. Louis is an author living in Ottawa.
She signed up to receive daily headlines from Ottawa Citizen, a division of Postmedia Network Inc. receive news of
Sign Up By clicking the button, she agrees to receive the above newsletter from Postmedia Network Inc. You can unsubscribe at any time by clicking the unsubscribe link at the bottom of the email. Post Media Networks Inc. | 365 Bloor Street East, Toronto, Ontario, M4W 3L4 | 416-383-2300
Thank you for registering.
Welcome sending her email. If you don't see it, please check your spam folder.
The next issue of the Ottawa Citizen Headline News will arrive in your inbox shortly.