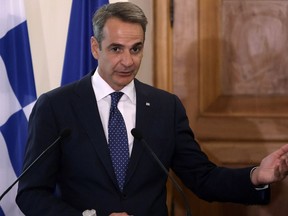 FILE - Greek Prime Minister Kyriakos Mitsotakis addresses the media at the Presidential Palace in Nicosia, Cyprus, on Monday, July 31, 2023. Torrential rain sweeping across central Greece has damaged roads, flooded homes and caused power outages on the island of Evia. "I will restate the obvious: The frequency of (weather) assaults due to the climate crisis is something that requires us to integrate civil protection (in our response)," Prime Minister Kyriakos Mitsotakis told a Cabinet meeting Wednesday, Sept. 27.

Photo by Yiannis Kourtoglou

/

THE ASSOCIATED PRESS
ATHENS, Greece (AP) — Torrential rain swept across central Greece on Wednesday damaging roads, flooding homes and causing power outages on the island of Evia, as the government declared that adapting to climate change has become a national priority.
Army and municipal crews cleared debris from the roads near the flood-hit towns of Limni and Mantoudi in the north of the island, where the Fire Service reported receiving dozens of calls from flooded households for assistance.
Article content
Article content
Authorities remain on alert in central Greece and nearby islands where a massive storm caused extensive damage earlier this month and left 16 people dead. The government said the initial estimate of the damage exceeded 2 billion euros ($2.1 billion), with infrastructure repair alone expected to cost nearly 700 million euros ($735 million).
Greece has been promised emergency funding from the European Union and is renegotiating details of existing aid packages to target more funds to cope with the damage caused by wildfires and floods.
"I will restate the obvious: The frequency of (weather) assaults due to the climate crisis is something that requires us to integrate civil protection (in our response)," Prime Minister Kyriakos Mitsotakis told a Cabinet meeting Wednesday. "Adaptation to the climate crisis is a fundamental priority in all our policies."
The weather is expected to improve Friday. ___ Follow full AP coverage of the climate and environment: https://apnews.com/climate-and-environment
Article content