Tiya Miles received the prestigious prize, administered by McGill University, on Thursday evening at a gala in Montreal.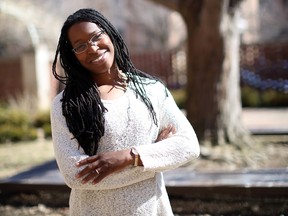 "I feel like ... everyone involved with the prize and McGill University are really giving space and offering respect for a story that the archives never wanted to tell," says author author Tiya Miles.
Photo by Kimberly P. Mitchell
The book that won this year's Cundill History Prize was the result of a series of happenstance events.
One goes back more than a decade, when the book's subject — a cotton sack — was purchased from a bin of old fabrics at a Nashville flea market. Another occurred when author Tiya Miles was told of its existence at a conference in the south she described as unusual for her to speak at.
Sign up to receive daily headline news from the Montreal Gazette, a division of Postmedia Network Inc.
By clicking on the sign up button you consent to receive the above newsletter from Postmedia Network Inc. You may unsubscribe any time by clicking on the unsubscribe link at the bottom of our emails. Postmedia Network Inc. | 365 Bloor Street East, Toronto, Ontario, M4W 3L4 | 416-383-2300
Thanks for signing up!
A welcome email is on its way. If you don't see it, please check your junk folder.
The next issue of Montreal Gazette Headline News will soon be in your inbox.
"All That She Carried: The Journey of Ashley's Sack, a Black Family Keepsake," published by Random House and written by Miles, a Harvard University history professor, tells the emotional story of an enslaved woman's separation from her daughter when the latter was sold in South Carolina.
The reason anyone knows whose hands the sack was passed down from, or why an otherwise ordinary object holds such historical significance, is because its last known owner, Ruth Middleton, stitched its story — her family's story — into the fabric, providing a rare glimpse into the lives of enslaved women in a world where archival material recounting their experiences is scarce:
"My great grandmother Rose
mother of Ashley gave her this sack when
she was sold at age 9 in South Carolina
it held a tattered dress 3 handfulls of
pecans a braid of Roses hair. Told her
It be filled with my Love always
she never saw her again
Ashley is my grandmother
Ruth Middleton
1921"
Through her book, Miles pieces together what would have been the lives of Rose, Ashley and Ruth as enslaved Black women in the American south and the way their love prevailed against all odds, proven by the very existence of the sack and the fact that it was passed on from mother to daughter for generations.
"It spoke to me immediately, because the story that is embroidered on this antique cotton sack is just so moving," Miles said on Thursday. "It's a traumatic story of the separation of a mother and a daughter, but also an inspiring story of the ways family bonds can be maintained and cherished despite trauma. And this is, in many ways, the African American story. It is in many ways the African diasporic story.
"This material culture artifact encapsulated it so succinctly that it was as if that experience was concentrated within a few lines, and that concentration together with the beauty of the story, together with the ways it compels the viewer to really face this terrible history, together with the ways it inspires hope for the future — that was all wrapped up for me in a very intense emotional reaction."
Today, the sack is owned by the Middleton Place (a plantation turned into a museum) in Charleston, South Carolina — to whom the woman who purchased it at the flea market passed it on because of a presumed link to Ruth Middleton. It has been lent to popular museums since its discovery.
As Miles notes in her book, it is worth considering the sack's chain of custody since it left Ruth's possession sometime after she sewed her story into its fabric.
"I do think we should be asking questions about who should the caretakers be of these very precious objects that are the remains or the relics of chattel slavery," Miles said. "But we ask these questions in a very complex modern environment in which there really aren't enough caretakers … to help the descendants of enslaved people, for example, maintain their things and care for those things so that they can last."
The Middleton Place Foundation is in the process of lending the sack to a Charleston museum dedicated to African American and diasporic histories and cultures, Miles said — potentially making it more accessible to those who may not feel comfortable visiting a plantation.
"I think that makes a big difference," she said. "It will be more accessible to more people, and in a context that I think allows for greater comfort, if one can be comfortable in a place where you're going to be engaging with atrocious histories no matter where you are, if you're dealing with slavery."
Miles received the prestigious prize, administered by McGill University, on Thursday evening at a gala in Montreal. The win was surreal, Miles said, as she never expected what began as a small story to earn such recognition.
"I feel like my book about an old sack in a southern city — it's a surprise to me that it would really gain the interest of the readers and the judges in this way," she said. "Everyone involved with the prize and McGill University are really giving space and offering respect for a story that the archives never wanted to tell. It's a story about people who wouldn't have been known, and I don't know that we often see that with prizes like this. So I'm just very honoured."
Though the story of Ashley's sack is embedded with trauma, Miles stresses it's also one of hope.
"I always want to strike a balance between those two registers," she said. "I think we need that balance between looking with clear eyes at the travesties of the past, and looking with hope into the future to help guide us in our decisions today."
kthomas@postmedia.com
Three students from Quebec hitting the road to Oxford as Rhodes Scholars

Three Alouettes named finalists for CFL awards

Quebec Writers' Federation Literary Awards return with a plot twist