Price showed incredible insensitivity posting a pro-gun message and endorsing a gun lobby group days before the École Polytechnique massacre anniversary.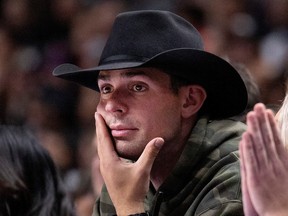 Montreal Canadiens' Carey Price watches a preseason NBA game in Montreal on Friday, Oct. 14, 2022.

Photo by Allen McInnis

/

Montreal Gazette files
VANCOUVER — When Carey Price spoke with the media in late October, he talked about how he didn't want to be a distraction to his Canadiens teammates while on the long-term injured reserve list this season with a knee injury.
So much for that.
Since the Montreal Canadiens making the Stanley Cup finals for the first time in 28 years, this newsletter is the dedicated Montreal Canadiens fan's source for exclusive Habs content, insight and analysis.
By clicking on the sign up button you consent to receive the above newsletter from Postmedia Network Inc. You may unsubscribe any time by clicking on the unsubscribe link at the bottom of our emails. Postmedia Network Inc. | 365 Bloor Street East, Toronto, Ontario, M4W 3L4 | 416-383-2300
Thanks for signing up!
A welcome email is on its way. If you don't see it, please check your junk folder.
The next issue of HI/O: Montreal's Road to the Cup will soon be in your inbox.
On Saturday — while the Canadiens were on the road in Edmonton — Price decided to publish an Instagram post to oppose Bill C-21, the federal government's new firearms bill.
Price's post came only three days before the 33rd anniversary of the École Polytechnique massacre — an anti-feminist mass shooting in which 14 women were murdered.
In his Instagram post, Price said he supported the Canadian Coalition for Firearm Rights. A day earlier, one of the survivors of the Polytechnique mass shooting, Nathalie Provost, denounced the CCFR for using the promotional code "POLY" to offer customers 10 per cent off its merchandise.
That promo code was revolting.
Price is a passionate hunter after growing up in Anahim Lake, B.C., loves his guns and doesn't want the government taking them away. But the gun Price posed with for his Instagram photo while dressed in a hunting camouflage outfit would not be banned under Bill C-21, according to a spokesperson for federal public security minister Marco Mendicino.
Price is entitled to his opinion about guns and there are other hunters who will surely agree with him. He obviously felt he had something to gain by the post and he will no doubt have big fans now within the Canadian gun lobby.
But to post something like Price did so close to the anniversary of the École Polytechnique massacre was incredibly insensitive.
France Margaret Bélanger, the president of sports and entertainment for Groupe CH, told Radio-Canada that Price told her he didn't know about the Polytechnique massacre — or the revolting promo code for the CCFR — even though he has been with the Canadiens for 15 seasons and the anniversary is marked every year on Dec. 6.
Most pro athletes live in their own little bubble — which is like a fantasy world with fame and fortune — so it's not that shocking that Price says he didn't know anything about the massacre.
"I don't think he was aware — none of us are really aware of what happened 30 years ago," Canadiens defenceman Joel Edmundson said after Monday's morning skate in Vancouver. "The (Polytechnique) anniversary is fast approaching — it's news to all of us, to be honest. But we're with Carey. There was no bad intentions on his part. It's just being blown out of proportion and we support him."
My views are my own and I do believe in them.

The only reason I bring up this issue is because it is what's being brought up now and not out of disrespect to anyone.

No, I did didn't agree with the promotional code either.

— Carey Price (@CP0031)

December 5, 2022
Price wrote on Twitter Monday that his views are his own about guns and that he believes in them and that he didn't mean to disrespect anyone.
As for the promo code, Price wrote: "I didn't agree with the promotional code either."
Not agreeing with it "either" and condemning it are two different things and Price still seems tone deaf when it comes to what kind of impact the Polytechnique massacre had on Montreal.
Price has now put the Canadiens — the franchise that gave him an US$84-million contract that runs through the 2025-26 season — in damage-control mode again a year after their controversial decision to select Logan Mailloux in the first round of the 2021 NHL draft. Price made himself the focus of attention instead of his young teammates who have been having a successful season in the first year of a rebuild under new management.
"Any injured guy will tell you that it's kind of a weird position to be in," Price said in October. "You feel like you're a part of the team but you don't really feel like you're a part of the team. You're kind of in a grey area, especially when you're projected to be out an extended period of time. I'm not going to be a part of that process here this season. I feel like I'm in the way."
If Price had taken the time to speak with Bélanger, or Anna Martini (an executive vice-president and chief financial officer for the Canadiens), or Chantal Machabée (the vice-president of communications) or Geneviève Paquette (the vice-president of community engagement) before making his Instagram post they could have explained to him that his timing was horrible and would be offensive to so many people — especially women.
The shooter in the Polytechnique massacre targeted only women before taking his own life. He didn't consider women to be the equal of men, which triggered him. After the attack, police found a letter inside his jacket stating he intended to kill feminists.
On Monday evening the Canadiens issued a statement about Price that finished by saying: "The Montreal Canadiens wish to express their sincere apology to any and all who have been offended or upset by the discourse that has arisen over this matter in recent days."
The Canadiens should have Price attend the anniversary events at the École Polytechnique Tuesday to better understand the city he has been part of for 15 years.
scowan@postmedia.com
twitter.com/StuCowan1
Stu Cowan: Canadiens coach St. Louis motivates through communication