It makes sense to at least give No. 1 draft pick a look in a few NHL games before making decision on what's best for him at this point.
Author of the article:
Stu Cowan
•
Montreal Gazette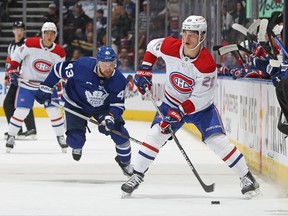 Montreal Canadiens' Juraj Slafkovsky handles the puck against Kyle Clifford of the Toronto Maple Leafs during an preseason game at Scotiabank Arena on Sept. 28, 2022, in Toronto.

Photo by Claus Andersen

/

Getty Images
GANDER, N.L. — Juraj Slafkovsky has one more preseason game to prove to the Canadiens that he deserves to start the regular season in the NHL after being the No. 1 overall pick at this year's draft.
Is the 18-year-old feeling pressure?
Since the Montreal Canadiens making the Stanley Cup finals for the first time in 28 years, this newsletter is the dedicated Montreal Canadiens fan's source for exclusive Habs content, insight and analysis.
By clicking on the sign up button you consent to receive the above newsletter from Postmedia Network Inc. You may unsubscribe any time by clicking on the unsubscribe link at the bottom of our emails. Postmedia Network Inc. | 365 Bloor Street East, Toronto, Ontario, M4W 3L4 | 416-383-2300
Thanks for signing up!
A welcome email is on its way. If you don't see it, please check your junk folder.
The next issue of HI/O: Montreal's Road to the Cup will soon be in your inbox.
"There is some pressure," Slafkovsky said after picking up an assist in the Canadiens' 4-3 loss to the Ottawa Senators Thursday night in a Kraft Hockeyville game in Gander. "But when I'm on the ice during the game, I try to focus to play really good and not think about anything else, just hockey."
Head coach Martin St. Louis said it was Slafkovsky's best game of the preseason.
The Canadiens, who have an 0-6-1 record, will play their final preseason game Saturday in Bouctouche, N.B., when they face the Senators in another Kraft Hockeyville matchup (6 p.m., TVA Sports, TSN 690 Radio, 98.5 FM). They will open the regular season next Wednesday night at the Bell Centre against the Toronto Maple Leafs.
"It's fast hockey," Slafkovsky said about adjusting to the NHL. "I just need to get (used) to it and it's coming with the games. I feel better on the ice each and every game and I'm happy that it's going that way. I feel like it will be good."
Kirby Dach knows what it's like to make the jump to the NHL as an 18-year-old. He did it with the Chicago Blackhawks after they selected him with the third overall pick at the 2019 draft. In 64 games as a rookie, Dach posted 8-15-23 totals.
His advice for Slafkovsky when it comes to handling the pressure?
"Don't worry about it," Dach said. "Just go out and play. He's a big kid, he's strong. I thought he played great. I think the more he just plays free and trusts himself, and just enjoys the moment instead of being caught up with what's going on with him this year, I think he'll be fine."
The Canadiens have a big decision to make with Slafkovsky and GM Kent Hughes has insisted since drafting him that they will do what they feel is best for his development — even if that means starting the season with the AHL's Laval Rocket.
Upper-body injuries to captain Nick Suzuki, Joel Armia and Emil Heineman that didn't allow them to make this road trip might make the Slafkovsky decision easier. The Canadiens also announced Friday that Mike Hoffman and Christian Dvorak are day-to-day with upper body injuries.
Because this season is going to be all about development for the Canadiens it makes sense to at least give Slafkovsky a look in a few NHL games before making a decision on what's best for him. Fans at the Bell Centre would definitely love to see him and give him a huge ovation during player introductions on opening night. That might also help Slafkovsky's confidence level.
"That's the big thing … I need to get my confidence because that's how my game is," Slafkovsky said. "When I have big confidence, then I can make the plays and I can keep the puck and stuff. So I just need to get that confidence and it will be good."
The Canadiens went bowling Wednesday night in Gander as a team-bonding event and Brendan Gallagher said Slafkovsky was the worst bowler on the team.
Slafkovsky didn't argue, saying with a big smile: "Terrible bowler, yeah."
More "correctable mistakes" as Canadiens drop another preseason game to Senators

Stu Cowan: Canadiens embrace small-town vibe on special day in Gander

Canadiens receive a very warm welcome from fans in Gander
When asked later how he might be able to find his confidence on the ice, Slafkovsky smiled again and said: "Not bowling."
It was another sign of how comfortable he seems to be in the spotlight — along with a great sense of humour, even in his second language.
Slafkovsky said he has been keeping in touch with his family and friends in Slovakia every day and that they are helping him build confidence. He added that he's also learning new things every day on the ice.
"I work with probably, I would say, one of the best people that know the hockey in NHL," he said about St. Louis. "All the skills coaches and Marty and all the coaches. It's just good that I got to this organization and they are really helpful. That's I think the biggest thing is that I'm learning new stuff and they're helping me.
"There are so many things I try to learn," he added. "Our skills coach (Adam Nicholas) always has some clips for me, tries to help me how to make decisions and what to do and when. Of course, I play the game, but he just tries to help me and those little things maybe not everyone sees."
One of the biggest adjustments for Slafkovsky — and where he has struggled — is handling pucks along the boards in the defensive zone on the smaller NHL rink.
"D-men are better and they pinch a lot," he said.
The key for Slafkovsky will be to keep learning, whether the Canadiens decide he should start the season in Montreal or Laval.
Does he think he still has a chance to make the Canadiens?
"Yeah, he said. "I always believe."
scowan@postmedia.com
twitter.com/StuCowan1