"Wides is very socially aware, very smart guy," Habs head coach Martin St. Louis says. "I think he understands what our young guys need."
Author of the article:
Stu Cowan
•
Montreal Gazette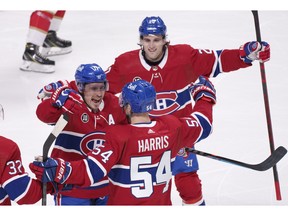 Montreal Canadiens' Brendan Gallagher, left, and Chris Wideman, top, congratulate teammate Jordan Harris after scoring against Florida Panthers during first period in Montreal on April 29, 2022.

Photo by Paul Chiasson

/

The Canadian Press
TORONTO — Chris Wideman will never forget what a veteran player did for him during his first NHL training camp with the Ottawa Senators 10 years ago.
"Jason Spezza sat next to me at lunch the first or second day," Wideman recalled at the start of the Canadiens' training camp last week. "He knew I went to Miami University. Basically, he knew everything about my career. I remember calling my brother on the way home, being like: 'This guy actually knows who I am.' Just really cool. An older guy goes out of his way to spend time with a younger player. I try to make the younger guys feel comfortable now."
Since the Montreal Canadiens making the Stanley Cup finals for the first time in 28 years, this newsletter is the dedicated Montreal Canadiens fan's source for exclusive Habs content, insight and analysis.
By clicking on the sign up button you consent to receive the above newsletter from Postmedia Network Inc. You may unsubscribe any time by clicking on the unsubscribe link at the bottom of our emails. Postmedia Network Inc. | 365 Bloor Street East, Toronto, Ontario, M4W 3L4 | 416-383-2300
Thanks for signing up!
A welcome email is on its way. If you don't see it, please check your junk folder.
The next issue of HI/O: Montreal's Road to the Cup will soon be in your inbox.
Wideman did that again Wednesday night when he was the only veteran defenceman in the lineup for the Canadiens' 3-0 preseason loss to the Toronto Maple Leafs at Scotiabank Arena. The other Canadiens defencemen were: Corey Schueneman, Arber Xhekaj, Jordan Harris, Otto Leskinen and Justin Barron.
"I'm just doing the same thing like everybody else," Wideman said after the game, in which he logged 18:56 of ice time and had two shots on goal. "Just trying to get my feet under me in a game situation. Conditioning, timing, playing through traffic, all that stuff. We're kind of all in the same boat. There was some positives tonight, so just got to build on the positives, learn from the mistakes and be ready to go tomorrow."
The Canadiens had an 0-2 record heading into Thursday's game against the Winnipeg Jets at the Bell Centre (7 p.m., TSN2, TSN3, RDS, TSN 690 Radio, 98.5 FM).
Wideman joined the Canadiens before the start of last season after spending a year in Russia with the Nizhny Novgorod Torpedo and being named the KHL's top defenceman. Last season, he posted 4-23-27 totals in 64 games to tie Jeff Petry (6-21-27) for the most points by a Canadiens defenceman. Wideman was rewarded with a new two-year contract worth US$1.525 million.
With Joel Edmundson sidelined indefinitely with a back injury, Wideman, Mike Matheson and David Savard are the only three veteran defencemen the Canadiens have and they will be relied on heavily this season.
"He's great in the locker room," goalie Samuel Montembeault said about Wideman after Wednesday night's game. "He's funny … everybody likes to be around him. Before the game he was the one talking, trying to get us going."
Head coach Martin St. Louis also had praise for Wideman.
"Wides is very socially aware, very smart guy," St. Louis said. "I think he understands what our young guys need. He knows he needs to support the young guys and he knows some guys are in a battle. Wides is a leader."
When asked about his pregame speech, Wideman said: "I've been in a lot of these guys' shoes. It's nerve-racking. This is a tough building to play in, this is a tough team to play against. Travel the day of the game (from Montreal). Definitely nerves and nerves are good. That means you care.
"Just trust in each other," Wideman added about the message he wanted to pass along to his teammates. "I think the biggest thing when you get into these situations, where guys aren't familiar with each other, you're not sure who your linemate is, your D partner, or you're with somebody that you're not normally with, there's a lot of unfamiliarity. So just trusting that they're going to do the job, that they're going to give their best effort and live with the mistakes."
When training camp started, Wideman was still trying to find somewhere to live this season in Montreal. While looking for a place, Wideman was staying in the guest bedroom at teammate Cole Caufield's place.
"It was like being at home taking care of my son," Wideman said with a chuckle at the start of camp. "But my son sleeps more. He's 9 months and he sleeps more."
After Wednesday night's game, Wideman said he had finally found his own place in time for the arrival of his wife and son in Montreal.
"I'm out of Cole's guest room — thank God," Wideman said with a big smile.
On a more serious note, he added about Caufield: "It's something I'll always remember. He's got one of the biggest hearts of anybody I've ever met. He's a great hockey player, but the person that he is, the time that he gives fans and complete strangers, I can't say enough good things about him as a person."
Watching Wednesday's game from the Leafs management's private loge was Spezza, who is a special assistant to Toronto GM Kyle Dubas after retiring as a player following last season.
"I haven't had a chance to see him, but I'd love to catch up with him sometime," Wideman said after being told Spezza was at the game. "That's something that I'll never forget."
It shows in the way Wideman acts with his young teammates.
scowan@postmedia.com
twitter.com/StuCowan1
Canadiens will be looking for their first preseason win against Jets

A game to forget for Canadiens, but a pregame ceremony to remember

Stu Cowan: Canadiens' Jake Allen to play 'stabilizer' role this season