While always important, the fall municipal election has special significance this year thanks to the Doug Ford government's 'strong mayors' legislation.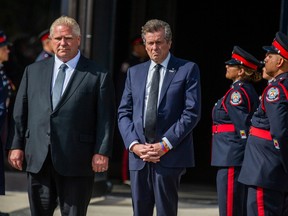 Ontario Premier Doug Ford (left) and Toronto Mayor John Tory, at the funeral for Const. Andrew Hong at the Toronto Congress Centre on Wednesday September 21, 2022. On September 12, 2022, 48-year-old Const. Andrew Hong died in the line of duty.

Photo by Ernest Doroszuk

/

Toronto Sun/Postmedia
Voters will or could be electing super mayors on Oct. 24.
While always important, the fall municipal election has special significance this year thanks to the Doug Ford government's 'strong mayors' legislation.
From our newsroom to your inbox at noon, the latest headlines, stories, opinion and photos from the Toronto Sun.
By clicking on the sign up button you consent to receive the above newsletter from Postmedia Network Inc. You may unsubscribe any time by clicking on the unsubscribe link at the bottom of our emails. Postmedia Network Inc. | 365 Bloor Street East, Toronto, Ontario, M4W 3L4 | 416-383-2300
Thanks for signing up!
A welcome email is on its way. If you don't see it, please check your junk folder.
The next issue of Your Midday Sun will soon be in your inbox.
The mayors of Toronto and Ottawa now have the authority to hire senior staff, create budgets and even veto some council votes.
And the Ontario government is considering giving all mayors extra powers.
"The Strong Mayors, Building Homes Act provides Toronto and Ottawa with the additional tools needed to advance provincial priorities," Victoria Podbielski, a spokesperson for Ontario Municipal Affairs and Housing Minister Steve Clark, said in a statement. "Right now we are focused on getting it right in Toronto and Ottawa where one-third of the growth is expected to take place over the next 10 years. Addressing housing supply issues in these communities is critical and we understand that municipal councils play a crucial role in determining the housing supply."
The Ford government was re-elected with a strong mandate to create housing and plans to build 1.5 million homes over the next 10 years, she said.
"In the future we will look towards other municipalities that are shovel ready, committed to growth and cutting red tape," Podbielski said. "In the coming months, we'll have more information on how these tools will be expanded to other communities so more municipal leaders can help build Ontario."
Voters can search their local municipal website for a full list of certified candidates and individual candidate's websites for more information.
SOME HOT GTHA MAYOR RACES
HAMILTON
Would-be mayors adore a vacuum, so the announcement in June by Hamilton Mayor Fred Eisenberger that he wouldn't seek re-election attracted nine challengers.
Former Ontario NDP Leader Andrea Horwath, also the former MPP for Hamilton Centre, is a high-profile contender for the mayor's chair.
Former mayor, Liberal MP and councillor Bob Bratina is well-known to Hamilton voters too.
The former president and CEO of the Hamilton Chamber of Commerce, Keanin Loomis brings a business background to the race.
TORONTO
John Tory is seeking a third term as a well-known incumbent.
But with many issues facing the city – housing, crime and gridlock – 30 challengers are hoping to knock him out of his position.
Among the higher profile candidates offering different visions for the city are former Toronto Police officer Blake Acton and urbanist Gil Penalosa.
VAUGHAN
Former Ontario Liberal leader and Vaughan MPP Steven Del Duca is one of seven candidates seeking the mayor's seat vacated by Maurizio Bevilacqua.
With five terms as city councillor, Sandra Yeung Racco is his most high-profile challenger for the job.
BRAMPTON
A lot of eyes are on the Brampton race where incumbent Patrick Brown seeks re-election after bowing out of the federal Conservative leadership campaign.
A tumultuous term of council has left members sharply divided into two camps with both sides hoping for fresh faces and a fresh start come Oct. 24.
Of the five challengers, lawyer and a former city staffer and whistleblower Nikki Kaur has received the most attention for her campaign to clean house.
aartuso@postmedia.com