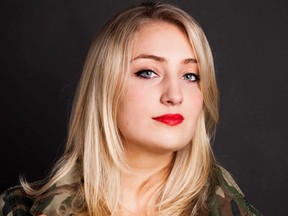 Sophie Buddle, who grew up in Ottawa, is now one of Canada's hottest comedians, with a Juno Award, a new comedy special and a recent appearance on late-night American TV.
Photo by Handout
Reviews and recommendations are unbiased and products are independently selected. Postmedia may earn an affiliate commission from purchases made through links on this page.
Sophie Buddle
8 p.m. Oct. 6, Mavericks, 221 Rideau St.
Sign up to receive daily headline news from Ottawa Citizen, a division of Postmedia Network Inc.
By clicking on the sign up button you consent to receive the above newsletter from Postmedia Network Inc. You may unsubscribe any time by clicking on the unsubscribe link at the bottom of our emails. Postmedia Network Inc. | 365 Bloor Street East, Toronto, Ontario, M4W 3L4 | 416-383-2300
Thanks for signing up!
A welcome email is on its way. If you don't see it, please check your junk folder.
The next issue of Ottawa Citizen Headline News will soon be in your inbox.
Doors open at 7 p.m.
Tickets: $22.23 at eventbrite.ca
Sophie Buddle left Ottawa at the age of 19 to seek her fortune on the West Coast.
Her plan was to attend fashion school and do comedy on the side, but she soon found herself smack dab in the middle of a thriving stand-up scene — and for once she wasn't the only woman.
"As soon as I moved to Vancouver, there were a ton of female pro comics that I really liked and still really look up to so much," Buddle said in an interview, recalling the support she got from established performers like Erica Sigurdson and how school fell by the wayside. "Stand-up started going well, and so I decided to pursue that more heavily."
Less than a decade later, she made Canadian history as the first female comedian to win the Juno Award for best comedy recording, an accolade that came in 2020 for her 2019 album, A Little Bit of Buddle, and might have propelled her to stardom if not for the pandemic shutting down all forms of live entertainment.
"It's the first time I've ever won something on a big scale," said the 27-year-old. "But it's hard to get something like that and then have to sit at home for another year. You can't really cash in on the momentum."
Still, there's no denying she's on a roll. Things are going well enough that she was able to move to Los Angeles in 2021, which led to a guest spot on The Late Late Show with James Corden. Buddle also makes regular appearances on the television series Roast Battle Canada, hosts a podcast about her obsessions and those of her guests, and is now on a tour that brings her back to town for a headlining gig at the newly renovated Maverick's Bar on Rideau Street.
There's also a new half-hour comedy special called Smile, Baby that was filmed during last year's Just for Laughs Festival in her birthplace of Montreal, which is also a city that played a role in her development as a comedian. Buddle recalls rushing home from classes at Hillcrest High School in Ottawa on Friday afternoons so she could catch the 4 p.m. bus to Montreal to get a shot at being on stage.
Buddle, an only child, and her mother, a single parent, moved to Ottawa when Sophie was about six years old, fleeing unpaid parking tickets in Montreal, as Buddle jokes. Her first exposure to stand-up happened when her mom won tickets to a comedy club in Ottawa. Buddle was about 14 and knew nothing about comedy but enjoyed acting and writing.
"As soon as we went I realized I was interested in doing it," she says. "I didn't really have any view of what stand-up was so when we started going to local amateur nights it didn't really seem like a big deal because it wasn't like I was watching George Carlin doing an HBO special. It didn't feel intimidating. It was like, 'Let's go watch people bomb every week,' and I was like, 'Yeah, I can do that.'"
"I told everyone I was older so that I could get into the venues and make friends," she says. "I had this weird adult character. I didn't want anyone to know I was in high school so I was doing jokes about sex when I was very much not having sex. It didn't really make sense. It wasn't based on anything and so yeah, it was bad. I was bad."
In recent years, a wave of female talent has invigorated the comedy scene, and young women are among the most ardent supporters of performers like Buddle, whose set is laced with salty sexual references delivered in her deceptively sweet voice. Fans, especially women, relate to her millennial take on hot topics like dating, body image, gender differences and the internet.
As for her growing fame, Buddle says people tend to recognize her from the Roast Battles more than any other on-screen appearances. "It's weird because it's not stand-up," she says. "It's just people being mean to each other."
But the show also casts a light on the edgier side of Canadian comedy, a welcome development for young comics like Buddle.
"It's sort of the only Canadian content that is really dirty, which is a weird thing, but since it's the only thing of its level, there is a built-in audience for that," she said. "A lot of comics in Canada, myself included, are sort of forced to have some very sanitized sets so that you can do all these things that pay your bills but there's not a ton of opportunities to really be as dirty as you can. So this is fun."
Being on the road is fun, too, as it's giving her the chance to hone new material in preparation for the taping of her next comedy special. In Ottawa, even with her mother and grandmother expected to be in the audience, Buddle doesn't plan to skip over the edgy stuff.
"I think it may be them who might feel awkward or traumatized, but I'm fine with it," she says. "They can come."
lsaxberg@postmedia.com
Best bets for Sept. 29-Oct. 4

Mādahòkì Farm kicks off second annual Tagwagi festival with reconciliation dinner honouring survivors of residential and day schools, '60s Scoop