Regina Pats captain Connor Bedard in the regular season home opener against the Moose Jaw Warriors at the Brandt Centre on Friday, September 23, 2022 in Regina.
Photo by TROY FLEECE
The kids are alright.
In fact, there's a bunch of teenagers considered once in a generation talents who are set to take the sporting world by storm in the coming years.
From our newsroom to your inbox at noon, the latest headlines, stories, opinion and photos from the Toronto Sun.
By clicking on the sign up button you consent to receive the above newsletter from Postmedia Network Inc. You may unsubscribe any time by clicking on the unsubscribe link at the bottom of our emails or any newsletter. Postmedia Network Inc. | 365 Bloor Street East, Toronto, Ontario, M4W 3L4 | 416-383-2300
Thanks for signing up!
A welcome email is on its way. If you don't see it, please check your junk folder.
The next issue of Your Midday Sun will soon be in your inbox.
The list is headlined by basketball's Victor Wembanyama, hockey's Connor Bedard and Nela Lopusanova, tennis sensation Coco Gauff, soccer's Maximo Carrizzo and now baseball's Ethan Salas.
Bedard, 17, hails from Vancouver and is considered both Canada and the NHL's next megastar. He has already led Canada to a number of junior titles, setting records for the country and for any young players overall in international play along the way.
Bedard has teams hoping they lose games this season in order to get a chance to draft him. When he plays it's like a video game.
Bedard had 23 points in seven games at the World Junior Championships this year. He had 51 goals in 62 games for the Regina Pats in the WHL last season and is ahead of that pace this year, with more goals than games played and an average of more than two points per game.
Some even say he has a chance to be as good as the NHL's best player, his namesake Connor McDavid, who knows all about being a teen sensation.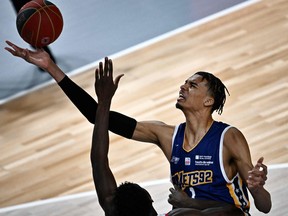 Metropolitans 92 French power forward Victor Wembanyama fights for the ball during the French Elite basketball match between JDA Dijon and Boulogne-Levallois Metropolitans 92 at the Palais des Sports Jean-Michel-Geoffroy in Dijon, on January 15, 2023. (JEFF PACHOUD/AFP via Getty Images)
There's an equivalent to Bedard in basketball. His name is Victor Wembanyama.
The Frenchman is the surefire first pick of this summer's NBA draft. Teams are tanking even harder in the NBA to get a shot at Wembanyama than NHL teams are for Bedard
That's because he's unlike anything ever seen before and has been called an "alien" because he's 7-foot-3, yet shoots and dribbles the ball like a guard and moves like one too. If he can stay healthy (players that size have mostly been unable to do so), Wembanyama potentially could become the face of the NBA and maybe even its best player one day.
Not bad for someone who only turned 19 earlier this month. LeBron James was already in the NBA when Wenmanyama was born in 2004.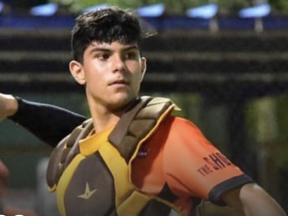 Ethan Salas. MLB.com
Salas, just 16, was signed by the San Diego Padres earlier this month to a $5.6 million U.S. contract. Salas hails from Venezuela, which is why teams could sign him outright instead of waiting until he was older and entered Major League Baseball's draft.
The catcher comes from a baseball family and is considered the top international prospect in baseball. His brother Jose is in the Miami Marlins system and his father, uncle and grandfather all played in the minor leagues or higher.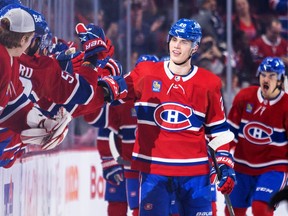 Canadiens' Juraj Slafkovsky gets high fives from team-mates after scoring his first career goal against the Arizona Coyotes during second period of National Hockey League game in Montreal Thursday Oct. 20, 2022.

Photo by John Mahoney

/

Montreal Gazette
Slovakia has two young phenoms: Juraj Slavkovsky, just 18 until March, was the surprise top selection of last year's NHL draft and is the league's youngest player. While he has yet to make much of a mark for the Montreal Canadiens, he was a monster at the junior level and is expected to be the storied franchise's next star.
Meanwhile, Nela Lopusanova, just 14, has a chance to be the best female hockey player in the world one day. She just turned heads at the woman's world junior tournament by leading all scorers with nine goals and three assists in five games for Slovakia. Many of the goals were of the highlight reel variety.
Other teens with bright futures include skiing's Eileen Gu, 19, already the third-highest-paid female athlete in the world, according to Forbes; soccer's Alyssa Thompson (Angel City) and Gabriel Slonina (Chelsea), both 18, and Maximo Carrizo, 14, the youngest player to ever sign with Major League Soccer.
Check out our sports section for the latest news and analysis. Care for a wager? Head to our sports betting section for news and odds.