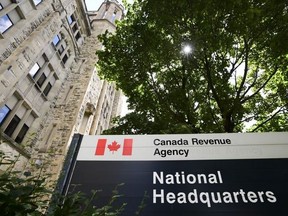 The Canada Revenue Agency (CRA) headquarters Connaught Building is pictured in Ottawa on Monday, Aug. 17, 2020.

Photo by THE CANADIAN PRESS

/

Toronto Sun
Federal government union negotiators are threatening Canadians: If the government doesn't pony up more money, taxpayers won't get their money back at tax refund time.
The union representing Canada Revenue Agency employees is holding strike votes between Jan. 31 and April 7. That's right around the time Canadians start filing their income tax returns. So, if there's a strike, income tax refunds could be stuck in limbo. At least that's the threat from the union negotiators demanding huge raises.
From our newsroom to your inbox at noon, the latest headlines, stories, opinion and photos from the Toronto Sun.
By clicking on the sign up button you consent to receive the above newsletter from Postmedia Network Inc. You may unsubscribe any time by clicking on the unsubscribe link at the bottom of our emails or any newsletter. Postmedia Network Inc. | 365 Bloor Street East, Toronto, Ontario, M4W 3L4 | 416-383-2300
Thanks for signing up!
A welcome email is on its way. If you don't see it, please check your junk folder.
The next issue of Your Midday Sun will soon be in your inbox.
"The union representing 35,000 Canada Revenue Agency employees is seeking wage increases that total almost 30% over three years," reported Postmedia.
Should taxpayers feel sorry for bureaucrats?
"Government spending on public servant salaries and benefits is forecast to climb to almost $55 billion this year – or about $130,000 per full-time employee," according to the Parliamentary Budget Officer.
The Canadian average income is $51,300, according to Statistics Canada. Government employees receive 9% more than their counterparts working for a business.
Bureaucrats are complaining about their pay. But they already receive more than many Canadians. They get golden benefits. And they weren't scathed by government lockdowns. Many even benefited financially.
If politicians give the bureaucracy a 10% raise (one union group is demanding more than 10%), it will blow a $5.5-billion hole in the budget. That could force the government to hike the second income tax rate by more than a full percentage point. Or it could raise the general and small business tax rate by two points.
There's another fundamental unfairness of the union demands: the tale of two pandemics. Outside the golden gates of government, taxpayers took pay cuts, lost their jobs or closed their businesses during the pandemic. Inside the golden gates, bureaucrats took raises, bonuses and expanded their ranks.
One of the unions threatening strikes is the Public Service Alliance of Canada. In 2020, PSAC negotiated pay raises "as private sector layoffs reach all-time highs," according to the National Post.
A total of 312,825 federal employees received a raise in 2020 or 2021. That means 93% to 98% of federal employees received a raise. The feds have no records of ever cutting pay, according to research from the think-tank Secondstreet.org.
The PBO estimated 133,013 federal employees took paid time off work during the pandemic. That perk cost taxpayers $1.2 billion. The people threatening strikes today were most likely to be the ones enjoying their favourite daytime soap while getting paid.
CRA bureaucrats were responsible for the most paid leave, representing "43% of the total cost since the beginning of the pandemic," according to the PBO.
The federal government also dished out $361 million in bonuses in 2020 and 2021. Almost 90% of government executives received a bonus last year. All while departments failed to meet half of their own objectives.
The number of federal bureaucrats paid six-figure salaries went up by 45,000 during the pandemic.
Canadian taxpayers need their representatives to speak up. But there's deafening silence from members of Parliament.
RECOMMENDED VIDEO
Why haven't MPs called out the government union negotiators that are demanding huge raises? Is it because MPs don't want to draw attention to their own pay hikes?
MPs took three pay raises while their constituents suffered through the pandemic. The pay raises range from an extra $10,600 for a backbencher to an extra $21,200 for Prime Minister Justin Trudeau.
The issue is clear. The people who are paid more are demanding more. Those demands would be paid for by the people who make less and have struggled more.
The solution is also clear. MPs must stand up for their constituents against the union negotiators who always demand more. And MPs need to lead by example and dial back the pay hikes they pocketed.
Franco Terrazzano is the federal director of the Canadian Taxpayers Federation