From direct flights with Air Canada to zipline adventures.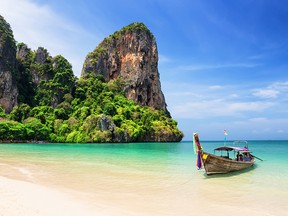 A traditional wooden longtail boat at Railay Beach in Thailand.
Photo by Getty Images
Reviews and recommendations are unbiased and products are independently selected. Postmedia may earn an affiliate commission from purchases made through links on this page.
Air Canada now flys direct Vancouver to Bangkok knocking hours off what used to be possible only by taking connecting flights. "We are thrilled to launch Air Canada's first non-stop service to Southeast Asia and the only non-stop flights between North America and Thailand," said Mark Galardo a senior vice president, at the inaugural flight in December. Flight time is 16 hours on board Air Canada's 787 Dreamliner, however through the quirks of time zones and the aid of tailwinds the return flight takes 13 hours and lands before it leaves.
Bangkok is a busy, bustling city, that is both charming and chaotic. Here you'll find: temples, and skyscrapers juxtaposition against stilt houses and shacks; street food, McDonalds, roof-top bars and world-class restaurants. It has a six-lane highway but is infamous for its gridlocked traffic. Motorcycle taxis weave in and out of traffic and there's a subway and skytrain system but they don't connect. You can find spirituality and shopping on the same street. On the Chao Phraya River you can catch a water taxi or take a cruise. Ten and a half million people call it home, more than 35 million tourist visited in 2019. Like Alice in Wonderland anything can happen; it makes sense that RedBull, the energy drink, was created here.
Start your day with a roundup of B.C.-focused news and opinion delivered straight to your inbox at 7 a.m., Monday to Friday.
By clicking on the sign up button you consent to receive the above newsletter from Postmedia Network Inc. You may unsubscribe any time by clicking on the unsubscribe link at the bottom of our emails or any newsletter. Postmedia Network Inc. | 365 Bloor Street East, Toronto, Ontario, M4W 3L4 | 416-383-2300
Thanks for signing up!
A welcome email is on its way. If you don't see it, please check your junk folder.
The next issue of Sunrise presented by Vancouver Sun will soon be in your inbox.
Chiang Mai 700 km north in the shadows of the mountains will have you feeling much closer to nature. It's not accurate to describe it as a sleepy town – more than a million people call it home – but everything is calmer here, including the weather which is cooler than in the south. It's laid back lifestyle is a draw for expats and older citizens. There's no bustle and no beaches in Chiang Mai. And while things are spread out it's easier to get around than Bangkok. And it's cheaper.
D for Democracy. Yes the Thai people vote for their government, but the country has had a pattern of civil unrest following elections and having the military step in. For years it was ruled by a military junta. In 2019 the military handed control back to a civilian government – lead by a former army chief.
Elephants hold a special place in the hearts and minds of the Thai people. Associated with royalty, and said to be the guardians of Buddha elephants are regarded as the national animal of Thailand. The history of Thailand is interwoven with the elephant: they were ridden into war, they are used for logging. Today they are classified as an endangered species with most elephants living in nature reserves or private conservation parks unable to be returned to the wild.
Patara Elephant Farm's motto is rescue, recovery, reproduction, and reintroduction for elephants.
Photo by Dave Pottinger
Full Moon Party on the island of Koh Phangan is an all-night party often associated with drunkenness, drugs, and debauchery on the beach. And while tourists flock here in the thousands, few locals attend as the majority are "embarrassed" by the association of it with Thailand.
Gastronomy — It is said every Thai dish must be sweet, sour and spicy. Fish sauce, curry, coconut, fresh herbs and chilli peppers all are staples of Thai cuisine.
Hospitality seems to be in the DNA of Thai culture. Often called the Land of Smiles Thai people don't like to argue or raise their voices, they don't even like to haggle over prices. Instead they smile, a lot. And because tourism is a life-blood of Thailand this hospitality extends from hostels to hotels, where it seems some staff are just standing around waiting to be helpful.
Iconsiam along the bank of the Chao Phraya River is one of the biggest malls in Asia. It's three times the side of Metrotown in Burnaby B.C.. In 2021 it was ranked among the world's top four best shopping centres at the MIPIM Awards. If food or retail fashion is your fancy Iconsiam has it.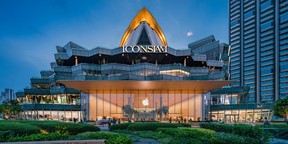 Iconsiam is Bangkok is one of largest shopping malls in Asia.
Photo by Iconsiam
Jungles and waterfalls and wildlife are plentiful in northern Thailand. Doi Suthep National Park (261 sq kilometres) is a popular destination for trekking and is located 16 km from Chiang Mai. A number of adventure tours are available, including half day and full day trips. Ornithologist will be delighted as there are 300 bird species, some small mammals, but no tigers.
K is for King. Yes Thailand has a king, Rama the tenth – despite him living in Germany – he's revered. Pictures of him can be seen on bill boards, calendars and most everywhere. The Thai people take him very seriously and it's a crime to insult the king.
Ladyboys is the name given to those born male but who identify as women, or transgenders with many of them having gender-affirming surgery. In Thai society they are "the third sex" and are part of the culture.
Massages done right, done dirt cheap. For as little as $15 you can get an hour's massage. In some parts it's had to go a block without seeing a venue. A Thai Massage is a specific type of massage and can not be described as relaxing, at least not while it's being done. The masseuse often climbs up on the table to bend and stretch the client.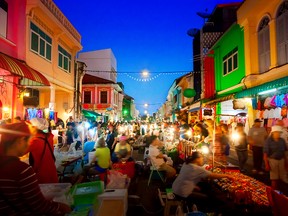 Phuket Walking Street night market in Phuket old town, Thailand.
Photo by Getty Images
Night market —- In almost every community there is a weekly night market. For sale you'll find everything from trinkets to treasures. And of course there is the street food, where you can try everything from crickets to honey toast, to grilled pork to lobster.
Ohs and Ahs — the two most likely expressions you'll use when you see Thailand's tropical beaches. Arguable it was the movie "The Beach" that launched tourism in Thailand – the secret was out – Thailand has some of the best beaches in the world. The beauty of Thailand's beaches are… in a word… stunning.
Phuket — the largest of Thailand's islands – is synonymous with party. Pleasure seekers and sun-worshipers flock here for the beaches and nightlife. Your choices of places to stay range from back-packing hostels to high-end resorts that are hideouts for the rich. And that's the beauty of Phuket; it has something for everyone. Hard to belief it got it's start as a mining town.
Queen Suthida – if there is a king there has got to be a queen. She is the fourth wife of the king.
Racha Island is a slice of paradise. In Thai Racha means "for the king." And this island got it's name because King Rama the fourth visited the island. Today the namesake 5-star resort on the island lets tourists "live like a king." The Racha resort has an office in Phuket and will arrange a boat for the 35 minutes crossing of the sea to get there.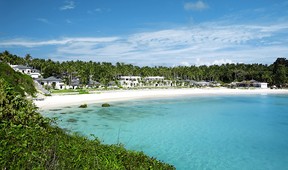 The Racha was named Asia's top luxury island resort in 2019.
Photo by The Racha
S — Before it was called Thailand the name of the country was Siam. It was first renamed Thailand in 1939 by Prime Minister Field Marshal Plaek but when he was forced out of office the name returned to Siam. But Plaek took office again in 1947 and since 1948 Thailand has been the official name.
Tuk Tuks — the icon vehicle of Thailand is more popular with tourists than locals, whom have taken to motorbike taxi's to get around. Yet the tuk tuk remains part of the Thai culture and despite or maybe because of it's inability to weave in and out of traffic is a much safer wind-in your face transportation.
Underground cave — the cave where 12 boys were trapped in 2018 is officially known as Tham Luang Cave and is located in a national park 40 minutes' from the city of Chiang Rai. The cave system is more than 10 kilometres long but only the entrance is open to tourists. And only during the dry season.
V – 310 meters vertical above Bangkok is the Mahanakhon Skywalk complete with a walk out glass bottom viewing deck and 360 degree views of the city below. That's 78 floors up. It's also home to Thailand's highest rooftop bar, Sky Beach. There's no better way to see the sunset in Bangkok.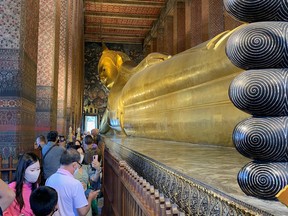 The Reclining Buddha at Wat Pho.
Photo by Dave Pottinger
Wat Pho is a monastery and temple dating back to the 1700s and King Rama 1. It's now a vast complex complete with a working temple, massage school and hundreds of statues. Wat Pho is across the street from the Grand Palace in Bangkok and has almost 400 Buddahs on site. However it is best known for its Reclining Budda which is almost 50 meters long.
X or XXX — "Happy endings" are not the norm in Thai massage parlours. It is in fact illegal.
Yellow — the colour of Monday and royalty. Due to Buddhist's beliefs every Thai knows the name of the week they were born on, and every day is associated with a colour. There used to be a tradition of wearing the colour of the day but it's no longer followed.
Ziplines are popular ways to see the jungle canopy of Thailand. Jungle Flight is Thailand's longest zipline stretching for one km.