Embrace the change of season as an opportunity to review the items in your home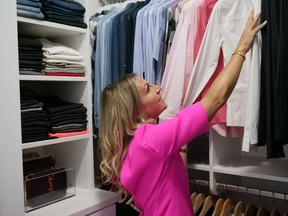 Fall is a great time to declutter your home and pass along items you no longer want.
Photo by Organized Jane
Reviews and recommendations are unbiased and products are independently selected. Postmedia may earn an affiliate commission from purchases made through links on this page.
Fall is the perfect time to declutter your home, says organizing expert Jane Stoller, known as Organized Jane.
The link between decluttering and productivity during the fall has been established, says Stoller. So, where to begin?
Start your day with a roundup of B.C.-focused news and opinion delivered straight to your inbox at 7 a.m., Monday to Friday.
By clicking on the sign up button you consent to receive the above newsletter from Postmedia Network Inc. You may unsubscribe any time by clicking on the unsubscribe link at the bottom of our emails. Postmedia Network Inc. | 365 Bloor Street East, Toronto, Ontario, M4W 3L4 | 416-383-2300
Thanks for signing up!
A welcome email is on its way. If you don't see it, please check your junk folder.
The next issue of Sunrise presented by Vancouver Sun will soon be in your inbox.
Embrace the change of season as an opportunity to review the items in your home. You'll spend a lot more time indoors in the cooler months, so take a hard look at the things you'll be sharing your space with and consider what to let go of.
Categorize everything, starting with your day-to-day wear, and review your wardrobe every three months, says Stoller. Put away any clothing that's out of season. Sporting attire: ask yourself, is it hockey season or beach season?
Fall is a great time to pull out ski and snow gear in anticipation of hitting the slopes this winter. And if you're someone who takes regular fall or winter vacations, now's a good time to a look at your seasonal vacation staples and decide what you still like and want to use.
Schedule small, daily decluttering sessions, says Stoller. Ten minutes a day is perfect, and if you work from home, an excellent place to start is simply tidying up your desk at the end of each day.
"Even if you spend a few seconds thinking about the clutter around you, this could affect your productivity, she says.
Keep up this ten-minute-a-day declutter routine until it becomes a habit. You'll begin to notice what routines could be improved in your household and work, what items you never use and even how your home and workspace could be more efficient.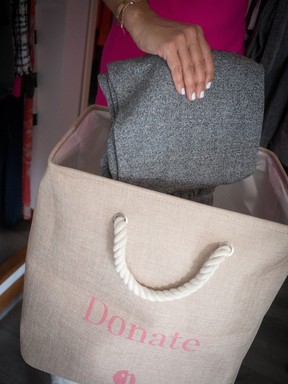 Clearing out and organizing your wardrobe is a must, says Jane Stoller.
Photo by Organized Jane
Think about clutter traps in your home. These are typically spaces that cause stress and where you lose time, like entryways and mudrooms.
Make sure everything has a designated space in your home, says Stoller. Hooks for coats and backpacks, a dish for keys and bins for hats.
As kids return to school, manage that paper trail, says Stoller. With Halloween, Christmas and everything in between, there can be plenty of cards, drawings and other paper items to sort through.
Junk drawers are another clutter trap, says Stoller. So now's the time to put that bug spray and sunscreen away.
Another good tip for getting your home sorted is to make sure everything closes, says Stoller. Closet and desk drawers that can't close are a classic clutter trap, so Stoller suggests see-through boxes:
"It's important during any season to know what you have stored, and if you can't see the contents of a box, make sure it has a label."
Apply the same decluttering methods to your work habits, says Stoller. In a digital world, it's essential to take steps to improve your focus.
"As soon as we open our phones or computers, we are bombarded with distractions and these need to be eliminated if you want to focus on the work that's important."
Clean out your computer, says Stoller. An organized computer is more important for working professionals than organizing a filing cabinet. Clean up your computer's desktop. Use two or three catch-all folders. For example, you might set up folders for clients, months and project-specific folders. Use subfolders and continue the pattern. Unsubscribe to emails daily. Create folders and familiarise yourself with your email inbox and organization tabs. Also, get non-work-related items out of your workspace. After all, you wouldn't keep a laundry basket near your desk at the office.
"Most importantly, I recommend only checking your email twice a day and letting your customers and team know what times during the day," she says.
The Home Front: Vancouver-based glassblowing studio finds beauty in tiny bubbles

The Home Front: Come together right now over architecture