Expert gardener and president of GardenWorks Leanne Johnson on how to make the most of the season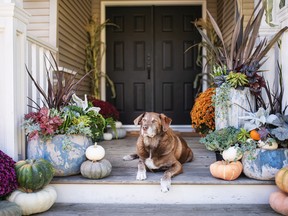 A fall inspired entryway. Great for Thanksgiving or Halloween entertaining.

Photo by Leanne Johnson

/

PNG
Reviews and recommendations are unbiased and products are independently selected. Postmedia may earn an affiliate commission from purchases made through links on this page.
If you love plants, flowers or gardening, there's no reason to put the breaks on in fall, says expert gardener and president of GardenWorks Leanne Johnson.
Fall is a glorious season to be in the garden, with all the rich colours and interesting textures, says Johnson. It's also a great time to compost tired, bedraggled annuals.
Start your day with a roundup of B.C.-focused news and opinion delivered straight to your inbox at 7 a.m., Monday to Friday.
By clicking on the sign up button you consent to receive the above newsletter from Postmedia Network Inc. You may unsubscribe any time by clicking on the unsubscribe link at the bottom of our emails. Postmedia Network Inc. | 365 Bloor Street East, Toronto, Ontario, M4W 3L4 | 416-383-2300
Thanks for signing up!
A welcome email is on its way. If you don't see it, please check your junk folder.
The next issue of Sunrise presented by Vancouver Sun will soon be in your inbox.
Go for warm tones
She says that if you like warm tones, they can be achieved through planting heucheras, pansies, asters, bronze grasses and chrysanthemums during the autumnal months. These are also great if you want to create a festive front entrance at your home, and transforming your back deck can be easily done by planting pumpkins or warty gourds.
If you feel time-poor, there's nothing wrong with picking up some fall-inspired hanging baskets and mixed planters that are full of annuals and perennials from a local garden centre, says Johnson. You can even pop the plastic pots into your own terra cover planter or basket.
Bring the outdoors in
Fall is a great time to bring the outdoors in, says Johnson. Use seasonal plants to adorn your fireplace or seating areas and for your Thanksgiving tablescape.
Decorating tricks with plants and foliage include delicately arranging branches of fragrant eucalyptus with intricate Japanese maple branches, seed heads and candles.
Johnson goes for classic fall colours in her own home, including rich orange, rust and burgundy.
Now is also the time to plant spring bulbs like tulips, daffodils and alliums, says Johnson.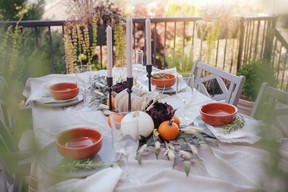 A fall inspired tablescape using items from the garden. Perfect for Thanksgiving dinner.

Photo by Leanne Johnson

/

PNG
Landscape designers often use one plant that repeats in clients' front and back gardens to unite their outdoor areas. Johnson explains that the 'repeat' adds a touch of design sophistication to your space.
People often avoid doing a garden clean-up. But even a short time out there with your clippers, removing some of your dead flower heads, along with dried leaves and branches, can make a real difference.
"A short investment in time in the garden clean-up effort pays major dividends," says Johnson.
Plant trends
The natural flowing wild-flower look continues to be popular in gardening, says Johnson.
"We are gardening with purpose these days. We love and support our pollinators and plant gardens that we can eat and share with neighbours, friends, and family," she says.
She says that planting veggie gardens became popular during COVID-19 and continues to bring joy. Greens and lettuce are easy to grow at home. Sprouts can also be planted indoors and, in some cases, only take a few days before they're ready, says Johnson.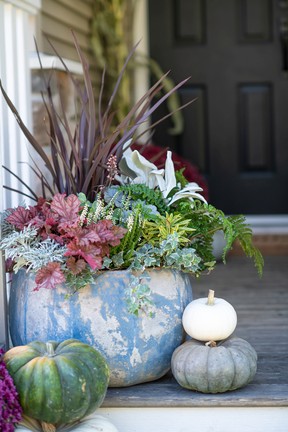 A fall inspired entryway, featuring kale, heuchera and pumpkins.

Photo by Leanne Johnson

/

PNG
Tips to get started
Johnson recommends BC Landscape and Nursery Association as a good source of inspiration if you're interested in gardening this fall. Their website lists member garden centres across British Columbia and is an excellent resource for green thumbs.
Social media platforms are also handy for tips and inspiration for seasonal garden work, and there are short, easy-to-follow videos that detail how to grow most plants out there, says Johnson.
"Success is contagious. My best advice for new gardeners is to visit your local garden centre where there are many experienced plant people who love to share their passion for growing," she says.
Brian Minter: Why not devote a portion of your garden to naturalizing bulbs?

The Home Front: Furniture designer Irina Flore collaborates with Native Shoes