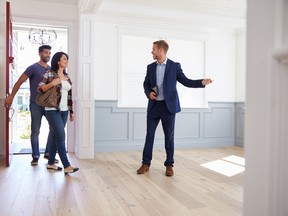 There are many, but I bought them. Factors involved in both sales and investment. It's a good idea to know what to pay the most attention to. Getty Images
Reviews and recommendations are fair and products are selected independently. Postmedia may earn affiliate commissions from purchases made via the links on this page.
Whether you are a buyer, seller or investor, it's all about asking the right questions
Real estate is a constantly changing and attractive industry. Various factors are involved, such as buying, selling, and investing. It's a good idea to know what to pay the most attention to.
For homebuyers,Real Estate Ins and Outs international best-selling author Marianne Padjan, , suggests the following important considerations:
– Get Pre-approval to see how much you can spend comfortably.
– Think about commuting time to work from home. And
– consider trees near your house as you may have plumbing problems in the future.
If you are a new home buyer, you need to specifically ask three questions:
– Do you have any assignments?
– Is there a development cost?
– Is it a reputable builder?
Regarding sales, Padjan suggests the following:
– Get the right price.
– Manage market expectations. And
– Consider multiple offers or offers at any time.
Finally, here are the top three tips for investors:
– Take a look at the property in case something goes wrong.
– It's perfectly fine to test for mold, asbestos, and other potential hazards.
– Investors need to be aware of hidden fees such as maintenance costs.
When asked, why are you familiar with the industry, Pajan said:
For general real estate inquiries, please contact marianne.padjan@exprealty.com.
For more information, please contact Nicole (Nicole@prospect2win.com) or subscribe to the YouTube channel. at www.youtube.com/NicoleAttias.
From the newsroom to the noon inbox, Toronto Sun's latest headlines, stories, opinions and photos .. By clicking the
sign-up button, you agree to receive the above newsletter from Postmedia Network Inc. You can unsubscribe at any time by clicking the unsubscribe link at the bottom of the email. Postmedia Network Inc. | 365 Bloor Street East, Toronto, Ontario, M4W 3L4 | 416-383-2300
Thank you for registering.
A welcome email has been sent. If you don't see it, check your junk folder.
Your Midday Sun's next issue will arrive in your inbox shortly.