There's an Anishinaabeg word to describe the moment: Biskaabiiyang, which means 'returning to ourselves' through regeneration of ancestral knowledge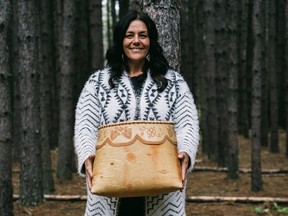 Birch bark artist Helen Pelletier, of the Fort William First Nation, Thunder Bay.
Reviews and recommendations are unbiased and products are independently selected. Postmedia may earn an affiliate commission from purchases made through links on this page.
Something was missing for Bess Legarde. Anishinaabe, from the Fort William First Nation in Thunder Bay, Legarde grew up in a Catholic family disconnected from her Indigenous roots. At age 12, she discovered powwow dancing.
"I just felt so drawn to it. It was like, 'this is who I am.'"
Sign up to receive the daily top stories from the National Post, a division of Postmedia Network Inc.
By clicking on the sign up button you consent to receive the above newsletter from Postmedia Network Inc. You may unsubscribe any time by clicking on the unsubscribe link at the bottom of our emails. Postmedia Network Inc. | 365 Bloor Street East, Toronto, Ontario, M4W 3L4 | 416-383-2300
Thanks for signing up!
A welcome email is on its way. If you don't see it, please check your junk folder.
The next issue of NP Posted will soon be in your inbox.
Legarde began travelling with another family to powwows. She learned to sew so that she could make her own jingle dresses. She met elders and mentors at powwows who taught her traditional skills, like beading and tanning animal hides.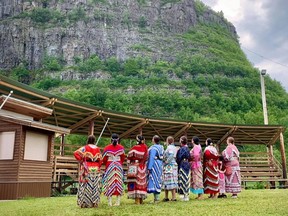 Bess Legarde, in blue, with other jingle dancers at Fort William First Nation in Thunder Bay, Ont. Photo courtesy of Bess Legarde.
Today, at 35, Legarde is a busy mom of two, a powwow dancer, and Indigenous artist, turning her learned cultural knowledge into unique creations. This summer, at the Toronto Indigenous Fashion Arts Festival, Legarde showed her newest creations — fish skin leather earrings with an Indigenous medicine motif. She catches the fish and tans the skins herself, cleaning the scales with teas and herbs, working and stretching the skins to make them into strong but flexible leather. "And because they are fish skins, they're waterproof," she says.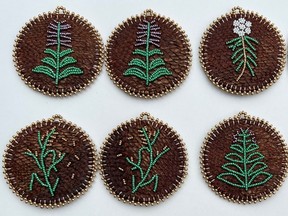 Bess Legarde's fish skin designs with Indigenous medicine motif. Photo courtesy of Bess Legarde.
Legarde's cultural awakening isn't unique. From fashion to food, visual and performing arts, a wave of young Indigenous artists are proudly reclaiming their Indigenous roots. They are giving new life and a modern twist to abandoned traditions as their parents and grandparents — entire communities — assimilated to the colonial way of life.
Orange shirts a reminder that even the best residential schools carried a 'traumatic' mission

Raymond J. de Souza: A tale of two papal visits to Canada, two decades apart
Once forbidden, their works and performances are now being embraced by non-Indigenous audiences. Notorious Cree – James Jones – from Anishinaabe Tallcree First Nation in Alberta, is one of the world's top hoop dancers. He's also a social media sensation, with millions of Instagram and TikTok followers, and influencer campaigns with Lululemon and RW & Co. Owami by the Sioux Chef, a Minneapolis Indigenous restaurant, was this year's recipient of the James Beard Foundation Award for Best New Restaurant.
Deantha Edmunds, an acclaimed Inuk opera singer from Newfoundland, has performed for audiences across Canada and beyond, including Pope Francis. Niio Perkins, a Haudenosaunee from Quebec, is a beadworker and fashion designer whose traditional symbolism creations have a permanent home in the Eiteljorg Museum, the New York State Museum, and commercial partnerships with retailer Simons and Manitobah Mukluks.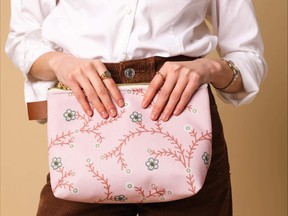 A Niio Perkin beaded bag with traditional design. Photo courtesy Niio Perkins.
"I definitely think something exciting is happening," says Jas Morgan, a professor at Toronto Metropolitan University and governor of the Yellowhead Institute, an Indigenous-led research and education centre based at the university. Morgan is Cree-Métis-Saulteaux, from Saskatchewan.
"It's this beautiful moment where Indigenous people are looking to their culture and reworking it and making it into these new ways of futuristic cultural production. It's very exciting to be a part of it."
Indigenous traditions were never really lost, Morgan says. "There's more space and healing happening. We can talk to our kokums, our aunties and grandmas about our traditional cultural knowledge and, finally, we feel safe to share them and practice them.
It feels like society is changing

Jas Morgan
"It feels like society is changing," Morgan says.
There's an Anishinaabeg word to describe the cultural moment: Biskaabiiyang, which means "returning to ourselves" through regeneration of ancestral knowledge.
Helen Pelletier, an acclaimed Anishinaabe artist from the Fort William First Nation, is reviving the ancestral art of working with birch bark. She makes birch bark canoes, wigwams and beautiful etched baskets from folded birch bark.
"It's old knowledge, something Anishinaabe people have been doing since time immemorial," Pelletier says.
I thought, you can make things with bark, really?

Helen Pelletier, artist
She was in her early 20s, working at Fort William Historical Park in Thunder Bay, when she first discovered it. They were making a traditional wigwam with birch bark panels. "We were raised on the reserve, but I went to school in town and we had none of this," says Pelletier. "So, when I started working at the Fort, I thought, 'you can make things with birch bark, really?' "
"It was so precious, my boss treated it like gold," Pelletier remembers. Her boss, her first teacher, sparked an interest, but it would be years before she returned to it. Pelletier had a child, got a job and was "coasting through life," but came back to the art of birch bark through her community.
There's a mountain covered with birch trees on the Fort William First Nation, on the shores of Lake Superior. A decade ago, Pelletier decided to make a birch bark wigwam on the mountain and connected with elders and teachers and her boss from her 20s. She learned how to harvest the bark, treat it, and began her journey as an artist.
In 2018, she quit her job to focus on her art full time. Next summer she is holding a months-long exhibition at the Thunder Bay Art Gallery.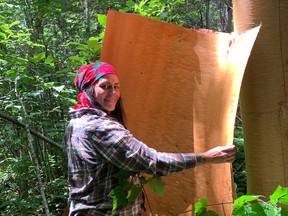 Helen Pelletier harvesting birch bark on territorial land at Fort William First Nation, Thunder Bay.
"At first, I felt I didn't deserve this, this is so beautiful," says Pelletier. She consulted with elders. "They said 'continue, keep making. You're healing. The birch tree is the Anishinaabe tree and our trees are healing you and through this process you're making and creating beautiful things."
Harvesting birch bark is a special art. There is winter bark and summer bark, and the winter bark is better for etching because of its darker, richer colour. In Thunder Bay, there is about a two-day window, right after maple season, to collect the bark. That's when it comes off the tree rather than being pulled off. "If the tree doesn't want to give it to me, I won't take it," says Pelletier, who walks her territorial land every day, collecting roots and mosses for stitching, building a relationship with the land. "My next step is language to communicate with the trees, because I feel that's the missing part."
Edmunds, Canada's first Inuk classical singer, grew up on the west coast of Newfoundland. She studied music from an early age, and says she was "blessed" with music teachers who introduced her to classical music and composers. She came to love opera singing.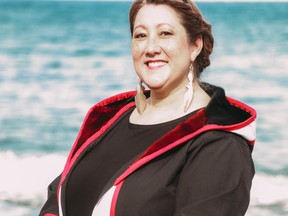 Deantha Edmunds, Inuk classical singer.
Although Inuk, she wasn't raised in that cultural tradition, and felt at odds with her roots. People often asked her "what is Inuit opera?"
"I would say that there is no such thing, I just happen to be Inuk and a classical singer. The next question asked was, 'do you throat sing?' 'No. I'm a soprano!' At times, I felt I was a bit of a disappointment, too much of one thing, not enough of another."
Do you throat sing? No, I'm a soprano!

Deantha Edmunds
Then she learned of the research by Dr. Tom Gordon, a musicologist and professor at Memorial University's School of Music. He had been working to transcribe classical church music found along the north coast of Labrador. Early German missionaries to Labrador brought instruments and the works of composers such as Bach, Handel, Haydn and Mozart. The texts were translated into Inuktitut and became part of Inuit church and community life.
"While the missionaries banned sacred Inuit traditions such as throat singing and drum dancing, they gave Labrador Inuit the gift of this beautiful music," Edmunds says. "Over time, Inuit made the music their own," she says.
"When I was growing up, my father had told me about the excellent singers and musicians, church choirs and brass bands in Nunatsiavut, but I had not realized the significance and history of the music they were making."
Edmunds worked with an elder to learn the language and sing classical arias in Inuktitut. In 2019, she was cast in the world premieres of two Indigenous operas, Shanawdithit, and Two Odysseys. She is now composing, writing music and making albums that showcase Inuit throat singing and drum dancing. "They are incredibly powerful traditions that take my breath away with their beauty."
This past summer, she performed for Inuit residential school survivors in the presence of Pope Francis in Iqaluit, Nunavut. Her performance was broadcast live across Canada and beyond.
"I hope my performances and music will give people a glimpse into how I walk through this world, and who and what I carry with me."