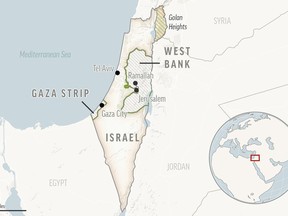 This is a locator map of Israel and the Palestinian Territories. (AP Photo)
THE ASSOCIATED PRESS
JERUSALEM (AP) — Thousands of people are to march in Jerusalem's Pride parade on Thursday, an annual event that is taking place this year under Israel's most right-wing government ever, stacked with openly homophobic members.
The march in the conservative city is always tense and tightly secured by police, and has been wracked by violence in the past. But this year, Israel finds itself deeply riven over a contentious government plan to overhaul the judiciary. The plan has torn open longstanding societal divisions between those who want to preserve Israel's liberal values and those who seek to shift it toward more religious conservatism.
Jerusalem's march is typically more subdued than the one in gay-friendly Tel Aviv, where tens of thousands of revelers pour into the streets for a massive, multicolored party. But Thursday's parade in Jerusalem is expected to draw bigger crowds than usual in a show of force against the government and its plan to reshape the legal system.
Prime Minister Benjamin Netanyahu's government is made up of ultranationalist and ultra-religious parties who openly oppose homosexuality, although the Israeli leader has promised to protect LGBTQ+ rights and a member of his party who is gay is the Knesset speaker.
The country's Finance Minister Bezalel Smotrich has in the past declared he was a "proud homophobe." Before entering politics, National Security Minister Itamar Ben-Gvir, who now oversees the police, was a fixture at Pride parades, joining a group of protesters who oppose the march. Avi Maoz, a deputy minister with authorities over some educational content, has said he wanted the legality of the Jerusalem Pride parade examined.
Ben-Gvir said Wednesday there would be a "massive" police presence guarding the marchers and that he supported the freedom of expression manifested by the parade. Israeli police said more than 2,000 officers will be out along the parade route.
"It will be the police's duty to protect, guard and ensure that even if the minister disagrees with the parade, the safety of the marchers is above all else," Ben-Gvir said.
Like other years, anti-LGBTQ+ protesters are expected at Thursday's parade. At the parade in 2015, an ultra-Orthodox Israeli man stabbed 16-year-old Shira Banki to death and wounded several others.
Israel is a rare bastion of tolerance for the LGBTQ+ community in the conservative Middle East, where homosexuality is widely considered taboo and is outlawed in some places. Members of the LGBTQ+ community serve openly in Israel's military and parliament, and many popular artists and entertainers are openly gay.
Yet activists say there is a long road toward full equality. Jewish ultra-Orthodox parties, which wield significant influence over matters of religion and state, oppose homosexuality as a violation of religious law, as do other religious groups in Israel.
The conservative make-up of Netanyahu's government sparked new fears in the LGBTQ+ community, which had seen gains under the previous, short-lived administration led by Netanyahu's rivals. Those fears were exacerbated when the government pushed ahead on its plan to overhaul the judiciary, a plan that was put on hold in March after a burst of spontaneous mass protests.
The plan would weaken the judiciary and limit judicial oversight on laws and government decisions, what critics say poses a direct threat to civil rights and the rights of minorities and marginalized groups.
Protests have continued even though the government and opposition are in talks to find a compromise on the plan and demonstrators are expected to show up in Jerusalem to lend their support to the community.
The government says the judicial plan is meant to rein in what it says is an overly interventionist Supreme Court and restore power to elected legislators. Critics say it will grant the government unrestrained power and upend the country's system of checks and balances.
——
Goldenberg reported from Tel Aviv, Israel.