Saturday, Oct. 1: You can write to us too, at letters@ottawacitizen.com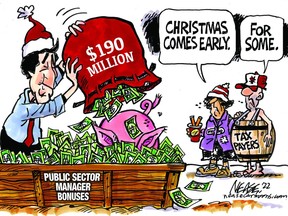 Photo by Nease
Bonus question: Why pay PS executives extra?
Re: Public service bonuses hit $190 million, Sept. 27.
Sign up to receive daily headline news from Ottawa Citizen, a division of Postmedia Network Inc.
By clicking on the sign up button you consent to receive the above newsletter from Postmedia Network Inc. You may unsubscribe any time by clicking on the unsubscribe link at the bottom of our emails. Postmedia Network Inc. | 365 Bloor Street East, Toronto, Ontario, M4W 3L4 | 416-383-2300
Thanks for signing up!
A welcome email is on its way. If you don't see it, please check your junk folder.
The next issue of Ottawa Citizen Headline News will soon be in your inbox.
So we find out that 89 per cent of public services executives merited a performance bonus. One must ask the obvious question: What happened to the other 11 per cent? Could they not fog a mirror like many of their colleagues?
With 89 per cent of executives surpassing their lofty objectives, this explains the exemplary world-class services we, the public, have been subjected to over the past many years. Immigration is a cakewalk; passports are easy to obtain; health care is a Harvard business case of premier service; and DND procurement sets the world standard for on-time/on-budget delivery of vital services, to cite a few examples.
My take on the 11 per cent without bonuses is that they will be filing grievances with the Canadian Labour Relations Board or the Human Right Commission to demand fair and equitable pay treatment, and no doubt with a better-than-even chance of winning.
In the private sector where I worked for 30+ years, we saw maybe 30 to 35 per cent of employees being awarded exceptional performance bonuses — because these were exceptional cases, not just showing up to do the work we were paid to do.
Garry Logue, Ottawa
Good thing they didn't do even better
Public service executives are sharing bonuses totalling $190 million even though they only met 45.7 per cent of their performance objectives. One can only imagine what the bonuses would have been if they had met 50 per cent of their objectives.
Les Shinder, Nepean
On climate, McKenney walks the talk
Re: Ottawa mayoralty — McKenney's policies look thin so far; Sutcliffe offering more substance, Sept. 27.
I do not believe columnist Randall Denley's claim that mayoral candidate Catherine McKenney is weak on climate change initiatives. In their two terms as city councillor, McKenney (who uses pronouns they/them) has "walked the talk" when it comes to climate change. Just check their voting record on urban sprawl, active transportation, public transit and the tree canopy, as well as their support of many initiatives in the city's Energy Evolution program.
The funding of their campaign promises, in part, relies on federal grants, but isn't that the smart thing to do if, as they said, they will keep tax increases to no more than three per cent?
At the beginning of their campaign, McKenney promised not to attack other candidates and instead say what they would prioritize as mayor. I'm sure they will continue to walk the talk.
Nancy Biggs, Orléans (former co-chair of the City of Ottawa Environmental Stewardship Advisory Committee)
McKenney's policies are substantial
I'm thoroughly disappointed by both Randall Denley and the Ottawa Citizen. McKenney has policies on tree coverage, building retrofits and more. Their policies are substantial and more meaningful than a promise to plant one million trees.
Mark Levison, Ottawa
Put the emphasis on infrastructure
Excellent column from Randall Denley. We particularly need to direct resources toward maintaining existing infrastructure. The roads and sidewalks in this city are an abject disgrace for the capital city of a G7 country.
Every voter in Ottawa needs to read Denley's very concise comparison of the strengths (Mark Sutcliffe's) and weaknesses (Catherine McKenney's) in the platforms of these leading candidates.
Bob MacGregor, Ottawa
Ottawa's enjoying democracy at its best
I recently met several candidates for Ottawa council, and I have read about the candidates for mayor in the Citizen. Without exception, they all seem intelligent, personable and honest. They differ on priorities and issues.
This is democracy at its very best. Enjoy it!
Globally, democracy is under threat, so I do not take a fair election for granted. I know that to keep real freedom, we need good people to run. Fortunately, we have them.
So, to the candidates and their supporters, my warmest thanks.
Patrick Esmonde-White, Ottawa
Information lacking on school board candidates
As a concerned citizen, I consider myself an informed voter. The views of those seeking the position of mayor or councillor are well documented. Those most serious about their run for office at least provide a brochure.
As for school board trustees, it is next to impossible to find out their views on education and how they intend to make them known while sitting on the board. I cannot recall ever having a trustee knock on my door or send me a brochure on where they stand. It appears if they can afford signs this is enough to encourage an elector to mark an 'X' next to a name they recognize when in the polling booth.
The blame for this state of affairs rests mainly with the elector. It is apparent we deem these board elections irrelevant and one needs to ask the province why they are allowed to exist.
Do boards only exist to sign off on directives from the director of education? We are well acquainted with the name of the minister of education but are unfamiliar with the role of a board of trustees.
Geraldine Schultz, Nepean
Sutcliffe's wrong about the bridge
Re: Deachman: Mark Sutcliffe says voters have a 'clear choice' of visions for Ottawa, and he's right, Sept 29.
I am bitterly disappointed with the position mayoral candidate Mark Sutcliffe stated on the sixth crossing over the Ottawa River. The tunnel option (that is way too expensive and too risky in our clay-based soil) equates to no action, no help for heavy trucks, no realization that we are a capital, no knowledge of how the east end has developed and no acknowledgement that our five other crossings need reinforcement down the road.
I really hope that I am wrong and that he is open to discussion. Even the best of politicians have changed their minds on this.
Nicole C. Beauchamp, Ottawa
It's not just about cops on the streets
Re: Are Ottawa's streets safe? That depends on whom you ask,; and Ottawa needs to invest in proven crime prevention techniques, Sept. 27
I was happy to read Bruce Deachman's piece and the article by Jeffrey Bradley and Irvin Waller. Fact-based, well-researched information about crime and possible solutions for it in our city. Thank you!
I am 65, and have never missed voting. I've paid attention to the candidates hoping to be Ottawa's next mayor. My poor TV got yelled at a few weeks ago as I listened to Mark Sutcliffe tell us that, if elected, he'd put more money into policing because we need more of them to make our streets safer. What does that even mean? Nothing. Empty words.
Perhaps if more of them were out in our communities there would be a higher clearance rate on our crimes. Or we could follow the many examples that prove it's not about "more boots on the ground."
Debi Lascelle, Ottawa
One story about the value of MAiD
Re: A book for those who want to better understand medically assisted death, Sept. 23.
I thought that your readers might appreciate a more personal example of the value of medically assisted death.
I have two friends, one of whom is considering MAiD and another who passed away with its assistance. The latter was a very artistic lady who, 16 years ago, suffered a major stroke that resulted in her being in a wheelchair and in constant, severe pain.
Sixteen years ago, she did not have the option of MAiD so she and her husband had to live with major changes to their lifestyle. Not only were extensive physical changes necessary to their house but there were also financial changes. The husband had to privately hire personal support workers to supplement the amount of care provided through the health system. It is estimated that over the 16 years, this additional support cost over $1 million and almost drove him into bankruptcy. She had zero quality of life and was well aware of her condition draining their personal finances.
MAiD, while a sad event, was a real relief to them both.
Keith Fagan, Kanata
Respect my choice when my time comes
Is choosing death too easy in Canada? This personal choice is on the minds of many, especially seniors.
We watch our health-care system and support in our old age being reduced more and more. We are now cast aside as being a burden to society. In 10 years, governments will beg us to take THIS pill because they can no longer afford us.
Is it better (for who?) to linger in vegetative condition in a home that can hardly take care of you while you are totally helpless and at the mercy of society? I have watched seniors in long-term care homes on a regular basis for the last 10 years. Especially because of the isolation during COVID, many seniors have deteriorated, physically and mentally.
So, what is my future? When the party is at its peak, I have always chosen to leave the party at that moment. My life has been a great party, but the time might come when I want to go home. Respect my choice when that time comes and allow me dignity.
Yvonne Temple-Vermeulen, Ottawa
So much for helping Afghan women
Re: Afghan rescue a story of dogged determination, Sept. 29.
While I was delighted to read that Afghan canines Lucky and Alex have safely arrived in Canada, it is disturbing that on the very same day, we learned that an Afghan women's rights defender, Farzana Adell Ghadiya, had her application for protection in Canada rejected.
All species need protection from persecution. But it surely shows the miles-wide gap between Liberal rhetoric and reality when a self-proclaimed feminist government rejects an Afghan woman who has been beaten to within an inch of her life by the Taliban.
Every day there's another story of an endless, unjustified delay for Afghan refugees who've been promised safety in Canada. How many will die waiting to get here? Perhaps dressing up as Scooby Doo or Snoopy might make a difference?
Matthew Behrens, Ottawa
No king, no outrage, no whining
Re: Sorry, King Charles — Canada doesn't need a part-time head of state, Sept. 28.
Thank you, Andrew Cohen, for shining a light on Canada without being antagonistic about the United States. I am looking forward to us growing up into a healthy republic without pomp and grandeur.
Let's include replacing the anachronistic British electoral system and the resulting skewed parliamentary representation of Canadians. Following Pierre Poilievre into the toxic anger and wallowing corner of the political world won't happen either if we shed teenager syndromes.
We are a remarkable country with opportunities others can only dream of. Sure, challenges exist, mistakes are made; no king, no pope, no outrage, no whining will solve them for us.
Stefan Boedeker, Nepean
A double standard on drinking water
Re: Global Affairs Canada admits some costs on nearly $100k in-flight catering tab for GG trip were 'problematic', Sept. 22.
Despite being one of the most water-rich nations in the world, for generations Canada has been unwilling to guarantee access to clean water for Indigenous peoples. Sixty-one Indigenous communities in Canada still face a water crisis.
A simple Google search details the long and exemplary career of our Governor General and her work with the Indigenous community in Canada. I am sure she is well aware of the water crisis in these communities. The expenses for Mary Simon and her 29 passengers to Expo 2020 in Dubai cost Canadian taxpayers $93,117.89. This trip spent $984 on Flow Boxed Water and $128 on Perrier Bottled Water. That's $1,112 on water.
Now it gets difficult. Drink up your $1,112 in fancy water and give the other $92,005.89 that this wonderful trip cost to the communities across this country that don't have drinkable water. Heck, send them the Flow Boxed Water and Perrier that was left over. I am sure people will appreciate it.
Susan Gerrard, Nepean
What about the other guy's expenses?
Thanks Bryan Passifiume for the detailed reporting on the Governor General's recent trip expenditures.
Thanks also for the same reporting on every trip the prime minister takes in the fulfilment of his duties in the interest of all taxpayers.
Now, in the interest of comparison and fairness of reporting, what was the detailed cost of the travels, annual vacations in the Arctic on Coast Guard vessels and government aircraft, and the unnecessary repainting of the military Airbus by the previous prime minister?
Just wondering, as an unbiased taxpayer.
Matthew Carson, Almonte