Wednesday, Sept. 27: Parents who took their children to an Ottawa protest last week should have kept them in school. Write to us at: letters@ottawacitizen.com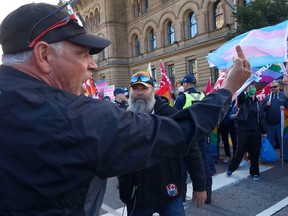 Thousands of people gathered for the 1MillionMarch4Children and Hands Off Our Kids protest and counterprotest in downtown Ottawa Wednesday. The demonstrations began as part of a number of rallies against transgender rights to be held across Canada Wednesday.

Photo by Tony Caldwell

/

Postmedia
March exposed children to bigotry
Re: Demonstrations near Parliament Hill draw crowds of protesters and counter-protesters, Sept. 20
Article content
I am a 70-year-old grandmother, not LGBTQ myself, but I joined the counter-protest against the so-called "One Million March for Children" in Ottawa to show solidarity with the LGBTQ community, especially transgender children. I have become increasingly concerned that the unfair demonization of transgender children in the U.S. is gaining traction in Canada.
Article content
Many parents participated in the march with their children. But there were also many right-wing extremists hurling bigoted insults at the LGBTQ counter-protesters. Some parents in the march were interviewed and expressed concern with the "sexualization" of the school curriculum, while insisting that they were not anti-LGBTQ. Yet those same parents had taken their children out of school to associate with right-wing extremists yelling insults at LGBTQ people, and let their children parade through the streets carrying signs about "grooming."
Their children would have been much better off at school learning to respect and support the LGBTQ members of our community, especially transgender children.
Joan Monahan, Ottawa
"Gender ideology" plot doesn't exist
Re: Demonstrations near Parliament Hill draw crowds of protesters and counter-protesters, Sept. 20
Those protesting aspects of the sex education curriculum talk about "gender ideology." Do they really believe that everyone from classroom teachers to the Minister of Education is involved in some sort of plot? If the information being conveyed is accurate, it can hardly be considered ideological.
Article content
One of the more rational protesters expressed concern about age-appropriateness. A legitimate concern, but how do we determine what that age is? Surely it is that age at which children will get less accurate information in the school yard and at which the bullying of the minority of students who are not be heterosexual will begin.
As a parent and grandparent, I have always had difficulty with the notion that parenthood confers rights. It does, however, impose obligations, including the obligation to protect our children from being bullied and to prevent them from becoming bullies.
Bruce F. Simpson, Ottawa
Ford was taught a lesson in democracy
It is the tendency of politicians to refer to having won an election, usually with far less than 50 per cent of eligible voters supporting them, as having received a "mandate," as if it entitles them to do whatever they like. They encourage us to believe the electorate has no more to say about their decisions until the next election.
But the Ford government's recent policy reversal on opening the Greenbelt to development shows it misunderstood the relationship between the government and the electorate. Opposition parties, the media, experts, civil society and the public all raised their voices to decry the policy, the process and the government's duplicity.
Article content
I am so proud of Ontarians for reminding elected officials that their mandate is subject to daily review. This is what real democracy looks like.
Judith Kennedy, Ottawa
Rota's apology is insufficient
Re: Speaker's Nazi gaffe sparks outrage, Sept. 26
Speaker Anthony Rota's apology is of little comfort to the Jewish community. I suggest that he pay Yaroslav Hunka's expenses while in Ottawa. Let it be a lesson learned for all politicians.
Carl Bouchard, Carlsbad Springs
Related Stories
Today's letters: Let's shine a spotlight on these deserving people

Today's letters: Ottawa protests — start by understanding the arguments
Article content