Thursday, Sept. 28: The responsibility for having a Nazi in the House of Commons goes wider, says one reader. You can write to us too, at letters@ottawacitizen.com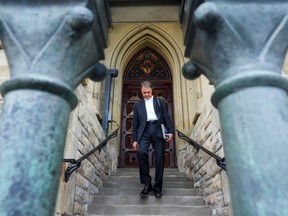 Anthony Rota leaves the Speaker's entrance of the West Block Tuesday.

Photo by Sean Kilpatrick

/

The Canadian Press
Who's responsible for Hunka?
Re: Anthony Rota steps down, Sept. 26.
Article content
It is honourable that the Speaker of the House of Commons stated, more or less, that "the buck stops here." However, let us look a little deeper.
Who recommended that the individual appear in the House of Commons when the visiting Ukraine president was here? Let us pin the blame on the real culprits.
Article content
It was an unpardonable mistake — or was it? Who let the former Nazi into the country in the first place? Let us look for the culprit(s) who recommended him, and let it be known who set up the speaker. It is too simple for the politicians to stand up and blame, then seem to look good.
Unfortunately, the speaker has now resigned, honourably. I hope the misguided individual who recommended the former Nazi will step forward and admit his faux pas.
Mike Charrier, Ottawa
Try studying a little history
Of course, House of Commons Speaker Anthony Rota did the right thing by resigning. But what a shame that nobody in his office or the PMO stopped to think "If Hunka was fighting against the Russians in World War II, then he was fighting on the side of the Nazis!"
The Russians fought with the Allies against Germany for much of the war. Grade 10 history, folks!
Sharon W. Moren, Kanata
Will all MPs resign too?
What is more embarrassing, that Speaker of the House Anthony Rota honoured Yaroslav Hunka as a hero, or that the entire House erupted in a standing ovation for the man?
Rota made a terrible mistake and has apologized and resigned. It is obvious that the members of the House did not know the details of this man's past either. Will they be handing in their collective resignations as they demanded of Rota?
Article content
Melody Andeel, Orléans
Learn about our war allies
It is interesting that Speaker Anthony Rota did not question what he was told about Yaroslav Hunka, but neither did any of the MPs who stood and applauded when Hunka was introduced as a hero.
One would have thought that at least a couple of the MPs would have asked what army Hunka was fighting with against the Russians in 1943. By that time, Russia was aligned with the allies because, and only because, Hitler had attacked Russia.
This confirms my long-held suspicion that teaching history in our schools is superficial.
Shirley Price, Kemptville
sdfsdfsdf
My mother's entire family was murdered by the unit to which Yaroslav Hunka belonged. I am shocked that this person was never tried for war crimes and was honoured on our holy day, when we mourn the loss of millions of Jewish and other victims of these murderers.
What are we teaching our children? Shame on Parliament.
Arthur Leader, Ottawa
One way to confront AI
Re: Federal government's AI guidelines called a good 'first step' by expert, Sept. 21.
Maybe the first step in dealing with Artificial Intelligence is to stop electing any of it to office.
Jerry Pryde, Stoney Creek
Related Stories
Today's letters: Ottawa protests — bigoted extremists set poor example for children

Today's letters: Let's shine a spotlight on these deserving people
Article content