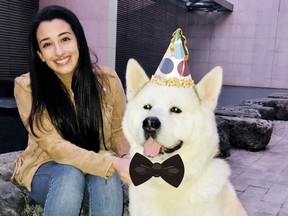 Stan and family member Huda.

Photo by SUPPLIED

/

TORONTO SUN
It's not always the big dog that's at fault — at least according to owner of Stan the dog.
Thanks to Toronto lawyer David Costa, a gentle old 90-pound Akita named Stan will get to continue living with his family in a downtown condo building.
From our newsroom to your inbox at noon, the latest headlines, stories, opinion and photos from the Toronto Sun.
By clicking on the sign up button you consent to receive the above newsletter from Postmedia Network Inc. You may unsubscribe any time by clicking on the unsubscribe link at the bottom of our emails. Postmedia Network Inc. | 365 Bloor Street East, Toronto, Ontario, M4W 3L4 | 416-383-2300
Thanks for signing up!
A welcome email is on its way. If you don't see it, please check your junk folder.
The next issue of Your Midday Sun will soon be in your inbox.
Costa saved the dog from eviction and very likely from being euthanized.
It all started last December when Stan the dog — on his leash, of course — was suddenly confronted in his building by four little dogs, two of them off-leash, despite condo bylaws.
The teenaged daughter of the family Stan belongs to was walking him, when they suddenly encountered the pack of excited smaller pups at a blind spot in the lobby.
Stan was spooked and instinctively snapped at an older Bichon Frise.
The smaller dog was badly injured but recovered fully. Stan's family paid $8,000 in vet's bills believing that settled the matter, particularly as the smaller dog's owner signed a release that there would be no further claims.
But that owner pursued the situation and got a dangerous dog designation from the city that required Stan to be permanently muzzled.
And then she successfully convinced the condo board to evict Stan.
According to his young owner, there was nowhere else for Stan to live, and eviction would likely have meant Stan would have to have been euthanized.
The family was utterly distraught at this turn of events, particularly as they say the bad encounter with the other dog was a first for Stan and totally out of character.
"We weren't going to give him up that easily," his family said.
The case looked hopeless, according to Stan's owners, because very few people ever go up against their condo board. But then they found Costa Law Firm PC and lawyer David Costa, "and his heart was in the right place."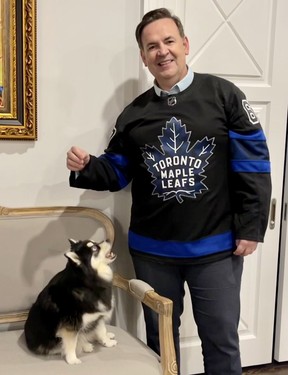 Lawyer David Costa and another canine client. SUPPLIED PHOTO
According to Costa, the condo board in this case was negligent in that they did not really investigate what happened. And they didn't follow their own rules.
For starters, according to Costa, there were often six or seven small dogs playing in the lobby with their owners, which contravene's the condo's own pet rules.
"I think they thought it was a slam-dunk but they failed to look at their own bylaws, that mandate pets must be on a leash and there's no loitering in common areas," said Costa.
"The rules were not followed all."
They also did not interview everyone who was at the scene. The Tribunal also heard evidence that Stan was a calm dog who is "good with people" including evidence from the condo building's head of security.
When the dust settled, Stan was allowed to stay and his family was awarded $5,000 in costs.
"It's a precedent-setting case," said Costa. "And that's a substantial award."
Thanks to Costa, sweet-natured Stan gets to stay with his forever family in his own home.
The family is elated, advising, "don't be afraid to fight for your rights."