Liberal MP Anthony Housefather says Parliament needs to fix the procedures so something like this never happens again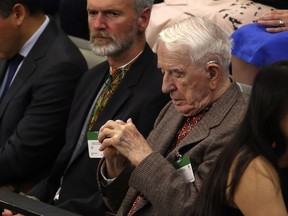 Yaroslav Hunka, a former member of the Waffen-SS, seen sitting in the House of Commons in Ottawa on Friday, Sept. 22, 2023.

Photo by Patrick Doyle

/

The Canadian Press
OTTAWA — The House of Commons will resume sitting this morning for the first time since Speaker Anthony Rota officially stepped down from his post.
Rota resigned at the end of business Wednesday after apologizing for inviting a man to Parliament whose military service was linked to the Nazis.
Article content
All MPs applauded Yaroslav Hunka on Sept. 22 before they understood he had fought with a Ukrainian military unit set up by Nazi Germany to fight the Soviet Union.
Article content
An interim speaker is in place now until Tuesday when a new speaker will be elected by MPs.
The fallout from the incident continues, with MPs expected to call for various House committees to investigate how it could have happened.
Liberal MP Anthony Housefather says Parliament needs to fix the procedures so something like this never happens again.
"It's totally unacceptable that someone with that kind of past was recognized in the chamber," Housefather said.
Related Stories
Comedian Rob Schneider cancels trip to Canada over Nazi fiasco

Chris Selley: A fitting humiliation for the Liberals, and for Canada
Our website is the place for the latest breaking news, exclusive scoops, longreads and provocative commentary. Please bookmark nationalpost.com and sign up for our daily newsletter, Posted, here.
Article content