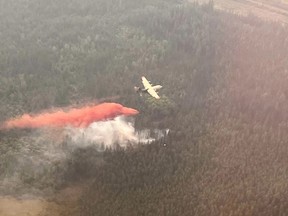 Airtankers work on a wildfire near Edson, Alta., in a Friday, June 9, 2023, handout photo. A town in northwestern Alberta is being evacuated due to an out-of-control wildfire. An evacuation order has been issued for the town of Edson and parts of Yellowhead County.

Photo by HO

/

The Canadian Press
EDSON, Alta. — A town in western Alberta is facing another evacuation order due to an out-of-control wildfire.
Local officials ordered an evacuation for Edson and parts of Yellowhead County early Friday evening — the town's second such order this spring.
"We've made the tough decision," said Luc Mercier, chief administrative officer for Yellowhead County, in a video statement on one of the town's Facebook pages. "It's not easy to put in an evacuation order."
Alberta government officials say the fire burning near the community of about 8,400 has jumped fire guards and is moving closer to populated areas, including the town. They warn that there could be impacts to roads and highways if the fire crosses the guards and blocks evacuation routes.
"Because that fire is so out of control, some of the forestry crews have had to back off," Mercier said. "They can't fight that fire."
Mercier said the fire could threaten Highway 16, the main east-west route in the area.
"We have significant concerns with egress along Highway 16 in the coming days," he said. "The next 36 hours will be paramount with the winds coming forward."
The Edson area, about 190 kilometres west of Edmonton, saw four new fire starts on Friday, said Mercier.
Evacuation buses were leaving from three points in Yellowhead County and five in Edson. An evacuation centre was being set up in Edmonton's Expo Centre.
On Friday, Edson Mayor Kevin Zahara urged people to leave.
"It's really important people adhere to the evacuation order," he said.
Town officials said no services, including fire and medical, will be available in Edson until further notice.
Edson was evacuated for three days in early May by another wildfire.
Zahara said at the time he thought there was a good chance the town would be lost to the flames.
He said after residents returned that the evacuation had taken a heavy financial toll on townspeople through loss of income and unexpected expenses such as hotel rooms.
This report by The Canadian Press was first published June 9, 2023.