1515 Rupert is a new development by Areva Living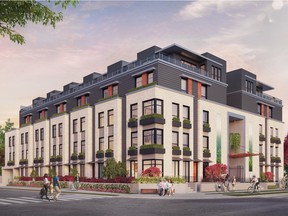 The development at 1515 Rupert St. in North Vancouver features 26 three- and four-bedroom townhomes with a central courtyard.

Photo by Supplied

/

PNG
Reviews and recommendations are unbiased and products are independently selected. Postmedia may earn an affiliate commission from purchases made through links on this page.
About a decade ago, the District of North Vancouver noted a new phenomenon emerging in the North Shore municipality that it billed "the missing generation." While the general population continued to age, there was a significant gap of younger adults, 20 to 40 years of age.
While many of these millennials grew up in North Vancouver, many couldn't afford to buy housing there. That's because North Vancouver, with a high percentage of single-family houses, is simply too expensive for them.
Start your day with a roundup of B.C.-focused news and opinion delivered straight to your inbox at 7 a.m., Monday to Friday.
By clicking on the sign up button you consent to receive the above newsletter from Postmedia Network Inc. You may unsubscribe any time by clicking on the unsubscribe link at the bottom of our emails. Postmedia Network Inc. | 365 Bloor Street East, Toronto, Ontario, M4W 3L4 | 416-383-2300
Thanks for signing up!
A welcome email is on its way. If you don't see it, please check your junk folder.
The next issue of Sunrise presented by Vancouver Sun will soon be in your inbox.
That recognition prompted the District to identify some areas ripe for redevelopment with higher density multi-family projects that would help lower housing prices to a level millennials would be more likely to afford. Today, one of those areas—Lower Lynn Town Centre—is well on its way to fulfilling its vision of providing homes and a new neighbourhood with numerous amenities for first-time buyers, young families and seniors who want to downsize on the North Shore.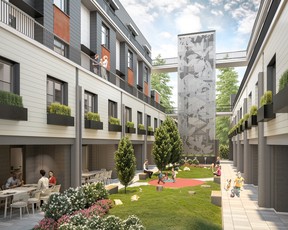 The townhome project features "timeless architecture."

Photo by Supplied

/

PNG
The Lower Lynn Town Centre plan has revitalized an area formerly dominated by modest postwar homes, commercial shops and light industrial businesses. While the latter two categories are still present, rezoning allowed for higher density residential and for a makeover of the neighbourhood with landscaped boulevards and a greenway with bike lanes that will enable residents to leave their cars at home.
The 26 three and four-bedroom three-level townhomes at 1515 Rupert provide 12 models ranging from 1,201 square feet to 1,735 square feet of interior space. The project benefits from much of the already built infrastructure, including the new stores, roads and the redevelopment of two nearby parks. Other planned enhancements, including an overhaul of the nearby Phibbs Exchange bus hub, have fuelled buyer interest. Another planned amenity is a 27,000-square-foot three-level community centre with sports courts and fitness rooms.
The area has already proven itself attractive to young families. Three years ago, a developer found that a presentation centre he had constructed was made obsolete because all of the units sold out before the centre was completed. And half of 1515 Rupert's offerings, ranging between the high $1.2 million and $1.379 million, have already been sold.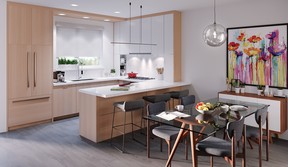 "We are very much the profile of our buyers," says Areva Living's Adel Bellemlih. "We are able to look at how do you do the dishes, how do you do the laundry. Where do you store your stroller?"

Photo by Supplied

/

PNG
"One thing we always do when we develop a project, is figure out what the community needs," said Adel Bellemlih, a partner in the development firm Areva Living. "What we found out was that young families were unable to find any places on the North Shore because single-family houses have become out of reach for many people.
"You have that missing link of people who grew up in North Vancouver, moved elsewhere and then once they have kids, they wanted to come back, but they can't afford to buy a single-family home. That is what motivated us to build some townhomes here. It's the next best option for families."
The building design, a mix of modern and traditional, provides a pleasing profile for the five storeys. "The architecture is a bit different from what you usually see," said Bellemlih. "We wanted timeless architecture. We wanted it to be subdued and elegant."
He noted that he and his partner both have young children, as does his project's target market, which helped ensure the design was practical and appropriate. "We are very much the profile of our buyers. We are able to look at how do you do the dishes, how do you do the laundry. Where do you store your stroller?"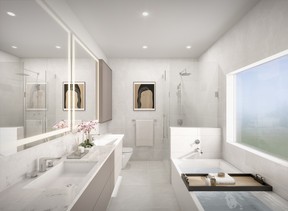 The townhomes at 1515 Rupert St. in Lynn Creek are a mix of modern and traditional, the developer says.

Photo by Supplied

/

PNG
One feature Bellemlih is particularly proud of is the 2,800-square-foot courtyard created by the building's U-shape.
"You can step out of your unit and have a really nice space where you can mingle while your kids can play in the kids' play area. You can sit down and have a barbecue."
All units will have air conditioning, and the building's heating and cooling run on heat pumps and electricity. "This is one of the most energy-efficient buildings on the North Shore," said Bellemlih.
The project features high-efficiency LED lighting throughout the building, over-height ceilings on all main floors, sprinklers in all homes, premium Bosch and Fisher & Paykel appliances, spacious top-floor entertainment decks in some models that comfortably fit eight to 10 people, and electric vehicle charging in the parking garage.
1515 Rupert, North Vancouver
Project Address: 1515 Rupert St., North Vancouver
Project Scope: A total of 26 three and four-bedroom townhomes on three levels configured in a U-shape structure in the newly transformed Lynn Creek community. Close to Phibbs Exchange bus hub and downtown Vancouver access, a new community centre, a newly planned major grocery store and numerous high street-style shops.
Developer: Areva Living
Architect: Iredale Group Architecture
Prices: From high $1.2 million
Sales Centre: 88 Lonsdale Ave., North Vancouver
Centre Hours: Sat. through Wed., noon to 5 p.m.
Sales Phone: 236-869-2515
Website: 1515Rupert.com
Project completion: Late 2024
A stunning slopeside home defies gravity in Deep Cove

Sold (Bought): South Granville condo features two bedrooms, bright open-plan living