One thousand items from the personal collection of late antique dealer Bob Blais will be sold Oct. 3 and 4.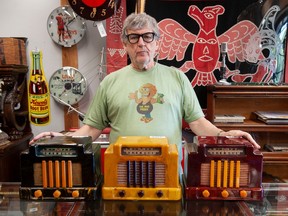 Wayne Learie of The Mad Pickers at his Aldergrove antique and auction house on Sept. 21 with various items from the estate of collector Bob Blais. Pictured are Addison radios.

Photo by Jason Payne

/

PNG
Antique dealers don't just sell stuff, they collect it themselves.
Case in point: the late Bob Blais, who ran Old Stuff Two on Main Street in Vancouver for 44 years.
Article content
Old Stuff Two was where you would go to find something cool and unusual, like an old porcelain sign, a Bonanza lunch box from the 1950s or a colourful Bakelite radio from the 1940s.
But Blais kept much of the best stuff for himself, such as a trio of art deco-styled Addison "courthouse" radios, elegantly tiered in deep, rich colours like marbled butterscotch, marbled black green and marbled red-maroon. Made in Canada in the 1940s, they're rare and valuable in mint condition.
Article content
And all three will be up for sale at a Mad Picker online auction Oct. 3 and 4.
Blais died earlier this year, and about 1,000 items from his personal collection will be for sale.
Another 1,700 items from other collectors will be sold at the auction, which the Mad Picker's Wayne Learie said could bring $500,000. The fast-talking 74-year-old is billing it as "The Best Estate Auction of the Year."
Learie said each Addison radio could go for about $3,000. But if you're looking for a colourful vintage radio, you have lots of choices: the Blais collection included 19 Crosley radios from the 1940s and '50s, as well as 62 transistor radios from the 1960s and '70s.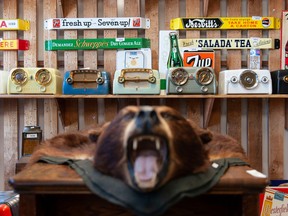 Various items from the estate of collector Bob Blais.

Photo by Jason Payne

/

PNG
Walking through the Mad Picker location at 27294 Fraser Hwy. is collector heaven because there's a bit of everything.
"Some guys just collect certain things, but Bob had collections of collections," said Learie. "(A) collection of marbles, collection of vintage Santa Claus stuff, collection of root beer mugs, collection of bottle openers off the old Coke machines, collection of Harrison (Hot Springs) stuff, collection of Mountie/police stuff.
By signing up you consent to receive the above newsletter from Postmedia Network Inc.
Thanks for signing up!
A welcome email is on its way. If you don't see it, please check your junk folder.
The next issue of Sunrise will soon be in your inbox.
Article content
Article content
"(He) collected lunch kits, collected Coke trays, tin toys. He's got Dinkys (model vehicles), he's got Corgis, he's got Matchbox. You can see the condition is pretty nice on all of his stuff. He bought clean stuff. There's lunch kits up there, Howdy Doody, Lawman, Wagon Train."
Coca-Cola is a perennial favourite in the collector world, as are "palm presses," a small, thin sign that companies would stick on a grocery store door to advertise as customers pushed in or out of a store.
Blais had a Coke sign that looks like a palm press, but is over four feet high.
"This is an oversized one, maybe for somebody that had a massive grocery store that had a lot of Coke products, so they gave them a special one to hang," said Learie. "In that condition, it's probably going to bring over $5,000. The sale hasn't even begun and it's at $3,400. In Ontario, a mint one is bringing $10,000 to $12,000."
Corner store doors in the '40s and '50s were also decorated with advertising "push bars." A porcelain Vancouver Sun push bar in mint shape had a $750 bid by Wednesday afternoon; a Province push bar had a bid of $260.
Article content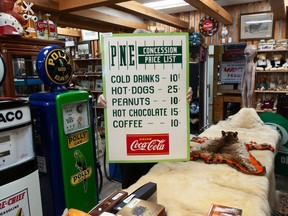 More items from the estate of collector Bob Blais.

Photo by Jason Payne

/

PNG
But the big ticket newspaper advertising item appears to be a rare Sun "match striker" from the 1940s or '50s, which customers would use to strike their matches and light a smoke.
"That's porcelain, with no repairs at all, and it'll probably bring over $2,000," said Learie. "It's all about condition."
Learie said collectibles like these are popular with collectors over age 50, many of whom have "man caves" in their basements or garages. But Blais had his stuff in a two-bedroom apartment he shared with his wife.
"Every inch of the apartment was smothered in signs, toys," said Learie. "He had door pushes up and down the door to the bathroom, up and down the inside of the door, up on the ceiling."
Local items do very well with local collectors, but the auction will be on icollector.com and is attracting interest from across the country and even in the U.S.
Going through the auction online or at Mad Picker headquarters is a history lesson. Who knew that Canada's national parks used to produce beautiful buffalo and beaver "licence plate toppers" for people who bought a year's pass in the 1920s and '30s?
Article content
Blais collected a set of 16 buffalo logos from different years.
"They're probably going to bring $6,000," said Learie. "It's very rare to get the set."
Not everything will bring big bucks. One of the most fascinating collections is Blais's "creamers," small cups advertising businesses like the Grouse Mountain chalet in the 1920s or the West End Hospital, a private hospital on Barclay Street that was around between 1907 and 1919.
"People with real serious collections, you see them buying creamers," said Learie. "Because they're running out of space, but they still want to collect. They're nice and small, and a lot of people can't take a big jukebox, right?"
jmackie@postmedia.com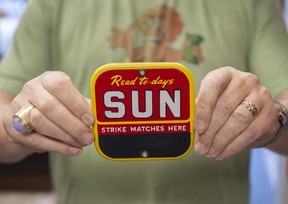 The Vancouver Sun match striker probably dates to the late 1940s or 1950s.

Photo by Jason Payne

/

PNG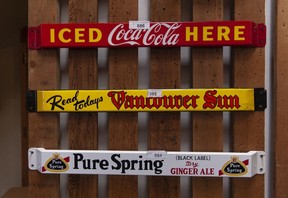 Three push bars from the Bob Blais collection

Photo by Jason Payne

/

PNG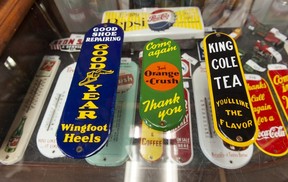 Palm presses like this were placed on grocery store doors as advertisements. You pushed them when you opened the door.

Photo by Jason Payne

/

PNG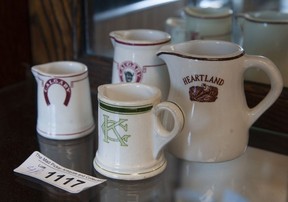 Some of the small creamers assembled by Bob Blais.

Photo by Jason Payne

/

PNG
Related Stories