"Every policy that passes through cabinet comes to Treasury Board, comes across my desk as a program, before it goes out the door."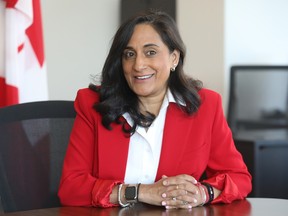 Treasury Board president Anita Anand in her office on Sept. 20, 2023.

Photo by Jean Levac

/

POSTMEDIA
One week into the new parliamentary cycle, Treasury Board president Anita Anand says her list of key priorities includes leading the government's refocusing spending initiative and maintaining good working relationships with public-service unions.
In an interview at her eighth-floor office at 90 Elgin St., which overlooks construction on the MacKenzie King Bridge as well as her former stomping grounds in the National Defence Headquarters, Anand said the refocusing spending initiative was a "priority on the front burner" as ministers have until Oct. 2 to provide her with their assessments of where spending could be cut within each sphere.
With the goal of finding $15.4 billion in budget cuts over five years and $4 billion every year thereafter, Anand said information from ministers would be brought forward to the supplementary estimates.
"In this economic time in our country, as Canadian households across the land are examining their own pocketbooks, the Government of Canada is no different," Anand said while sitting at a wooden conference table, wearing her signature red pantsuit. "We have to be prudent with taxpayer dollars, and that is exactly what my role is as president of the Treasury Board: to manage the public purse prudently."
Anand said the government was looking at how to remove "wasteful spending" and to redirect it, adding it was looking at things like travel arrangements and outsourcing. She reinforced that she did not expect there to be layoffs outside of normal attrition and redeployment.
"It is not DRAP 2.0, as we saw under Prime Minister Harper," Anand said.
Another item high on the Treasury Board agenda, Anand said, is "greening government."
"We've been able to reduce emissions of vehicles and buildings by 40 per cent since 2005-06," Anand said. "That's a very important point in higher government as well as for me as president of the Treasury Board."
Reducing red tape for businesses and organizations, she said, is also on her list of things to do during this parliamentary cycle.
"We have a bill at second reading in the House of Commons, S-6, which seeks to make businesses and organizations function more efficiently by reducing the regulatory burden," Anand said. "So that's very important."
As seen during the recent public-service strike, it's important that unions and the federal government are able to communicate and have good-working relationships.
Given that Treasury Board is the largest employer in the federal government and in Canada overall, with 250,000 employees, Anand said maintaining those relations would also be a key priority during her time as president of the department.
"Making sure that I'm reaching out to the union heads — Chris Aylward, Jennifer Carr — has been a priority to me," Anand said. "Maintaining a good working, collegial relationship will continue to be on the front burner also."
Unions, including the Professional Institute of the Public Service of Canada and the Public Service Alliance of Canada, have also expressed concern about ongoing issues with the Phoenix pay system. The backlog of financial transactions, according to Public Services and Procurement Canada was at 228,000 as of Aug. 30. That excluded 80,000 transactions considered to be part of the normal workload, the PSPC website indicated.
Given that she was formerly minister of PSPC, Anand is familiar with the Phoenix file and recognizes there is still work to do. Anand said she and the current minister of that department, Jean-Yves Duclos, had agreed to work on addressing the ongoing issues together.
"It is absolutely essential for public servants to be able to access the pay that they are owed," Anand said, adding that the ministers were meeting to discuss short- and long-term issues, including other potential pay-structure models. "I understand that fully, he understands that fully, and we are deeply committed to getting this right."
Also top of mind right for public servants are challenges with Canada Life since their health-care plan was switched over from SunLife on July 1. Months into the transition, employees continue to experience issues with accessing benefits and face long wait times when trying to contact the insurance company.
With 99 per cent of employees having enrolled in Canada Life, Anand said she met with the company's CEO while in London, Ont., for a Liberal caucus retreat and stressed the importance of dealing with the ongoing issues.
"Every claimant should be able to access their benefits, period," Anand said. "While the wait times at call centres have come down, there is more work to do."
When asked about the possibility of amending the contract between the government and the insurance company, Anand said she was "very well versed" in contract law — given her time at PSPC and National Defence — was monitoring the contractual terms and would make sure that there was "compliance for the benefit of all claimants in this plan."
In her office, decorated with a large Canadian flag, Anand said she stepped into government "to try to make a difference."
She said she felt "honoured" to have been selected by the prime minister to head Treasury Board, just as she felt honoured to have been able to lead the procurement of rapid tests, PPE and vaccines at the height of the COVID-19 pandemic while at PSPC and to address the issues of sexual harassment and discrimination and lead the delivery of military aid and equipment to Ukraine while at DND.
"Every policy that passes through cabinet comes to Treasury Board, comes across my desk as a program, before it goes out the door," Anand said. "My role as president of the Treasury Board is to examine each and every program and, therefore, each and every taxpayer dollar before it goes out the door. That's a massive responsibility, but I'm very honoured that the prime minister felt that I was the person to lead that."
Our website is your destination for up-to-the-minute news, so make sure to bookmark our homepage and sign up for our newsletters so we can keep you informed.
Command team at military training centre replaced after complaints submitted to Canadian Forces

LIVE BLOG: Day 12 of the criminal trial of convoy protest organizers Tamara Lich, Chris Barber