Proceedings stall as lawyer says Jagmeet Grewal was arrested in error for driving without a licence.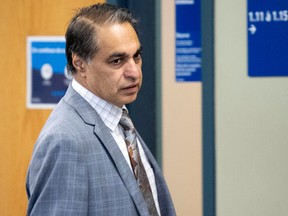 Jagmeet Grewal of Dorval is charged with criminal negligence in a highway collision that killed four people in 2019.

Photo by Allen McInnis

/

Montreal Gazette
The criminal negligence trial of trucker Jagmeet Grewal, charged in a collision that killed four people in 2019, was put on hold Friday afternoon — because he was arrested for driving without a licence, apparently in error.
Grewal's lawyer announced the unexpected turn of events just as Quebec Court Judge Yanick Laramée was set to resume the trial at the Laval courthouse after the lunch break.
Sign up to receive daily headline news from the Montreal Gazette, a division of Postmedia Network Inc.
By clicking on the sign up button you consent to receive the above newsletter from Postmedia Network Inc. You may unsubscribe any time by clicking on the unsubscribe link at the bottom of our emails. Postmedia Network Inc. | 365 Bloor Street East, Toronto, Ontario, M4W 3L4 | 416-383-2300
Thanks for signing up!
A welcome email is on its way. If you don't see it, please check your junk folder.
The next issue of Montreal Gazette Headline News will soon be in your inbox.
"He was arrested for an offence he did not commit," the lawyer said, noting Grewal has a licence specific to the vehicle he used to get to and from the courthouse.
"He's allowed to drive but not a class-one (vehicle). I talked to (the police) and they did the research and he was released."
Grewal, 56, of Dorval, faces four counts of criminal negligence causing death and another four of causing injury.
On Aug. 5, 2019, his truck was travelling at 100 km/h on Highway 440 in Laval when it crashed into a line of cars that had come to a stop at the exit to Highway 15.
Grewal has pleaded not guilty to all of the charges.
During a break in the trial Friday morning, Grewal told a TVA reporter that he feels he is "also a victim."
"The trial is underway, so I will leave it to the lawyers. We are trying to prove it isn't a criminal case, despite what everyone seems to think," he said, describing what happened as "an accident."
The Crown's argument is that Grewal should not have been driving a truck that day.
In 2012, Grewal was badly injured in a chain reaction collision in Illinois involving four trucks. In the years that followed, he suffered mental health problems including anxiety, depression, insomnia and flashbacks. In 2014, the SAAQ suspended his licence to drive a truck, and determined he would need to provide new medical information if he wanted to get it back. His licence to drive lighter vehicles was suspended as well.
On Friday, Kareen Dostie, a division chief for the SAAQ's medical evaluation department, testified Grewal somehow got his licence back in 2018 after at least three doctors recommended he should never drive a truck again.
In March 2018, she said, Grewal sent in a form requesting permission to obtain a new licence. It included a letter from a doctor saying he could go through the process of getting a licence to drive lighter vehicles. But the letter from the doctor made no mention of a Class 5 licence to drive large trucks like 18-wheelers.
Dostie said Grewal was allowed to take the written test for a Class 1 licence, for light vehicles. She said he failed his first attempt at the written test but passed the second, as well as the practical test that followed.
Based on Dostie's testimony, Grewal was not required to do similar tests for whether he could handle a large truck.
Dostie said the agent who dealt with Grewal's first request for his Class 1 licence did not look into why his licence was suspended, because the agent did not have access to files held by the SAAQ's compensation department.
"Was there a connection between the two departments?" the judge asked Dostie.
"In 2014, no," Dostie replied.
"And in 2018?" the judge asked.
"In 2014 and 2018 there was no connection between the two departments," Dostie said, adding that, in general, the type of agent who handled Grewal's request in 2018 did not have computer access codes required to look into the records held by the SAAQ's compensation department.
"So one department might decide that a person is permanently unable to drive and the other department will issue a new valid (licence)?" the judge asked.
Dostie replied in the affirmative, and quickly added procedures were changed in 2020. All agents are now required to check the other department's files when someone applies to get their licence back, she said.
Dostie said Grewal was given back his Class 5 licence on April 20, 2018. Four days later, he received his licence to drive lighter vehicles.
Grewal was released in enough time to allow the trial to resume Friday afternoon.
pcherry@postmedia.com
Trucker charged in fatal collision in Laval wasn't supposed to be driving, court hears

Victims of Highway 440 crash formally identified