Tafari Bezabeh and Jalen Joel Campbell Browin are accused of Bernard Cherfan in a crowded restaurant.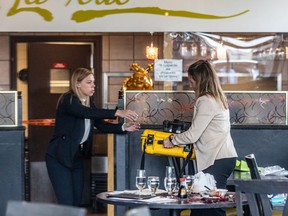 Two SQ officers investigate the interior of La Perle Vietnamienne restaurant in Laval's Vimont district on Thursday, June 2, 2022 after a man tied to organized crime was shot and killed there the previous evening.

Photo by Dave Sidaway

/

Montreal Gazette
The investigation into the death of Bernard Cherfan, a 42-year-old man linked to organized crime killed at a restaurant in Laval in June, has resulted in the arrests of two more people who appeared in court Wednesday to face murder charges.
Tafari Bezabeh, 19, who was already detained in another case in a detention centre in Toronto, appeared Wednesday by videoconference, and was formally charged with first-degree murder.
Sign up to receive daily headline news from the Montreal Gazette, a division of Postmedia Network Inc.
By clicking on the sign up button you consent to receive the above newsletter from Postmedia Network Inc. You may unsubscribe any time by clicking on the unsubscribe link at the bottom of our emails. Postmedia Network Inc. | 365 Bloor Street East, Toronto, Ontario, M4W 3L4 | 416-383-2300
Thanks for signing up!
A welcome email is on its way. If you don't see it, please check your junk folder.
The next issue of Montreal Gazette Headline News will soon be in your inbox.
Investigators with the Sûreté du Québec and Laval police also arrested Jalen Joel Campbell Browin in Ontario. He also appeared by videoconference at the Laval courthouse to be charged with first-degree murder and conspiracy after the fact.
Cherfan was seated at a table at La Perle Vietnamienne restaurant on Laurentides Blvd. in Laval's Vimont district when he was fatally shot around 7:30 p.m. About 20 other people were present in the restaurant at the time, including children.
Britney Lewis, 25, of Pickering, Ont., was also arrested shortly after the killing and charged with first-degree murder.