Striking home has six bedrooms, seven bathrooms and 6,100 sq. ft. of space over three levels.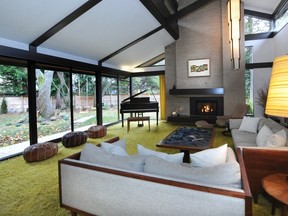 The living room from a house designed by Ron Thom in 1960. Note the shag carpet, floor to ceiling windows, and unique angled ceiling.

Photo by NICK PROCAYLO

/

PNG
Arthur Erickson is the most famous Vancouver architect from the West Coast modern era. But many of the most striking local modern homes were designed by another architect, Ron Thom.
One of his gems has just come on the market, for only the second time. It was designed for the Cohen family in 1960, and is still relatively original, which makes it a real time capsule.
Start your day with a roundup of B.C.-focused news and opinion delivered straight to your inbox at 7 a.m., Monday to Friday.
By clicking on the sign up button you consent to receive the above newsletter from Postmedia Network Inc. You may unsubscribe any time by clicking on the unsubscribe link at the bottom of our emails. Postmedia Network Inc. | 365 Bloor Street East, Toronto, Ontario, M4W 3L4 | 416-383-2300
Thanks for signing up!
A welcome email is on its way. If you don't see it, please check your junk folder.
The next issue of Sunrise presented by Vancouver Sun will soon be in your inbox.
The house at 621 West 51st in Vancouver still has its original shag carpet in the living and dining room. It still has the original bamboo walls, mosaic tile floor and teak bar in the basement rec room. And it still has the unique angles and touches that make Thom houses so distinctive.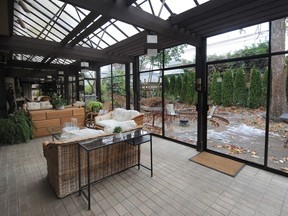 The house overlooks the large yard.

Photo by NICK PROCAYLO

/

PNG
It is also in tip-top shape, and much larger than most West Coast modern homes (six bedrooms, seven bathrooms and 6,100 sq. ft.). The asking price: $4.289 million.
"What's unusual about this house is that it hasn't been re-renovated to ruin it," said realtor Clair Rockel. "Here a lot of the components have been dealt with but not the esthetics. You don't want to come in and see that everything's been gutted because what's the point then?"
The wow factor begins when you walk in the massive front door and step up into the living room, which has a soaring, double-height ceiling held up with dark beams, a classic post and beam design.
A giant brick fireplace goes right to the ceiling, and the space is flooded in natural light from floor-to-ceiling glass windows on one side and clerestory windows up high on the other.
Thom was known for carefully walking around a lot before designing a home, figuring out the way the house integrated with the sun, yard and seasons. The current owner, Sarah Knowlden, said it makes for a real indoor-outdoor feel, and can be magical when the sun lights up the living room.
"The kids call it Golden Hour," said Knowlden. "It really does change the mood of the room, depending on the time of day, where the sun is coming from."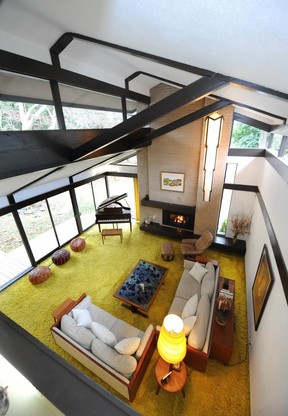 The living room from a second storey loft.

Photo by NICK PROCAYLO

/

PNG
The roof has all sorts of unusual angles.
"One thing that's typical of Ron Thom is how sculptural the roof line is," says Adele Weder, author of a new book, Ron Thom, Architect: The Life of a Creative Modernist (Greystone).
"He's got these incredibly complex spatial geometries going on. If you're walking around, you usually look straight ahead and down, and that's what you think of as the space of the house.
"In a Ron Thom house, especially in this house, you can look at the ceiling and your eyes can live in the ceiling, that's part of the spatial experience. Eggheads call it the psycho-geography of the space."
At night the space is lit by an elegant textured fabric chandelier that Thom designed himself. It drops down in four tiers, like a modern take on an art deco theatre chandelier.
The best view of the living room comes from a second storey loft-study that is open to below.
"The post and beam is really spectacular from upstairs," said Rockel.
The home feels very open and spacious, and has several rooms for entertaining, including a study-den-family area that still has a Thom-designed stereo console at one end with a Borgen tube amplifier.
The console comprises a three-part design that includes a floating lit bookcase and a small bar-storage unit below.
"He does this one, two and three (design all over the house), you'll see this repeated," said Rockel.
B.C. real estate: Housing sales slump, but prices not declining in all markets

Douglas Todd: Canada among most at risk in global housing crunch

Only 10% of Vancouver detached homes sold in past week fetched over asking price
The house was designed "as a very specific family residence" for Ted and Babs Cohen and their four children, which is why there are five bedrooms and three bathrooms upstairs.
The number of bathrooms was very rare of a house of that era, as were the big walk-in closet off the master bedroom and a second cedar lined closet.
"For their good things, so they were never touched by moths," Rockel explains.
That's the kind of thought that went into a Thom design. Thom houses are like artworks, but they're very liveable, right down to the shag carpet, which is a faded gold colour and in astonishingly good shape.
"It's so funny," said Knowlden. "I've had so many friends come over and say 'You know, I'm pretty sure I was conceived on a rug like this.' It's such a talking point, that shag rug. If you spent any time in the '70s or '80s you've come into contact with a rug like that."
The home is also located on what may be Canada'a coolest cul-de-sac, in terms of West Coast modern homes. There are two other Thom designs among the five houses on the cul-de-sac, and one designed by Arthur Erickson.
jmackie@postmedia.com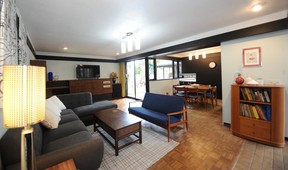 The family room/den retains an original 1960 stereo console at one end.

Photo by NICK PROCAYLO

/

PNG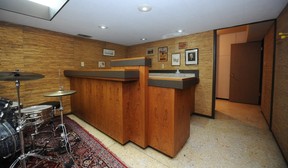 The teak rec room bar. The walls are clad in bamboo.

Photo by NICK PROCAYLO

/

PNG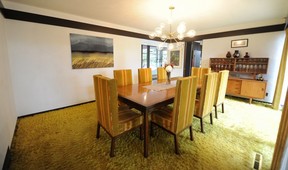 The formal dining room has shag carpet and a table designed by Thom.

Photo by NICK PROCAYLO

/

PNG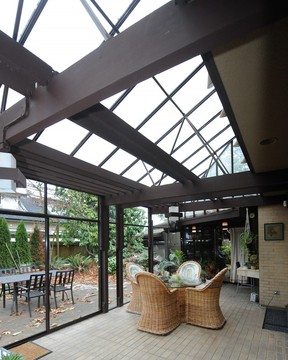 An enclosed atrium.

Photo by NICK PROCAYLO

/

PNG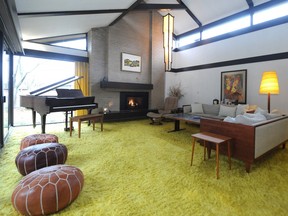 Another view of the living room.

Photo by NICK PROCAYLO

/

PNG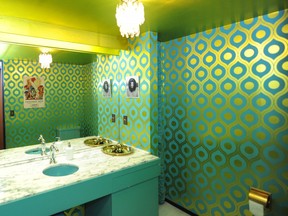 A downstairs washroom still has its original wallpaper.

Photo by NICK PROCAYLO

/

PNG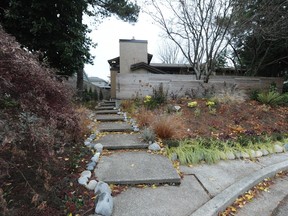 Exterior of the house on Vancouver's west side.

Photo by NICK PROCAYLO

/

PNG
More news, fewer ads: Our in-depth journalism is possible thanks to the support of our subscribers. For just $3.50 per week, you can get unlimited, ad-lite access to The Vancouver Sun, The Province, National Post and 13 other Canadian news sites. Support us by subscribing today: The Vancouver Sun | The Province.