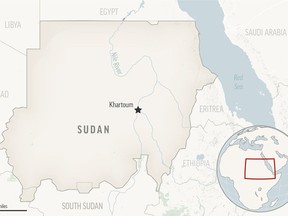 This is a locator map for Sudan with its capital, Khartoum. (AP Photo)
THE ASSOCIATED PRESS
CAIRO (AP) — The United States urged Sudan's warring sides on Thursday to return to cease-fire talks and make a concerted effort to abide by a lasting truce after peace efforts collapsed yet again.
The appeal from the U.S. State Department came after Sudan's military on Wednesday suspended its participation in the talks, hosted in Saudi Arabia, with a rival paramilitary force.
The fighting between the Sudanese military, led by Gen. Abdel-Fattah Burhan, and the Rapid Support Forces, commanded by Gen. Mohammed Hamdan Dagalo, broke out in mid-April. The violence has killed at least 866 civilians, according to a Sudanese doctors group, though the toll could be much higher.
The Sudanese military's withdrawal from the talks is a setback for Washington and Riyadh, which have been mediating between the two sides.
"Once the forces make clear by their actions that they are serious about complying with the cease-fire, the United States and the Kingdom of Saudi Arabia are prepared to resume facilitation of the suspended discussions," the State Department said.
Washington and Riyadh brokered a cease-fire on May 21, to allow for the delivery of humanitarian assistance and restoration of vital services. There have been seven declared cease-fires since the conflict broke out and all have been violated.
In a joint statement Sunday, Riyadh and Washington accused both sides of breaching the truce. It said the military continued to carry out airstrikes, while the RSF was still occupying people's homes and seizing property. Theft was occurring in areas controlled by both forces, it added.
The nearly seven weeks of fighting has reduced the Sudanese capital of Khartoum to an urban battlefield, with many districts without electricity and running water. The conflict has also stoked ethnic violence in the western Darfur region, killing hundreds there.