Vancouver Police Union executive will meet on Tuesday to decide who they will back for mayor and council
Kennedy Stewart is introduced at a mayoral debate at the Jewish Community Centre in Vancouver, BC, October 3, 2022.

Photo by Arlen Redekop

/

PNG
Vancouver police were not deployed on Monday night to deal with a shouting match between incumbent Mayor Kennedy Stewart and his challenger Ken Sim — but they were sitting close by.
In a Vancouver Police Union sponsored mayoral and council candidate debate, the two mayoral front-runners stood and pointed at each other, yelling, with Sim accusing the mayor of displaying why he thought council meetings were dysfunctional, as Stewart demanded Sim answer a question he had asked about Indigenous reconciliation.
Start your day with a roundup of B.C.-focused news and opinion delivered straight to your inbox at 7 a.m., Monday to Friday.
By clicking on the sign up button you consent to receive the above newsletter from Postmedia Network Inc. You may unsubscribe any time by clicking on the unsubscribe link at the bottom of our emails. Postmedia Network Inc. | 365 Bloor Street East, Toronto, Ontario, M4W 3L4 | 416-383-2300
Thanks for signing up!
A welcome email is on its way. If you don't see it, please check your junk folder.
The next issue of Sunrise presented by Vancouver Sun will soon be in your inbox.
"This is too serious an issue to sit down," Stewart retorted to Sim's request that he do just that.
Kennedy took licks from all sides during the second major mayoral debate, with the first meeting also seeing Stewart and Sim go head to head aggressively.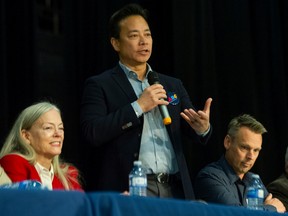 ABC Vancouver mayoral candidate Ken Sim standing between TEAM Vancouver mayoral candidate Colleen Hardwick and ABC Vancouver council candidate Brian Montague.

Photo by Arlen Redekop

/

PNG
At the centre of the attacks was Stewart's December 2020 decision to reduce the 2021 Vancouver Police Department budget by $5.7 million. A decision that was reversed by the provincial government after a police board appeal.
ABC Vancouver council candidate Brian Montague retired from the VPD five months ago, after 28 years of service.
"In the last three and half years of my career the current mayor created a climate of hostility between council, the police department and the public," Montague said. "I never felt like the mayor had my back."
NPA Vancouver council candidate Arezo Zarrabian, who has worked as a VPD crime analyst for the past 13 years, echoed Montague's claim.
"You did nothing but create a divisive narrative," Zarrabian said. "I saw it in my office."
The debate came the day Vancouver police reported another stranger attack. In this case a woman was beaten as she entered the lobby of her apartment near Davie and Howe streets. She fought off a 19-year-old male — who she did not know — and fled onto the street, where he followed her and continued the attack, before being stopped by six passersby. The alleged attacker was arrested and has been released on bail.
This is one of several recent stranger attacks.
According to a provincial government report released on Saturday, street homelessness in the Downtown Eastside is as bad as it has ever been, people are being released on bail who are a threat to public safety and statistics showing a fall in crime are not providing an accurate reflection.
Green councillor Adriane Carr defended her decision to vote in favour of Stewart's cuts, saying that it was during COVID-19 when city revenues were down. It also came during the defund the police movement after the May 2020 in-custody murder of African-American man George Floyd by a Minnesota police officer.
Stewart said that under his watch the VPD budget had increased in total by $50 million. Budgets need to increase each year in part because of negotiated wage hikes for officers and other staff.
Sim's solution to street crime was to increase the number of police officers by 100, which Zarrabian said was very difficult to do, and to hire more health workers. Sim also wants police to wear body cameras and to restore the police school liaison program.
NPA mayoral candidate Fred Harding criticized Sim's support of decriminalization of drugs and called the 100 police officer promise a gimmick, adding that he did not believe in gimmicks. This came a few minutes after Harding poured what appeared to be sugar, in different amounts, on the debate table as he asked Sim what amount of drugs would be considered legal to carry under a decriminalization plan.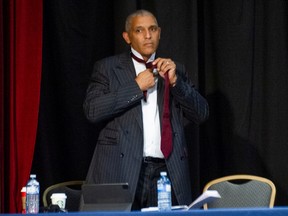 NPA Vancouver mayoral candidate Fred Harding preparing for Monday's debate.

Photo by Arlen Redekop

/

PNG
TEAM Vancouver mayoral candidate Colleen Hardwick said it was time to appoint a Downtown Eastside commissioner to audit how money from the three levels of government is spent in the neighbourhood.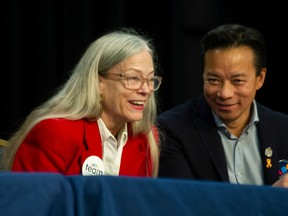 Vancouver mayoral candidates Colleen Hardwick and Ken Sim.

Photo by Arlen Redekop

/

PNG
Progress Vancouver mayoral candidate Mark Marissen said that the other candidates plans for crime were mostly outside municipal jurisdiction. He called for the restoration of the Vancouver Agreement, that was an attempt by municipal, provincial and federal government to better manage the Downtown Eastside neighbourhood.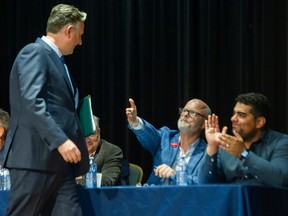 Progress Vancouver mayoral candidate Mark Marissen reaches out to Mayor Kennedy Stewart, as Progress Vancouver mayoral candidate Mauro Francis applaudes.

Photo by Arlen Redekop

/

PNG
Recent polling conducted by Research Co. for the Vancouver and District Labour Council is predicting an extremely close election. Among decided voters, the poll predicts Stewart ahead with 36 per cent of the vote, followed by Sims with 34 per cent, Hardwick with 14 per cent, Marissen with eight per cent and Harding five per cent. The VDLC is backing Stewart.
Progress Vancouver shared results Monday of recent polling commissioned by the party and conducted by Pollara, showing that among decided voters, 33 per cent planned to support Sim, Stewart was in second place with 29 per cent, Marissen in third with 17 per cent, followed by Hardwick at 11 per cent, and Harding at five per cent. Close to half of respondents were still undecided.
The VPU has for the first time decided to back a mayoral candidate.
After the debate, VPU president Ralph Kaisers said that he liked a little bit of what all the candidates said.
The union executive will meet on Tuesday morning to decide who they will back and are expected to make an announcement on Wednesday.
At the start of the debate council candidate Sean Orr held up a sign that said "Police out of politics", before leaving the building.
dcarrigg@postmedia.com