Metro Vancouver's Turkish community and friends gather to be together and pack aid for quake survivors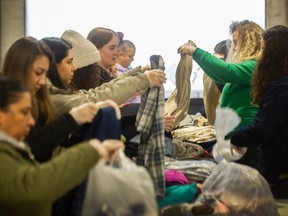 "We're just holding our hearts in our hands, and it's bringing out the best in people," she said.

Photo by Arlen Redekop

/

PNG
A Vancouver warehouse hums with activity as members of the Lower Mainland's Turkish community sort relief donations and spend time together after Monday's devastating earthquakes in the Middle East.
"I took time off work," said Gulistan Kardemir, as dozens of mostly young volunteers, mostly of Turkish descent, sort through boxes of donated clothes and case lots of prepared foods to repack them in cardboard boxes. "It's the least I can do. And at least you feel useful."
Start your day with a roundup of B.C.-focused news and opinion delivered straight to your inbox at 7 a.m., Monday to Friday.
By clicking on the sign up button you consent to receive the above newsletter from Postmedia Network Inc. You may unsubscribe any time by clicking on the unsubscribe link at the bottom of our emails or any newsletter. Postmedia Network Inc. | 365 Bloor Street East, Toronto, Ontario, M4W 3L4 | 416-383-2300
Thanks for signing up!
A welcome email is on its way. If you don't see it, please check your junk folder.
The next issue of Sunrise presented by Vancouver Sun will soon be in your inbox.
"We're just holding our hearts in our hands, and it's bringing out the best in people," she said.
On Monday, hours after the quakes hit, a call went out on social media — #helpturkeyvancouver — for donations of winter clothing, non-perishable ready-to-eat foods, baby food and diapers and for volunteers, she said.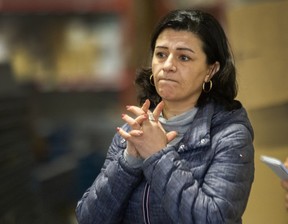 "We're just holding our hearts in our hands, and it's bringing out the best in people," says Galistan Karademir as she helps volunteers organize and sort items donated for victims of the earthquake in Turkey inside a warehouse in Vancouver.

Photo by Arlen Redekop

/

PNG
On Tuesday, there were between 60 and 100 volunteers filling cardboard boxes and shrink wrapping them together to be placed on pallets so they can be trucked to Vancouver airport, where Turkish Airlines has agreed to fly them to Istanbul at no charge.
On Monday, organizers said more than 600 people answered the call to help, and they were able to send 20 pallets to Turkish Airlines.
News of the devastation caused by the earthquakes united them because "we all have some back home," said Karademir, who has lived in Canada for 20 years. "We all somehow know each other and we're all asking, 'How is your family?'"
Karademir's family lives in Istanbul and are safe, but her husband's family lives within a two-hour drive of the epicentre, close enough that they felt the quake and worry about more damaging tremors.
"They're living in the car right now," she said. But they can't go anywhere because of the dangers of travel on damaged roads. "They're too scared to leave."
She and her husband would like to fly them to Canada or even just Istanbul to be safe, but air travel has been shut down, too.
"I'm happy to be helping out," said Zehra Cankaya. Many of her friends, including those who aren't from Turkey, came out on Monday, when Cankaya and many others worked on sorting and packing from 3 p.m. to midnight.
"They wanted to help, no matter what," she said.
Ibrahim Koklu, whose family survived the jolt in Pazarcik, the quake's epicentre, said he is grateful for the chance to help at the warehouse.
"I'm not focusing on the social media, I'm trying to focus on the organization and what's happening here," he said.
He said by volunteering he felt connected to the community and to the others. "It doesn't matter if you're rich or poor," he said.
Adnan Saldi, who has family in the earthquake zone, including his brother and mother, who is almost 80 and who had to be helped from her fifth-floor apartment, is volunteering as he tries to find out more about his relatives back home.
"One of my friends came and he took all the old ladies to his farm," he said. "But they have no food, no electricity, no water and no heaters."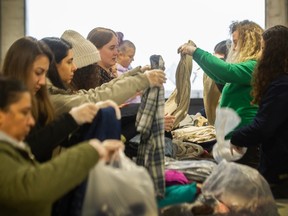 Volunteers in Vancouver sort and pack clothing donations for survivors of the earthquake that devastated parts of Turkey and Syria on Monday.

Photo by Arlen Redekop

/

PNG
He said it is difficult getting any news from Turkey because their relatives can't charge their cellphones.
Cansoy Gurocak called on the Canadian government to immediately send search and rescue teams instead of pledging monetary help, after hearing Ottawa announced on Tuesday it will send $10 million to help Turkey and Syria.
"That would help more than money right now," he said.
The priority is to rescue the people, then build the shelters, then stock them with supplies and then send money, said Gurocak.
Consul General Mehmet Taylan Tokmak of the Turkish Consulate on Tuesday said he had helped arrange to send a team of 10 urban search and rescue specialists from Burnaby who will spend a week in Turkey helping to rescue people from the rubble.
And he said he was learning of local businesses that were sending medical and other supplies to the quake zone.
"It raises our spirits," he said.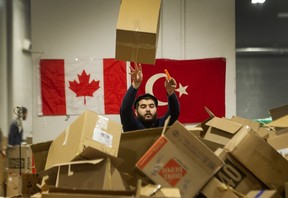 A volunteers in Vancouver helps pack donations for survivors of the earthquake that devastated parts of Turkey and Syria on Monday.

Photo by Arlen Redekop

/

PNG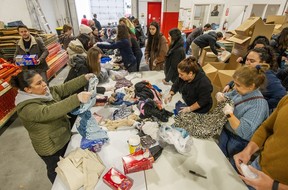 Volunteers in Vancouver sort and pack clothing donations for survivors of the earthquake that devastated parts of Turkey and Syria on Monday.

Photo by Arlen Redekop

/

PNG