Opinion: The latest announcement is September at the earliest, despite promises of inflation dating back to April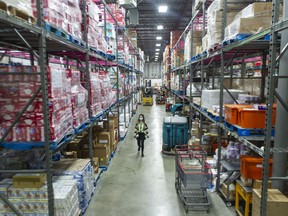 Donated food to be distributed at the Greater Vancouver Food Bank in Burnaby. Columnist Vaughn Palmer says there are few signs of action in BC. Prime Minister's pledge on measures to reduce the effects of inflation.

Photo by Jason Payne

/

PNG
Victoria — Inflation hits highest level in 40 years The people of British Columbia are still awaiting relief promised four months ago by Prime Minister John Hogan.
Hogan said on his April 21st statement that Finance Minister Selina Robinson was "directed by me to consider efforts to advance initiatives to support inflation." ' was announced a long time ago.
He gave no details and did not provide a timetable. Because it starts," the prime minister told reporters. "However, Minister Robinson raised this (issue).
"Her responsibility as Treasurer is to harness the power of a $70 billion economy to help British Columbia It's about trying to find a way to make sure that the people of the state are less distressed."
A few days later, Hogan regretted saying anything about his plan to ease inflation.
"You know this is a problem with speaking your mind," he told Katie DeRosa of the Vancouver Sun. …I said I was working on this The minister is in charge of it and she has the tools at her disposal I need to say more later
"That's my fault," he continued.
Yes, the tough life of a Premier.
He must be questioned on key issues such as the cost of living and explain how the government is dealing with it.
Still, Hogan's statement that "we'll have to talk more later" is hard to match with his earlier claim that Robinson "has been working on it for months."
What was the delay in announcing anything if she had been really working on easing inflation for months?
Robinson characteristically spoke as little as possible when asked what was going on during parliamentary questioning time.
"Yes, I'm concerned about how it's affecting people here in British Columbia in her state," she told her home in late April. ``Rising prices for essential commodities such as food and housing are a concern.''
"reminded" the House that
"But we will continue to do what we can to reduce costs for the people of British Columbia."
I asked what was being done regarding relief from the rising cost of living.
Mr. Hogan cited ICBC's decision to send him a rebate check for $110 to offset rising gas prices.
This was also a press conference, and he said, "Think twice before you get in the car. . 69}
Apart from that Hoganism, the Prime Minister is "more concerned about the effects of inflation on other important and life-changing products, such as food."
"Since this is not a short-term problem, the Minister of Finance has ordered me and the Cabinet to propose various initiatives."
"We cannot respond as a government every time there is an inflationary element in the economy, but we are taking action."
Hogan's promise of a basket of initiatives , which led to another speculation as to what they were.
Yet it wasn't until mid-July that reporters let him retell his thoughts on his two-and-a-half-month-old appointment.
This time he suggested that the relief would include climate tax credits or other forms of inflation relief.
The opportunity would be for the Bank of Canada to reduce interest rates. It was when he tried to keep inflation down by raising his 1%.
Robinson also suggested that action was imminent.
"We are already working on her ICBC rebate," she told reporters on her July 13th meeting. "There are additional steps we are considering, and you will hear more about that soon." We have extended the timetable again.
"We have several initiatives," he told reporters in the process of confirming that the climate tax credit is one of them.
"The Minister of Finance is finalizing the details. We are also considering Hydro's efforts.
"We will hear more about that in early September.
Both Hogan and Robinson are on vacation this month.
Perhaps the government doesn't want to get too involved in the debate about moderating inflation given its bargaining with public sector workers.
Earlier this year, BCGEU had asked him to pay 5% every two years. With inflation now at 8%, unions are seeking greater protection in the form of cost of living adjustments.
It is also worth noting that the government is in transition, with her five-month NDP leadership struggle.
Hogan is set to retire for health reasons, and he may not feel as much urgency as he used to. David Evey, the presumed frontrunner, is out of the cabinet and unable to influence the pace of events in government.
Whatever the excuse, people in British Columbia have had to wait four months for him, and inflation is weighing down household budgets on all fronts every day.
vpalmer@postmedia.com
Division of Postmedia Network Inc.
By clicking the subscribe button, you agree to receive the above newsletter from Postmedia Network Inc. our email. Post Media Networks Inc. | 365 Bloor Street East, Toronto, Ontario, M4W 3L4 | 416-383-2300
Thank you for registering.
Sending welcome email. If you don't see it, please check your spam folder.
The next issue of Vancouver Sun Headline News will arrive in your inbox shortly.