After 13 years on the long-track team, Blondin will race in the Canadian short-track speedskating championship starting Friday in Montreal.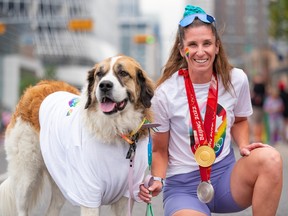 Team Canada speedskater Ivanie Blondin poses for a photo with her dog Brooke while wearing her Olympic medals at the Calgary Pride Parade earlier this month.

Photo by Azin Ghaffari

/

Postmedia News
CALGARY — Hardwired to flee her comfort zone, speedskater Ivanie Blondin has found a new way to push her envelope.
After 13 years on the national long-track team, the 33-year-old from Ottawa will race in the Canadian short-track speedskating championship starting Friday and concluding Sunday in Montreal.
Article content
Blondin then has a short turnaround for long-track nationals less than a week later in Calgary.
Article content
She's been training in both disciplines, which feature different blades, techniques and demands on the body.
"I like a good challenge, so this is kind of right up my alley," Blondin told The Canadian Press. "I feel like a lot of people are looking at me being like 'you're crazy girl.' But this is what I strive for."
Blondin won Olympic gold in women's team pursuit with teammates Isabelle Weidemann and Valérie Maltais, as well as a women's mass start silver medal in Beijing in 2022.
Faced with another quadrennial of endless laps around Calgary's oval before Milan-Cortina, Italy, in 2026, Blondin sought to shake up her competitive life.
"Coming home from the Games and getting a gold and silver, I was like 'hey, what's next? What's the next goal?' " she explained.
Blondin raced in the Canadian women's road cycling championship in both 2022 and 2023. Blondin finished ninth the first year she entered.
She's returning to her short-track roots as Blondin skated with the national team in Montreal before switching to the longer blades and moving to Calgary in 2010.
The long-track team trains short track in the summer while the ice is out of the oval.
By signing up you consent to receive the above newsletter from Postmedia Network Inc.
Thanks for signing up!
A welcome email is on its way. If you don't see it, please check your junk folder.
The next issue of Road to the Cup will soon be in your inbox.
Article content
Article content
"Training was going really, really well," Blondin said. "If you don't try it, you never know what's going to happen and I have nothing to lose."
Combining short-track and long-track workouts in a single morning has pushed her physical limits, however.
"It was a little much because I was doing full programs back to back," Blondin said.
Maurice Richard Arena is also the site of the season's first two short-track World Cups on Oct. 20-22 and Oct. 27-29.
Blondin knows finishing among the top six women overall at short-track nationals is a tall order given the strength and depth of Canadian women, but she wants to keep training at both to test her capabilities.
"I'm a little nervous showing up in Montreal again after 13 years," Blondin said. "I have a lot to learn again. Short track, the sport has changed so drastically since I previously skated.
"The rules are different. The equipment's different. It's like relearning everything again, but it's super-fun."
If short track goes well for her, skating both disciplines in the 2026 Winter Olympics isn't out of the question. It's been done before.
Article content
Latvia's Haralds Silovs raced short track's 1,500 metres and long track's 5,000 metres on the same day at the 2010 Winter Games in Vancouver and Whistler, B.C.
Dutchwoman Jorien ter Mors won gold in long track's 1,000 metres and a short-track relay bronze in 2018.
Blondin excels in the elbows-up, head-to-head mass start, which is the long-track event that resembles the jockeying for position of short track.
She also embraces a beefy race workload. In a world of sprint and distance specialists in long track, she's a rare all-rounder who will compete in six different events over a three-day World Cup.
"The next Winter Games will probably be my last," Blondin said. "It's fun to take on new challenges and challenge myself mentally, physically."
Related Stories
Canada's Chan, Rochette named ambassadors for 2024 figure skating worlds in Montreal

Quebec's Steven Dubois wins bronze on final day of short track speedskating world championships

Quebecers win three medals at speedskating world championships in South Korea
Article content